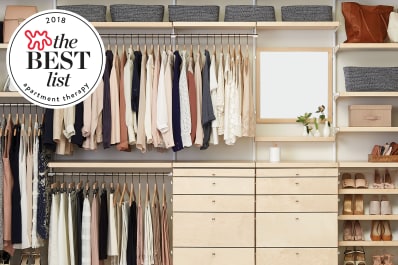 Updated July 26, 2018: All new listings with newest models
The average closet, if you're lucky enough to have one, is typically uninspired: a few rods, maybe a shelf, and space for a few pairs of shoes. It works, but it leaves much to be desired in terms of storage and organization. A great solution to making the most out of any closet space is investing in a closet system that will carve out a spot for all your clothes and accessories. You might associate these systems with walk-in closets or larger reach-ins (like I did), but the truth is that there's a system out there for anyone and any space. All of our favorites included in this list are easily customizable and even changeable, so your closet can grow with you as your needs change.
---
How This Works
Every week we research new product categories and bring our final picks into the office, where we haggle and decide which ones make the final list. Everything is based on quality, appearance and price. These are what we could choose for our own home.
---
Maxwell's Favorite:
There are a few well known, high-end closet systems that all do a great job, but in the more affordable category Elfa has been crushing it for awhile. Based in Malmo, Sweden, and owned by The Container Store since 1999, they began with basic metal shelving and have expanded into much more luxe wood finishes. The all metal is more affordable. The luxe wood is, you guessed it, more expensive.
Elfa is super easy to install (totally DIY), super durable, beautifully finished and modular, so that you can take it apart and move it with you, adding pieces and expanding it as your family grows.
You can start by buying a pre-designed set OR you can buy pieces and use the free help of one of the experts in the store to make sure you've got everything you need.
In all these ways, it's an excellent value and it ABSOLUTELY WILL transform your closet or any wall, thereby transforming your LIFE. I particularly recommend it for transforming closets, which always become a black hole of clutter.
---
LOW
This system from Rubbermaid is a straightforward, easy solution that can work in any closet with at least one wall measuring three to six feet. There are four kits to choose from based on size and finish, and all mounting hardware is included for easy installation—no cutting required. Aside from the kits, which include shelving, rails and rods (the number of each depends on the kit size), there are also separate add-ons you can purchase to complete your system.
---
ALGOT is meant to be utilized in any part of your home, not just closet space, so it's one of the most customizable options out there. All the parts can be easily combined and adapted to suit your needs, making this system especially attractive if you anticipate space changes happening. It's also incredibly easy to use—the parts just click in and out of the wall brackets, so you can quickly replace or move parts around.
---
Rebrilliant has a wide variety of options for closet organization, from cube shelving to more traditional modular systems. There are standing wardrobe options (like in the picture above), as well as closet systems that range from simple rods to classier wood finishes. In short, there's a lot to choose from here, which is also why the price range is so wide—you can go for a simple shelf add-on at the low end or a premium walk-in closet system at the high end.
---
MEDIUM


Easy Track has two starter closet kits starting at $188, plus two hanging hutch/tower kits starting at $126 that can be used individually or with a closet kit. Their website has a great online design tool that lets you create the closet of your dreams for your specific space, and Easy Track products are sold in retailers nationwide so you can see them for yourself before buying. Only downside is that prices are hard to find on the site, making it difficult to navigate with a budget in mind.
---
ClosetMaid has a lot going for it: reasonable prices, plenty of options and a super simple design tool on Home Depot's site. You can choose among four different finishes: white on the low end and dark cherry on the higher side, as well as chocolate and walnut. There are several pre-designed systems to choose from, or you can use that handy design tool to create something more customizable.
---
If you love the wood look but want to keep costs down, John Louis Home has some gorgeous wood systems at lower prices compared to the competition. Products come in Honey Maple, Red Mahogany, Caramel, and Espresso finishes that contain no harmful VOCs, and systems can be custom-made or purchased pre-designed.
---
HIGH


Organized Living's online design tool is one of the easiest to use, with step by step directions in a user-friendly template. There are five design categories to choose from: Basic, Essentials, Classic, Premium and Ultimate, which I think is a helpful way to keep designers on track. After all, having endless options can be overwhelming and not exactly helpful. Don't worry, there are still many personalization decisions here, from finish to shelving to hardware and everything in between.
---
Easy Closets offers a lot of options when it comes to details, from the widest selection of finishes on this list to your choice of drawer styles and hardware colors. This system is definitely for the perfectionist who thrives off of getting those small details just right, but might be overwhelming for those who would rather choose from pre-designed systems.
---
The queen of the closet systems, California Closets are pricey, luxurious and for those who are serious about their closets. This system is highly personalized, with a free in-home design consultation resulting in a 3D model of your specific design. Installation is done by white-glove service (no DIY here) and each configuration is custom-crafted. Because each design is so personalized, pricing is difficult to determine from research alone—you'll have to get a quote from your consultant.
---
Put things back where they belong. Take a few extra seconds to put shoes in their rightful home or purses in their place, rather than just throwing them back in. Another tip I find helpful is to organize clothes by type—keep all the skirts together and arrange tops by sleeve length and weight. Doing so helps you keep track of what you have and makes getting ready in the morning so much easier.
If it isn't working, fix it. If you love the look of your scarves on a hanger or all your purses way up on the top shelf but find that it's not quite functional, go ahead and change things up. Also, just because something works for someone else doesn't meant that it'll work for you. Play around with your space until you figure out what's right.
Do spring cleaning—every season. Take some time to go through your stuff and purge what you no longer need. I like to do a "cleanse" in the middle of every season and get rid of anything I haven't already worn. If it's the end of July and you still haven't worn a certain summery top, you probably aren't going to—better to make room for the things you do love!
---
Our Best Closet Organization Posts:
---
Other Good Resources:
---
Apartment Therapy supports our readers with carefully chosen product recommendations to improve life at home. You support us through our independently chosen links, many of which earn us a commission.