The Best Dish Soap You Can Buy at Costco
We
independently
select these products—if you buy from one of our links, we may earn a commission. All prices were accurate at the time of publishing.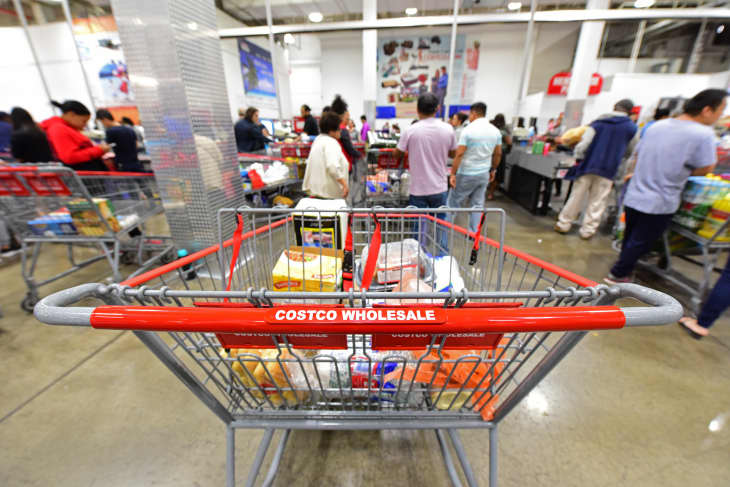 I originally bought a Costco membership for the diapers. (Nobody has cheaper diapers than Costco.) But that was 18 years ago, and I'm still a member, still making bi-monthly treks to the hulking grocery warehouse — and no, not because I have kids in diapers (thank goodness!). My baby days are long gone, but Costco remains my go-to for a host of other essentials that I just can't get for less anywhere else — even when I factor in the annual membership fee. At the top of my list? A big blue jug of Dawn dish soap.
I've sung the praises of Dawn many times over. I even put it to the test against more than a dozen other brands, and it came out definitively on top. What I love about Dawn is that it cuts through grease better than any other brand I've tried, and it has long-lasting suds so I don't need to use as much. 
I can also use it for more than just washing dishes. Whenever I need to clean my grill grates, grimy outdoor furniture, or greasy cabinet doors, it's always Dawn to the rescue. 
At Costco, the 90-ounce jug costs $9.99, or $7.99 if you catch it on sale. That's about 11 cents an ounce. (On sale, that's 9 cents.) At my other favorite grocery store, the largest container is only 75 ounces and costs $9.39, so buying the Costco jug is like getting 15 ounces for free! That's a lot of dishwashing. 
Admittedly, the huge jug is too heavy and unwieldy to keep by the sink and use as-is. I used to decant it into a pretty dish soap bottle — until the bottle slipped out of my hands and broke. Then, my family and I started pouring it into a little, built-in, sink soap dispenser. While I loved being able to load my sponge with soap with just a few pumps and without having to grasp a slippery bottle, I didn't love how tiny the dispenser's reservoir was. It felt like we were constantly refilling it. 
Finally, we got smart and found a way to make the big Costco jug work to our advantage. 
We measured the diameter of the in-sink soap dispenser's pump and searched online to find a long plastic tube that fit it perfectly. We put the big jug of Dawn under the sink, positioned directly below the pump. Then, we fit the tube over the bottom of the pump and put the other end straight into the jug. Voilà! A seemingly never-ending supply of my very favorite, super grease-cutting, long-lasting dish soap always at the ready to tackle the next chore.
What's your favorite dish soap to buy at Costco? Tell us in the comments below.