The Father's Day Gifts You Are Tempted to Get Dad—And What You Should Get Him Instead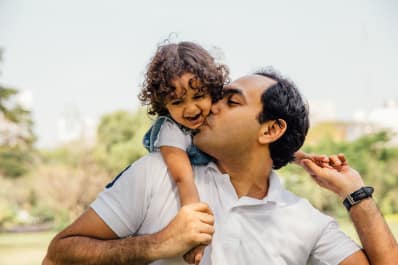 (Image credit: Jayme Burrows/Stocksy)
Dads are notoriously hard to shop for. It could be boats, jazz records he's already listened to 100 times, or being left alone to watch sports, but they can all be notoriously hard buy wrap. Which is maybe why so many gift guides tend to recommend the same things over and over again. Not that there's anything wrong with a nice tie, but if you've already done it once (or 10) times, it can be hard to break out of the pattern and do something different. Here are 10 alternatives you might not have thought of.
The Gift: A Tie
The Alternative: Matching Pizza Shirts, $50 at Xenotees on Etsy
Why not go a little bit more casual (and weekend-friendly) for the fashionable dad in your life? If you want to match with your dad, you can also pick up two adult sizes.
The Gift: A Weird Desk Accessory (Or Another Framed Picture of You)
The Alternative: Note Roller, $73 at Nordstrom
Listen, there is probably no limit to how many cute pictures you can give your dad that he will be happy to receive. But if you're worried his desk is looking a little crowded, why not give him something useful and fun. This old-school note roller is good for jotting down reminders even in the digital age.
The Gift: An Apron for Grilling
The Alternative: A Subscription Box from Butcher Box, starting at $129/month
If Dad is a serious griller, it can be hard to pick out a new, surprising grilling accessory or gadget that fits his exacting taste. (I've watched my share of spice rubs molder on my own dad's spice rack.) Instead of trying to guess if he could use new tongs, find something he'll always need more of: high quality meat to grill. A 30-day supply runs under $6 a meal for the meat, and for a limited time, all new subscribers will get free bacon with their box for life. (Yes, really.)
The Gift: Socks
The Alternative: Hydro Flask Water Bottle, $25 at Amazon
Socks are a go-to for dads who appreciate the practical things in life. But if you've opted for high-quality socks and are ready to branch out, why not consider another practical, long-lasting gift that fulfills a basic function: that of hydration. Hydro Flask is heavy-duty enough to stand up to the great outdoors, but still functional for sitting on desks or in car cup holders.
The Gift: A Super Pricey Cooler
The Alternative: Coleman Backpack Cooler, $23 at Amazon
If you have the budget for a cooler that can protect beers from the heat and marauding bears, your dad will probably be more than psyched to get one. But for the rest of us, this backpack option is under $25 and a useful addition to the man on the go. You can pack picnic lunches, tailgating supplies, or a day's worth of beach beers to go.
The Gift: Whiskey Stones
The Alternative: Kitchn Wine Club subscription, $54/mo
Just like with the serious grill master, the serious drinker can be hard to pin down. Kitchn Wine Club, from the editors at our partner site, gets you three hard-to-find, hand-picked bottles a month paired with recipes. He'll have a fun time trying something new, and you don't have to worry about inadvertently cluttering his bar cart.
The Gift: Shaving Kit
The Alternative: Boy Smells Redwood Scented Candle, $29 at Nordstrom
If Dad values self-care, why not introduce him to the world of luxury scented candles? If he's already initiated, he'll still get a kick out of Boy Smells, a line of candles created by two men in Los Angeles.
The Gift: A Watch
The Alternative: Echo Spot, $130 at Amazon
For the Dad who always wants to know what time it is—and what the weather is, and what the news headlines are. The Echo Spot will keep him up-to-date and is small enough to perch on a desk, bedside table, or wherever he spends his time.
The Gift: World's Best Dad Mug
The Alternative: Darth Vader Pinache Mug, $10 at Think Geek
Find a slightly punnier way to remind him he's your father with this surprisingly chic take on one of cinema's greatest baddies (and most infamous dads). If your dad prefers something a little less cute and a tad more terrifying, get him this Jaba the Hut mug instead. (Insert "Papa the Hut" joke as needed.)
The Gift: A Coupon for Quality Time
The Alternative: A Donation to Charity
For the dad that truly doesn't need anything, a card and a hug is more than enough. But if you're looking to raise the stakes a bit, consider making a donation to a charity in his honor. You can go with a cause that's meaningful to him, or find a nonprofit with a Father's Day special. The International Rescue Committee, which focuses their work on refugees and displaced populations, has a Father's Day Kit that includes vouchers to help families purchase tools to rebuild their homes as well as shelter materials and a cookstove.
Apartment Therapy supports our readers with carefully chosen product recommendations to improve life at home. You support us through our independently chosen links, many of which earn us a commission.