I Made My Home Spotless With Spotify's 6-Hour "Cleaning Kit" Playlist
We independently select these products—if you buy from one of our links, we may earn a commission. All prices were accurate at the time of publishing.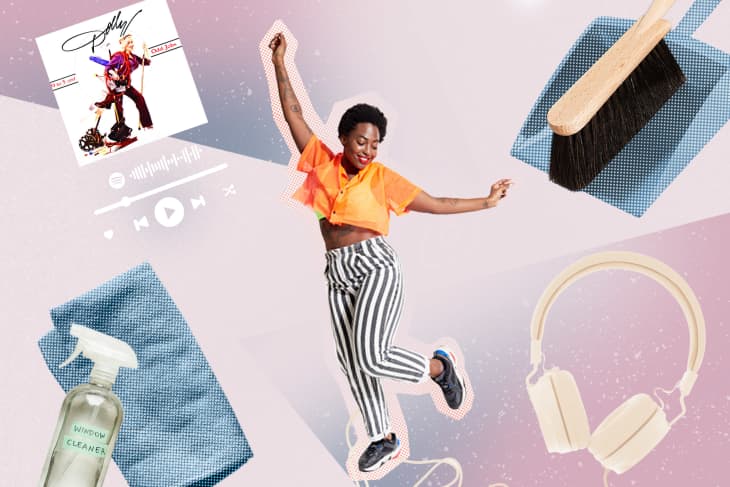 I usually clean with music on. Rarely, however, do I clean to a playlist long enough to establish a flow state while I clean. That's mostly because, well, I rarely seek to enter a flow state while I clean. I tend to view household chores as hassles to check off a list rather than experiences to fully engage in — but that changed when we decided to sell our house, and I had no choice but to sacrifice half a Saturday to pack, organize, and clean the space we'd lived in for four years. 
At that time, I'd been listening to "Folklore" on repeat, usually through my Apple Home in the kitchen. I considered upgrading to the Taylor Swift playlist for the cleaning day, but my editor, Taryn, suggested something much more adventurous: an entire Spotify playlist dedicated to cleaning days just like mine. 

Cleaning Kit, a 100-song playlist curated by Spotify, is just over six hours long — just about the amount of time I had carved out to deep clean my entire house. I didn't take a close look at the tracks before I got out my cleaning supplies, because I wanted to be surprised. I'm glad I adopted that approach: The mystery of what was coming up next kept me interested and engaged when I'd normally get bored, revving me up for the next cleaning job. (Note to self: Do this when you attempt a workout.)
I'm not Pitchfork, but I can say with confidence that Cleaning Kit is objectively a Good Playlist. It's a blend of 2000s-era pop hits like Jesse McCartney and Beyonce, classics like Dolly Parton and Madonna, some acoustic singer-songwriter tracks I probably put on a crush's mix in high school, and a bunch of weird, atmospheric indie songs I didn't know to cleanse the palate between super-smash hits. Just the right blend of dance-while-you-clean and head-down-focused songs to make for a productive but entertaining day.
Personal highlights included dancing it out to "Unwritten" while emptying out my fridge, harmonizing to "She Will Be Loved" while taking out the trash and recycling, and, the most on-the-nose part of all, dancing it out to "Irreplaceable." (Literally, everything I owned in a box to the left.) Oh, and I'd be remiss not to mention that yes, there's a single Taylor Swift track on the playlist. I'll let you discover that Easter egg for yourself.
All in all, I cleaned for about four hours (short of the playlist's 6+ hour run time, but a marathon clean nonetheless). I won't say Cleaning Kit made me love chores more, or that it magically improved the effectiveness of my cleaning. It did make a day I was dreading a lot more fun. By the time "Life Is A Highway" blared through my AirPods while I was wiping out kitchen cabinets, I had reached the closest thing to a flow state that I'd find myself in that day. With the prophets of Rascal Flatts guiding me, I rode it all afternoon long.