We Tried 3 Portable, Small-Space-Friendly Treadmills to See If They're Worth It (Hint: They Are!)
We
independently
select these products—if you buy from one of our links, we may earn a commission. All prices were accurate at the time of publishing.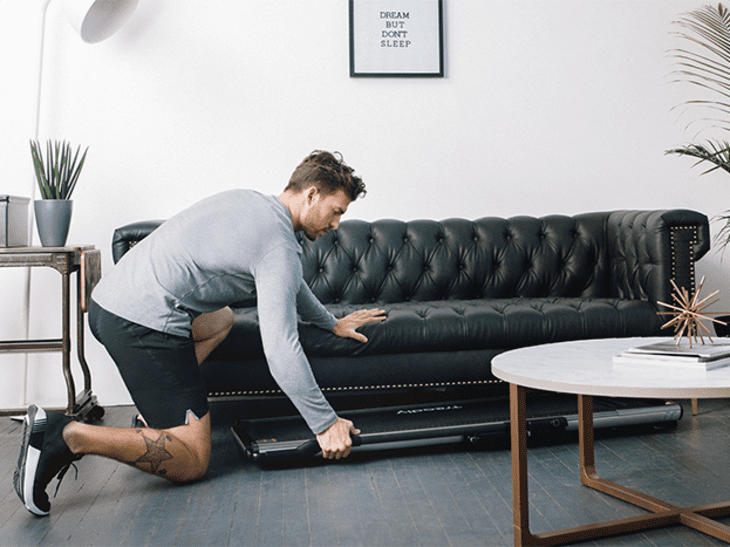 When WFH-life became the norm for many in 2020, most of us at Apartment Therapy had to move our daily fitness routines indoors, specifically into our small-space apartments. This meant getting creative with our new living room workouts. From researching the best free workout apps to trying out all sorts of space-saving and creative fitness methods, we put lots of approaches to the test. One that we were especially curious about was those compact treadmill pads that seemed to be popping up everywhere. They're much more sleek and streamlined than traditional bulky treadmills, let you slip in a workout while you work or watch TV, and best of all, they can be stashed under a sofa or bed when not in use. Since it looks like at-home workouts are here to stay, portable treadmills seem like the perfect solution for staying active indoors. We tried out three different models in a range of price points to see if they're worth the investment. Below are firsthand accounts from AT staffers about their experiences with these trendy treadmills.
"I've always relied on walking to clear my head as well as get most of my exercise, so after six months of being stuck largely at home with a puppy and teenager who aren't big walking fans, I had to get something," shared chief revenue officer Riva. "My musts were that it couldn't be visible from most places in my small-ish apartment, that I had to be able to move it relatively easily, and that it wasn't super expensive. As I hadn't done a lick of exercise in six months (13 years if I'm being honest), I was less concerned with walking fast, running, or moving at an incline. I really just wanted to move, period."
So what did she think about the UMAY Portable Treadmill? For Riva, this treadmill ticked every box on her must-have list. "What I love about this treadmill is that it does everything I needed it to — it's relatively attractive, flat with no handlebar, and I can move it super easily. It goes fast enough for a speedy walk and even a very slow jog. It's also pretty quiet."
As for cons, she shared, "The lack of handlebars can make it a touch precarious if you're going fast and not paying attention. I've come off it a few times (my own fault) and was mostly saved by soft surroundings. Now that I've worked up my strength and stamina a bit, I also wish that I had shopped around for an option with an incline as well as one that can go slightly faster. But for an everyday way to get some decent daily exercise and mind-clearing, I absolutely love this machine and would recommend it highly."
"Before quarantine, I walked everywhere," shared commerce director Mark. "I never took the subway and preferred to travel by foot, so it wasn't unusual for me to walk at least an hour a day, every day, and much more on weekends. But once I started working from home and the weather turned cold, I was barely getting outside, so in February I decided to get a treadmill. I live in a tiny studio so anything I bring into my space either needs to blend in or be compact enough to be hidden away.
"The City Sports treadmill was exactly what I was looking for, because it's a flat pad that is small enough to roll under my sofa or even my bed when not in use (yes, both pieces of furniture are in the same space). While it has a bit of heft to it, it's easy to move around because of the transport wheels on the front. It's also simple to operate — just press a button on the remote control to turn it on, then adjust the speed. Best of all, it's quiet.
"I was worried my downstairs neighbors might hear stomping, but my footsteps barely make a sound and so far there have been no complaints. Now don't get me wrong, I don't run on this thing; I use it simply to get my steps in. I'll sometimes do 30 minutes during a break in the workday, or do an hour-long stroll while watching TV or chatting on the phone at night. Though the weather is nice enough to get my exercise outside now, I still use it on rainy days or when I just don't have the oomph to leave my apartment. All in all, it's been a great investment — and a relatively affordable one, at that!"
As for me, I gave the uber-trendy Treadly a go. At the beginning of lockdown, it felt like everyone I knew was getting a Treadly, so as I embarked on my treadmill journey, I was definitely interested to see what the hype was about (and if it was worth the hefty $700+ price tag).
Aside from being easy to use and super easy to move (thanks to its front wheels), what immediately struck me was its height. At only 3.7 inches high, the Treadly2 is touted as the slimmest treadmill on the market. I don't have room for a large, cumbersome machine, so Treadly's compact size was a big plus since it's a breeze to slide under the sofa. Another bonus was the handrail that helped keep my notoriously clumsy self from falling off. (Note: The treadmill reaches a max speed of 5 mph with the handrail up and 3.7 mph with it flat.)
My favorite thing about the treadmill, however, is its accompanying app. Functioning as a remote control, tracker, and social fitness connector, it gave me what I was missing about pre-pandemic group fitness. Aside from controlling the device and monitoring your progress, the app lets you video chat with friends, join Treadly's virtual community, and test yourself with "coach mode," which lets a coach (or friend) set your pace. Fun!
In the past, scheduling time for a workout made exercising feel more like a chore and less like an investment in my health. With the Treadly2, I can simply hop on mid-workday, connect with a friend, and get my tasks done all at once. Add that to the fact that it's less than half the price of a Peleton, and it's definitely worth the investment.