Vintage Travel Trailer Paint Jobs You Won't Ever Forget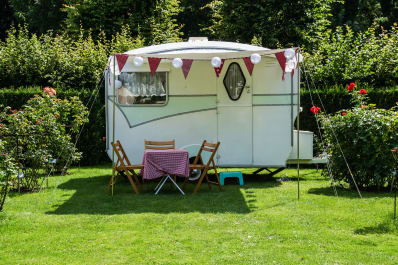 (Image credit: Norman Nick/Shutterstock)
We had so much fun exploring The Best Vintage Travel Trailer Makeovers on Instagram that we're back with 20 more. This time the focus is on exterior paint jobs, but the adorable trailer names—Sassafras Lou, Delilah, Sprout, Beatrice, Archie, and Mrs. Schmick—are still going strong. Let's hit the road!
These pink scallops are the sweetest, cutest thing ever, and a big change from the original mossy-green stripes. This vintage trailer has its original aqua countertops, which are complemented perfectly by the pink paint job.
Love scallops? Feast your eyes on these mega-scallops! The deep navy adds sophistication to a playful design while the door is a major pop!; here's the before.
This color combination is perfection, and those mountains are absolutely adorable. Hire Loren to paint your camper!
Here's another fantastic mountain range! Continuing the pattern on the inside of the door in black was an excellent design choice, and check out this mobile art studio's before and after.
This handmade door is utterly fabulous and it pops so wonderfully against the turquoise camper.
This entire renovation is dreamy, but the gold diamond and starburst are definite highlights. Love a vehicle emblazoned with its name, and this one delights and raises a few questions: Can caravans get married? Who is Mr. Schmick? Why didn't Mrs. Schmick keep her own last name?
Pre-paint job, this RV looked like pretty much every other RV ever seen on the road, complete with a variety of racing stripes. Now it's bold and blue and totally modern.
This Camperre camper went from stained white and dull beige to bright white and classic, vintage mint. The new exterior color suits the tropical-glam interior perfectly.
Nothing more exciting than a lightning bolt! The rich, glossy teal is particularly delicious and provides the perfect base for a bright white bolt of energy.
And now we have mint + lightning bolt! The silver border is a very nice touch. (Be sure to swipe to see the before shot.)
A wood lightning bolt might be the ultimate lightning bolt. This black-white-wood combo is incredibly chic.
These little trees and mountains are the cutest things ever, and the family's handprints are ridiculously sweet.
With a paint job like this, there's no chance of getting into the wrong RV like Niles did on that New Year's Eve episode of Frasier. Also it's super-festive!
Here's a change of pace: this relatively new camper has been renovated to look vintage! It appears to be part of a pretty serious I Love Lucy lifestyle, and the aqua, yellow, red, and white color combo is a retro delight.
This is so sunny and cute, and hopefully its residents will trace their journeys on the map with gold paint. It must be said, however, that the camper was pretty darn cute pre-renovation too.
This trailer is like a Best Of album: pink, aqua, lightning bolt, and name, all in one charming package. Here's how Beatrice looked before the paint job.
This paint job is particularly fun because it has a bit of a vintage vibe but it's also graphic and modern. The black-and-white curves are a fun upgrade of the original brown stripe.
There should be more black trailers, especially ones with white and wood detailing. This one is adorable and sophisticated at the same time.
It's rare to see an updated trailer with its silver exterior preserved so this is a treat; here's a glimpse at Deuce's pre-makeover state. The stripes are great and the way they're echoed—but not duplicated—on the truck cab is extremely well done.