8 of the Best Yoga Apps for Everything From Prenatal Yoga to Meditation
We independently select these products—if you buy from one of our links, we may earn a commission. All prices were accurate at the time of publishing.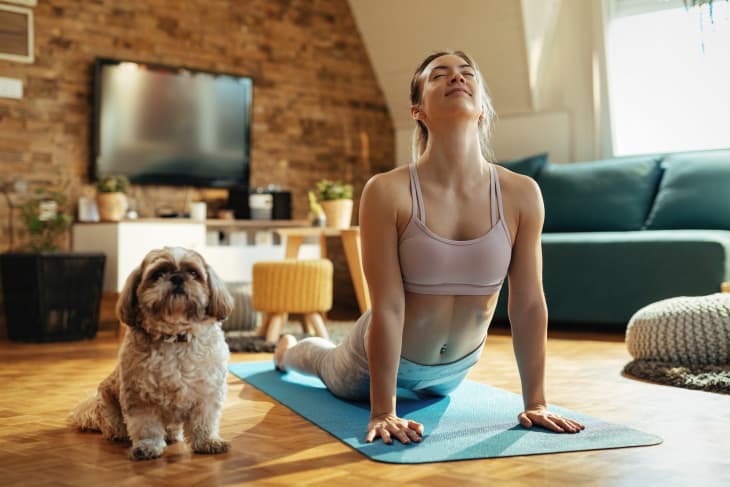 Shortly after I graduated from college, I was a walking, talking bundle of nerves. My self esteem was at an all-time low, my perfectionist tendencies were through the roof, and my stress levels were soaring. My one saving grace was a yoga class at my neighborhood gym. Yoga softened the constant tightness that lived in my neck and shoulders. I learned how to take long inhales and exhales as a way to calm myself down, and perhaps most importantly, I learned that my constant flow of thoughts weren't always true — in fact, most of them were not true! This was life-changing for me, and my yoga practice has stuck with me ever since. 
Follow Topics for more like this
Follow for more stories like this
Yoga wasn't nearly as accessible then as it is today, thanks to smartphones. If you have one, you have access to hundreds (if not thousands) of yoga classes, yoga teachers, yoga playlists, guided meditations, and more. If you search "yoga" in the app store on an iPhone, you'll be greeted by a multitude of options, which is exciting if you're looking to practice at home, but also slightly overwhelming with so many options to choose from. Plus, your set of needs and wants is specific to you. Just like an in-person yoga studio or gym, each app offers a different vibe, a unique roster of teachers and offerings. 
After practicing a lot of yoga, I've rounded up my favorite yoga apps, based on what each app brings to the table. Whether you're a beginner who wants to try yoga at home or an advanced yogi who's short on time — read on to find the best yoga app that works for you. 
Best App For Advanced Yogis: Alo Moves
The minute I open the Alo Moves app, I'm reminded of a boutique yoga studio experience — the kind where there's cucumber water at the front desk and lavender towels waiting for you after class. The interface is sleek and crisp, and offers yoga, pilates, barre, fitness, and meditation classes. There is a wealth of classes available, and 80+ teachers on their roster. 
All the classes I tried were excellent, though even the intermediate and moderate classes were challenging. Alo Moves offers beginner-friendly classes, though this app is a great option for someone who's been practicing for a while and is looking for more advanced flows, or in-depth instruction on advanced poses and transitions, like inversions and arm balances. Alo Moves is $20 a month, or $199 for the year, and there is a 14-day trial period.
Best App For Yogis Who Want To Have Fun: The Underbelly
Jessamyn Stanley is the founder of Underbelly Yoga and is a powerhouse in the yoga community. She's created an app that celebrates inclusivity, authenticity, creativity, and learning and The Underbelly is the perfect place to start a yoga practice, especially as a beginner. Stanley teaches all of the classes in this app and her cueing is excellent. She's always offering modifications and encourages you to come as you are, which feels like a gentle respite after a challenging day, or heck, any day. I find that some yoga classes can feel a bit pensive and grave, but Stanley doesn't take herself too seriously and keeps the vibe light and inviting. Her classes aren't called "beginner vinyasa" or "30-minute restorative" — instead she playfully calls them things like AM Honey, Earthy Queen, and Night Cap. 
I know I can sometimes feel intimidated walking into a yoga studio, virtual or not, and The Underbelly welcomes you with open arms. Stanley and her team have created an app that feels like a safe space to explore and learn about yoga, really hitting home that wellness is for everyone. The Underbelly offers a 14-day trial period, and is $9.99 a month, or $118 for the year. 
Best App For Yoga Playlists: Apple Fitness+ 
There is a lot to love when it comes to Apple Fitness+, and my favorite feature of this app is the music. If you're someone who likes to practice to hip-hop, R&B, or artists like Prince, Daft Punk, and Elton John — this is the yoga app for you. To participate, you'll need an Apple Watch (series 3 or higher) and once you've linked up your watch with the app, you're good to go. The playlists are readily available once you tap on a class, and the songs appear in the corner as the class progresses. I personally love practicing yoga to music, a good playlist keeps me motivated! 
Each class includes a preview video so you can get a sense of what the class will include, and who the teacher is, which is a nice touch as you decide what class to take. It's worth noting there are only four excellent yoga teachers to choose from, and after being on other apps that have way more, I found some ease in the simplicity. Having so many teachers and classes to choose from can be overwhelming, and decision fatigue is real! Apple Fitness+ offers yoga, meditation, HITT, core, pilates and more. Apple Watch owners receive a free one month trial, then pay $9.99 a month or $79.99 annually. 
Best For Family Yoga and Live Classes: Glo
Glo offers yoga, pilates, meditation, and fitness classes, and the two big differences I saw that made Glo standout is their daily live teaching schedule, and the wide variety of classes offered for parents. At the very top of the app, Glo shares upcoming live classes, which adds an extra layer of intimacy and accountability for me. It's a little harder to skip out on a class I signed up for that's being taught in real time and seeing the number of people practicing with me is nice. 
There is also an entire section dedicated to family yoga! Classes include pre- and post-natal, and practices you can do as a family — like bedtime relaxation, Mommy and Me class with toddlers, and Good Morning, Sun for waking up. Glo offers a 7-day trial period, and is $24 a month, or $245 a year. 
Best App For Athletes: Skill Yoga 
I used to practice yoga five times a week before I started strength training in the gym. My yoga of choice was mostly heated power vinyasa, and my goal was to get strong. But as soon as I started training in the gym, my yoga shifted to slower, gentler classes to stretch my tight muscles. Skill Yoga would have been perfect for me as I made this transition, and this app is for anyone who trains at the gym or plays a sport — it is designed for athletes. You pick your sport and your goals, and the app recommends various programs for you to try based on your intention. 
Skill Yoga is great if you're looking to build strength, increase flexibility or fine tune your mindset in relation to your sport — whether it's running, Crossfit, martial arts, climbing, and more. Sign up is free, but most classes are behind a paywall with a 14-day money-back guarantee. There's a 7-day trial period if you sign up for an annual membership at $87.99, or you can do month-to-month at $19.99.
Best App For Yoga Lifestyle and Community: Find What Feels Good Yoga
One of the most popular yoga teachers on YouTube is Adriene Mishler of Yoga With Adriene. Her channel boasts more than 11 million subscribers, and she has hundreds of yoga classes and programs that are available for free, and her voice and classes instantly calm me. Find What Feels Good is like an extension of Yoga With Adriene with added bonus content, and includes access to her full library of 700+ YouTube videos ad-free. 
There are also weekly members-only classes, guest teachers, and an off-the-mat series with recipes, travel stories, and conversations about everything from chakras to Q&A's about meditation, hip openers, and wrist troubles. If you're looking for a real sense of community, a wide variety of classes and tips on how to take the principles of yoga off the mat and into the world, Find What Feels Good is a great place to explore. It includes a 7-day free trial period, and is then $12.99 a month, or $129.99 for the year.
Best App For Flexibility: Stretch 
I stumbled upon Sam Gach's Instagram page a few years ago, and his incredible flexibility is what hooked me, but his simple instructional videos on poses to do for back pain and tight hips kept me around. His app Stretch is perfect for anyone who dreams of nailing the splits or who simply wants to be a little more mobile. 
Stretch includes yoga and stretch classes, but the real meat of the app is in the stretching routines, which are essentially a series of yoga poses that are held for about a minute (or less) at a time. These stretch routines are all about 5-10 minutes in length and are a perfect addition to your morning or evening routine. The app even includes monthly challenges too, which are a fun way to stay accountable! Stretch offers a 7 day free trial, and is then $9.99 a month, $26.99 every three months, or $99.99 for the year. 
Best App for Meditation and Mindfulness: Calm 
A well-rounded yoga practice includes more than just movement — you will really reap the benefits once you include meditation and mindfulness as well. The Calm app is one of my most used phone apps, and I feel instant relief when I open it. You're greeted by the phrase, "Take a deep breath" and once the app is open you'll hear and see a natural landscape complete with nature sounds. (The default is Jasper Lake, but you can choose anything from beach waves, rain on leaves, or a cozy fireplace.) Calm includes short, gentle movement videos, as well as meditation, soundscapes, music, and sleep stories. This app is a one-stop shop for all things relaxation and yes … calm. Calm offers a 7-day free trial, and is then $14.99 a month, or $69.99 for a year.