Birthdate Candles Just Released the Coffee Table Book of Your Cosmic Dreams
We independently select these products—if you buy from one of our links, we may earn a commission. All prices were accurate at the time of publishing.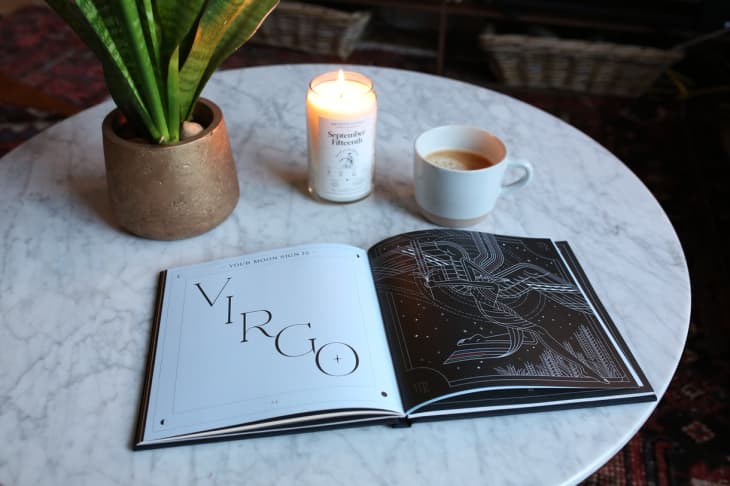 Astrology aficionados, rejoice: Birthdate Co., the cult-favorite brand behind those personalized astrology birthday candles, just expanded with a brand new birthday book. The Birthdate Book, much like the Birthdate Candle, is a made-to-order coffee table book that showcases your unique astrological birth chart, illustrating a map of the stars and planets at the precise moment you entered the universe. With Mercury currently in retrograde and throwing all facets of our lives into chaos, Birthdate Candles' new coffee book offering is truly a gift from the cosmic gods. 
The book is bound by a fabric hardcover with planetary illustrations and stunning gold foil. It offers over 70 pages of astrological interpretation and analysis, unlocking secrets and insights about your life and personality. "Written with psychic intuition and charm," Birthdate Co. writes of the product, "each page offers a deep reading into who you are and what your future holds." The book uses the recipient's birth date, birth time, and birth location to curate a one-of-a-kind product, making it a thoughtful and personalized gift that will surely align with the stars this holiday season.
For a limited time, the Birthdate Book will retail at $75 instead of its original price of $115 to celebrate its launch. 
Some other fun features include a few pages that list the famous people who share the same birthday and sun sign as you, as well as a few pages left empty to jot down some notes. And if you do decide to gift the Birthdate Book to astrology-obsessed loved ones, there's also the option to create a customized dedication page on the first page of the book. Whether for birthdays, holidays, or just because (the best reason to gift yourself and loved ones, honestly), Birthdate Co.'s new Birthdate Book is truly out of this world.