This 6-in-1 Steam Mop Saved My White Living Room Rug, and I Even Use It On My Clothes (Yes, Really!)
We independently select these products—if you buy from one of our links, we may earn a commission. All prices were accurate at the time of publishing.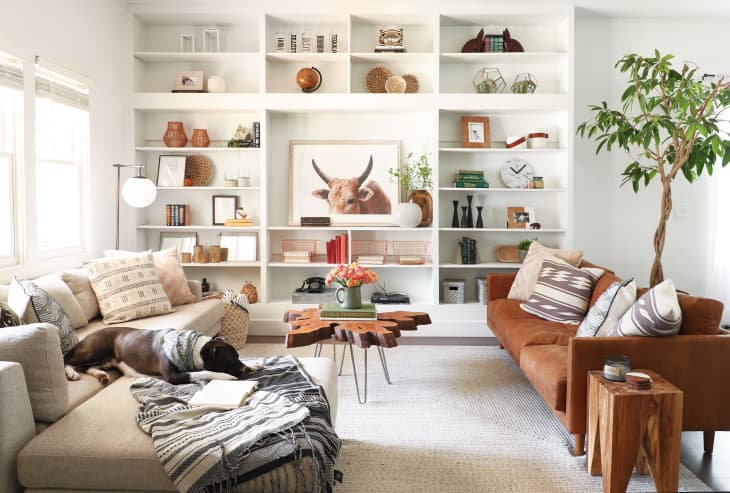 I love my living room rug, but I'll be the first to admit that it can get a bit dingy from all the foot (and paw) traffic from people and pets. I knew from the start that a white rug would be a big challenge to keep clean, but I went for it anyway because I liked it that much. Unfortunately, my once-white rug has been looking grayer and grayer lately. While I was able to lift some of the dirt out with a wet-dry vac and even a handheld shampooer, both of these tools require cleaning solutions that I'm not always so great about restocking at home. I figured that I'd have to carve out some time to deep clean the rug… but then I had an opportunity to try out the BLACK + DECKER Multipurpose Steam Mop, which comes with a whopping six attachments. I'd heard great reviews about steam mops but had never tried one for myself, and this seemed like the best test I could possibly do.
Follow Topics for more like this
Follow for more stories like this
When I moved all of my furniture out of the way to use the steam mop for the first time, it was painfully clear which parts of my rug had been under the sofa and which had been trekked over for months. Yup, I had my work cut out for me, and I put my trust in the BLACK + DECKER Steam Mop.
Six attachments — a floor mop pad, countertop mop pad, squeegee, grout brush, small detail brush, and metal grate brush — seemed overwhelming at first, but working them is a total breeze. The head pivots so you can move the machine smoothly, and the detachable top can be used with the floor extension or as a handheld steamer. Since it's corded, I never have to race against the clock of a battery charge. And I don't have to worry about having special soap on hand; all it takes to get the steam mop working is water. I just fill the tank, give it less than a minute to warm up, and I'm good to go! The mop pads are even washable, which feels like even more of a bonus.
So far, I've used the steam mop on my rug and hard floors. Even though the rug gave a little more resistance than the floors, both were simple to maneuver. I went over the rug a couple of times — it really needed it — and when my family came to visit later that day, their first comments were all about how bright my rug looked! That's what really sold me on recommending this BLACK+DECKER wonder. I'm looking forward to trying out the other functions, especially garment steaming! Yup, I'll be turning to this steam mop as often as I can.

Buy: BLACK+DECKER Multipurpose Steam Cleaner with 6 Attachments, $119.99