Is it Safe to Mix Bleach and Powdered Tide for Cleaning?
We
independently
select these products—if you buy from one of our links, we may earn a commission. All prices were accurate at the time of publishing.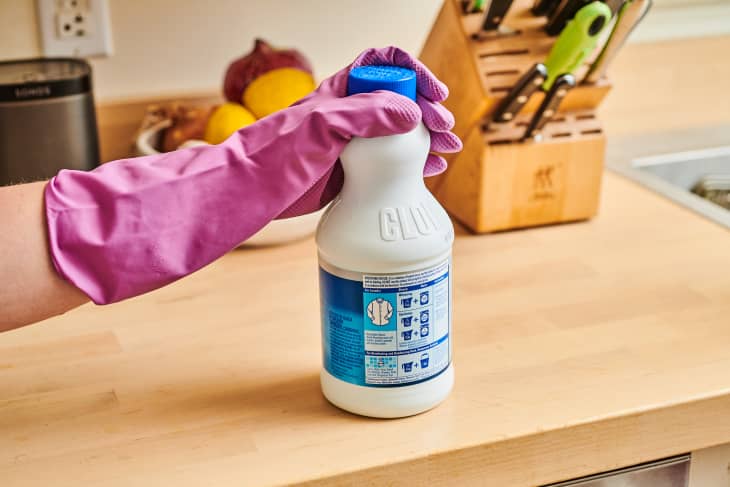 If you've been on Instagram lately, you're probably familiar with GoCleanCo, the woman-owned, Calgary-based cleaning business that's been exploding in popularity on social media (and for good reason). The account, which has more than 2 million followers, provides super simple, super effective cleaning hacks for taking care of all those annoying messes you've been putting off. 
Many of those genius tips involve GoCleanCo's go-to cleaner for almost every surface, which is a mix of two simple ingredients you likely already have on hand: basic bleach and powdered Tide laundry detergent. But mixing bleach and Tide to use a cleaning solution comes with a couple of caveats.

According to their instructions, you just mix the two in a clean, empty sink with hot water, then use it to clean everything from your counters to the inside of your fridge. 
If you're anything like me, you may have found yourself reflexively questioning whether mixing a solution of bleach and Tide in your kitchen sink is safe. After all, don't we always hear not to mix bleach with any other cleaning products? Well, according to cleaning experts, the answer is both yes and no.
You're right that it's never safe to mix bleach with ammonia, for example, since the combination could result in potentially deadly chlorine gas. And mixing bleach with hydrogen peroxide could result in an explosion. But laundry detergent — the stuff you mix with bleach in your washer all the time? That's another story.
It's Safe to Mix Bleach and Powdered Laundry Detergent, But You Should Still Be Cautious
Laura Smith, owner of All-Star Cleaning Services in Colorado, says laundry detergent — powdered or otherwise — is formulated to be mixed with bleach, so it shouldn't cause any adverse reactions when it's used on other surfaces.
One caveat, according to Irina Nikiforova, owner of the LA-based cleaning company Rocket Maids, is that you should always dilute the mixture with water, as GoCleanCo recommends. (That's exactly what's happening when you use bleach in a load of laundry). 
But before you make a huge batch of Tide and bleach to clean every surface in your home, there are a few cautions to keep in mind.
First, bleach is quite aggressive, and you can't use it safely on everything. For example, it's never a good idea to use bleach on porous surfaces like wood. In general, Nikiforova also doesn't recommend using bleach as an ingredient in an all-purpose cleaner, simply because it's on the harsher end of the spectrum.
Instead, save your bleach-based solution for when you need a true disinfectant for staving off germs — like on food surfaces or high-contact areas touched by someone sick. 
"There are so many ready-to-use mixtures available on the market that are safe to use, so I wouldn't advise anyone without proper training to mix anything to come up with a perfect cleaning solution," she says.
And it may go without saying, but whenever you use bleach around the house — whether in the laundry or in your fridge — wear cleaning gloves and ensure proper ventilation.