Yes, Cleaning Content Has Taken Over Your TikTok—And Here's Why
We independently select these products—if you buy from one of our links, we may earn a commission. All prices were accurate at the time of publishing.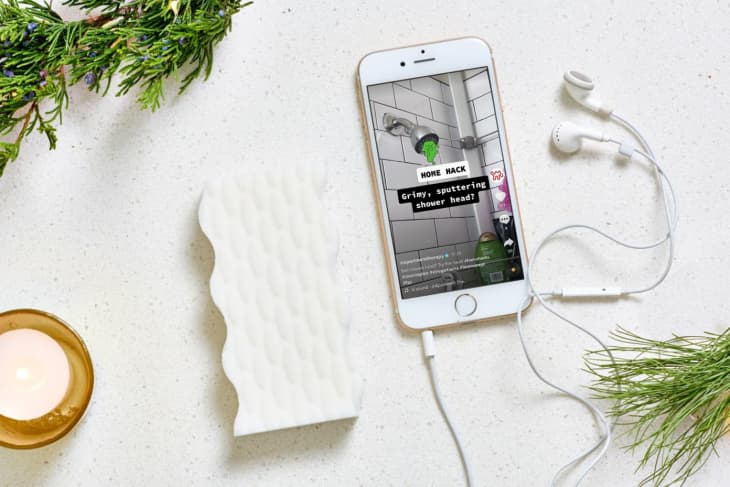 I didn't expect to extract any meaningful content from my nightly TikTok scrolls. In the beginning, my "For You" page was the stuff of viral BuzzFeed articles: teenagers pulling pranks on unsuspecting Boomer parents, endless riffs on the same meme that somehow still made me cackle, the occasional flash mob. But then the algorithm began to serve me rare jewels: life hack videos, made even more profound now that they were accompanied by a Doja Cat song. 
Follow Topics for more like this
Follow for more stories like this
The more I engaged with lifestyle content on TikTok (usually, financial advice or suddenly irrelevant travel tips), the more it showed up on my FYP. That's when I first fell into the rabbit hole that is cleaning TikTok (aka CleanTok) — a corner of the app that seems strangely tailored toward geriatrics (read: millennials) like me, who are stuck at home for the indefinite future, and who are also bored and newly interested in deep cleaning the oven and organizing the linen closet.
The more I engaged with the cleaning tips, the more they haunted my feed. It was everywhere. Some of the most viral tips seemed, well, gimmicky. (No, you don't need to strip your laundry. Just use a better laundry soap.) Other hacks changed my entire cleaning regimen. (Did you know you can use dish soap and hot water to degrease your vent hood?) 
I had to wonder, though. Was cleaning TikTok really exploding for everyone? Or was I just seeing more of it because I "liked" every video I came across? I presented my pressing questions to the team at TikTok, who confirmed that yes: TikTok has seen a massive uptick in both the volume of cleaning posts and interactions with it during the pandemic. As of October, there were close to 4 billion uses of the hashtag "#cleaning," with "#cleanup," "#cleaninghack," and "#cleanthatup" trailing closely behind with a few hundred million tags each.
Broadly, according to TikTok reps, cleaning-related content breaks down into a few major categories. One is how-tos, where cleaning experts (like lifestyle bloggers or actual house cleaners) share tips like how to lift a tough stain or clean your grout. Acts of service are also popular, where a sibling, friend, or parent deep cleans someone's home as a surprise. Then there are cleaning product recommendations, in which cleaning influencers share the tools they use to transform their spaces.
Why this content has become more prominent seems obvious: we're all at home.
It's reasonable to theorize that because people are suddenly thinking more about their home environments, they're also more interested in learning about how to get the grease off their hood vents. It's also reasonable to assume that as TikTok's user base got older (hey, we're all bored!), new types of content surged due to demand.
But the TikTok team emphasizes the rise of cleaning TikTok wasn't as pronounced as it felt like on the user end. Instead, they tell me, cleaning content has been a fairly steady upward trend punctuated by the occasional viral video (for example, a huge spike in mid-August due to this video, and another one in September thanks to this one). And all this is likely because the platform has grown in general (more people = more views), the addition of older users (more people who are actually home cleaning), and the pandemic (which has led to an increase in all home-related content). 
I have a theory, though, that the sudden obsession with home-related content isn't just because we're all staring at our dirty kitchens more than usual. There has to be a psychological aspect to it, too―which, while connected to the pandemic and its effects on our lives, speaks more to our shared human needs.
Jessica Haizman, a cleaning and organizing influencer with more than half a million followers on TikTok, agrees that there's something deeper happening. After pivoting from her organizing blog to Instagram early this year, Haizman started focusing more on TikTok in May. Both accounts, she says, saw growth at first, in different ways: Her Instagram followers were more tight-knit and interested in her personal life. But her content goes viral more often on TikTok, and she suspects it's partly due to the narrative nature of the app. On Instagram, you see a snapshot of somebody's curated living room. On TikTok, you get a 15-second or 60-second video with a beginning, middle, and end. 
In general, Haizman says the more niche her content, the more popular it is (and, of course, the dirtier something is at first, the more enjoyable it is to watch get cleaned). For example, her most popular video is one she shared about how to clean an ice bath (both she and her husband are into fitness and sports). But there's another trend she's noticed: The shorter the video, the faster the gratification—and the higher the engagement. 
That's what makes TikTok unique, and probably why it's so appealing. In just a few breaths, you can relish in the instant joy of a before and after. You start with a dirty microwave, which transforms to a shiny, clean one. And witnessing that process, for many of us, lends a much-needed feeling of moving forward in a time that otherwise feels stagnant. "I think it's just really satisfying for people to see a before and after because they feel so stuck," Haizman says. 
Pro organizer Lisa Jacobs, founder of Imagine it Done, has 36k followers on TikTok. Since she signed up for an account last spring, TikTok has been another way to translate her overall business mission: to educate people about how to improve their lives. Jacobs isn't just going to clean your pantry (or share a photo of it); she's going to teach you how to implement systems that make your life better, in a time when you need that empowerment most. That's why she's drawn toward TikTok, and largely why her platform has exploded. 
"Instagram is wonderful to show people how great things can look, but TikTok is better for tutorials, which allows people to better manage their home space and lead different lifestyles," Jacobs says.
One of Jacobs' most famous videos went viral early last summer. In the TikTok, she's standing in a white dress, teaching her followers how to deeply clean a toilet. Half a million people liked the video, but Jacobs thinks the real impetus was the comment section. People talk to each other about their own toilets and bathrooms, and what they do to clean or organize or solve problems, and everyone leaves the video more knowledgeable about their homes than when they started. 
For many people, especially TikTok's younger user base, the process of making a space more functional can feel overwhelming. TikTok tutorials help take the edge off, boiling down intimidating, complex home jobs to manageable, even fun, bite-sized chunks. (The Harry Styles track in the background probably doesn't hurt.) So we're not just scrolling to peek into someone's unattainable lifestyle. We're walking with them, step by step, through the process—and in the process, gaining a sorely needed sense of support in a really difficult time.
"Most of my followers were feeling very overwhelmed about their spaces, and since they didn't know how to organize or clean, they simply didn't," Haizman says. "Then they see this small, 15-second tip, and they start to feel empowered again."