The Incredible Way "Block Scheduling" Made Me Feel So Much Less Overwhelmed
We
independently
select these products—if you buy from one of our links, we may earn a commission. All prices were accurate at the time of publishing.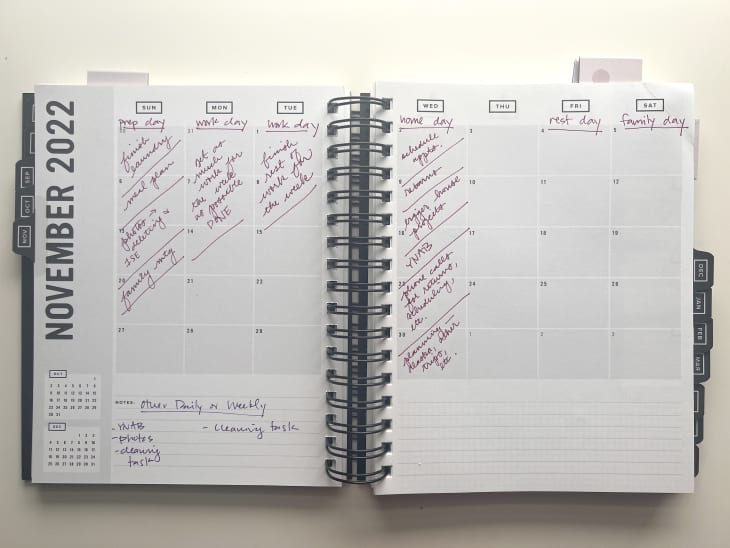 I wear so many hats as a mom and writer that I used to feel like I was drowning almost all the time. But one thing has completely transformed my days and drastically reduced my stress levels: block scheduling. 
Block scheduling involves using time blocks (much like those used to schedule high school classes) to arrange your days. Each block is designated for a specific type or category of task and when that block is over, just like when the bell rings, that "subject" is over and you move on to the next. 
I first heard about block scheduling when I listened to Jordan Page's productivity course, which she was offering for free for a limited time. But that was during the early days of the pandemic, when my schedule was wonky. This year, though, I decided to give the method a chance during "regular life." Anything was worth trying to give me a better sense of control over my limited time and seemingly unlimited to-dos!
I pulled out my paper planner (I do a calendar digitally, but my daily tasks on paper) and sketched out a sample block schedule, knowing I could tweak it. I've been using it for about four months, and I feel like I've finally been able to come up for air. My personal block schedule is a combination of having time blocks every day and having "theme days," where I focus on certain types of tasks. 
Here's my general daily breakdown, including the types of things I do during designated timeframes.
6:30-9:30 a.m. Morning Block: Get up and get ready, get the kids ready for school, exercise, eat breakfast
9:30 a.m. -12:30 p.m. Focus Block: Focus on work; don't do anything else!
12:30-2 p.m. Flex Block: Prepare dinner, do some cleaning or household chores, finish work that wasn't completed during the Focus Block
2-5 p.m.Kids' Block: Pick up kids, after-school snacks, homework, etc. 
5-7:30 p.m. Evening Block: Prepare, eat, and clean up dinner; get kids ready for bed and into bed
7:30-10 p.m. Relax and Rest: Reset the house, read, unwind
To help me remember to switch gears during the day, I set alarms in my phone, named for the different blocks. 
My weekly theme breakdown, meanwhile, is as follows: 
Monday: Work
Tuesday: Work
Wednesday: Home (errands, appointments, cleaning, etc.) 
Thursday: Flex day (because my youngest daughter is home)
Friday: Rest day
Saturday: Family day
Sunday: Prep day (meal plan, order groceries, etc.)
I use these themes to help set my direction for the day. Based on the day's theme, I know where I should direct my energy. 
The combination of daily themes and time blocks throughout the day has been an absolute game-changer. Deciding what to do when and then switching between tasks is exhausting — block scheduling eliminates both. Without the energy drain, I can channel so much more into the things I need to get done and even have margin for things I want to do. 
Knowing that there is a designated time coming up to do things like make phone calls, do returns, or prepare dinner eliminates the weight of a long list of to-dos pressing down on me. When a thought comes into my mind about a permission slip I need to sign, I know I'll get it done if there's time set aside for it. I also — and this is huge — am able to pencil in time for the things I never seem to have time to do (like repainting the bathroom) or that I want to do (like catching up on our family photo albums). 
The very best thing about block scheduling, though, is that it has made me far more efficient with my time and freed me from the trap of multitasking. By separating out similar tasks and batching them together, I am able to be fully present, not only for the adult things I have to do, but, far more importantly, for the precious time with my family. Rather than being distracted by the pull of what's not done, I'm released to enjoy my time with my loved ones wholeheartedly.