I Was Never a Fan of Organic Bath Towels — Until This Plush Option Changed My Mind
We independently select these products—if you buy from one of our links, we may earn a commission. All prices were accurate at the time of publishing.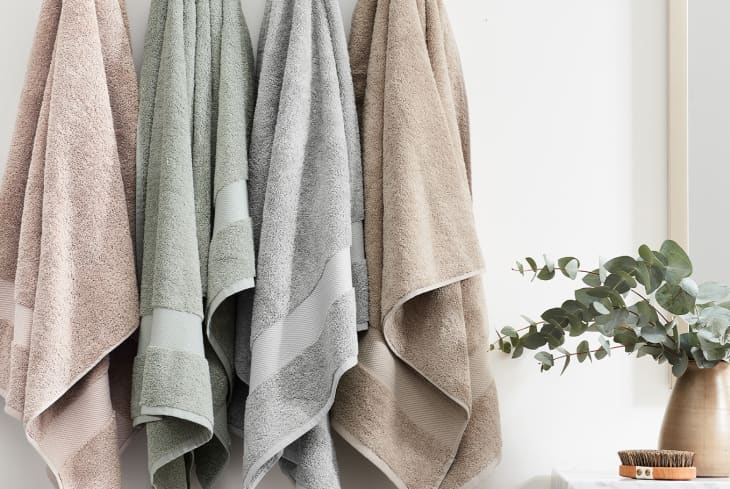 There are three things that happen as you approach your 30s: 1. The front of your refrigerator becomes saturated with "Save The Date" cards; 2. Those sparkles in your hair stop being from rave glitter and start being the gray hairs you just sprouted; and 3. You start realizing how great it feels to invest in high-quality linens. I don't know about you, dear reader, but the older I get, the less willing I am to put up with subpar home linens, especially when it comes to bath towels. For me, a great bath towel is made of high-quality materials, soft to the touch, and super absorbent. Another important component for me is how it's made. When possible, I like to invest in something organic and eco-friendly, but in the past, this has led me to some pretty disappointing (read: scratchy and flimsy) organic towels. In fact, I all but gave up on organic towels as a result. That is until I tried Boll & Branch's Plush Bath Towel.
Made from 100 percent organic long-staple cotton, this is a bath towel that both feels good and is one that you can feel good about. Each thread of this towel is luxuriously woven into terry loops to ensure it is the perfect balance of soft and absorbent — not to mention stylish. It also features a 700 GSM, or grams per square meter, rating (Note: The more cotton grams per square meter a towel has, the softer and more absorbent it will be, with most towels ranging between 600-900 GSM.) But perhaps my favorite thing about this towel is how it's made. OEKO-TEX Standard 100 and GOTS certified, Boll & Branch uses processes that are free from toxins, harmful pesticides, and GMOs; works with family-owned farms and factories to ensure traceability; and partners with independent organizations to maintain the highest standards in ethics, health, and sustainability.
While I've been able to find other options that are sustainably made in the past, organic towels have always let me down in two ways: They were either scratchy or pilled like crazy — my ultimate towel pet peeve. When I first unpackaged this towel, I was both delighted and shocked to find that it was nowhere near rough but actually plush and soft, albeit not as soft as my go-to from Fluff Co (though I've yet to find any class of towel that soft). However, I knew this could change once I ran it through the wash. Thankfully, I lucked out there too in that it seemed to get better (and softer!) with each wash, remaining just as cozy with no pilling to be found. I also found this towel to be a great mid-weight (thanks again to that 700 GSM) and one that does a phenomenal job at drying me off, with a quick pat leaving me dry in seconds. In fact, I was so impressed with this towel, I found myself telling friends about it — another sign of my impending 30s.
Available in six hues, the Plush Bath Towel costs $48, with a full set — including two towels, two hand towels, and two washcloths — coming in at $158. So if you're tired of being let down by organic towels and ready to invest in luxury bath towels that are both responsibly made and made to last, I have a feeling this towel might just become your new go-to. Who knows, you may even find yourself telling your friends about it, too.

Buy: Plush Bath Towel, $48