This Viral Book Christmas Tree Will Make You Look at Your TBR Pile In a New Light
We independently select these products—if you buy from one of our links, we may earn a commission. All prices were accurate at the time of publishing.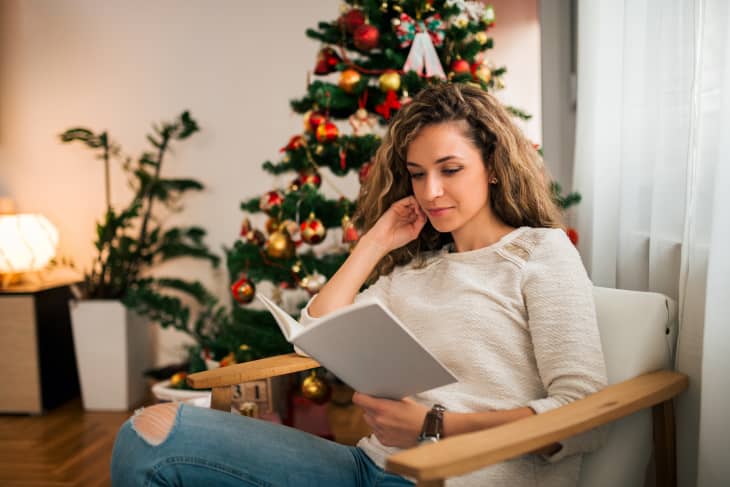 While many lug out the faux Christmas tree from storage or make the trek to pick out a real one this time of year, Katie Fulton of the @KatieNeedsABiggerBookshelf TikTok and Instagram page gets to work assembling her Christmas tree using nothing but books.
Follow Topics for more like this
Follow for more stories like this
Using all her reads from this year (not including her favorite books because she keeps those out for end-of-year wrap-up posts) and books she's read in years prior, Fulton has assembled this impressive tree for four years running. This year, she used a whopping 460 books (nearly 100 books more than last year's creation).
​​"While I have done a book tree for four years, I decided it was finally time to document it!" Fulton captioned her now-viral TikTok with over four million likes.
In a follow-up post, Fulton explained that the lights she uses are LED so the tree doesn't get hot. But even so, she only keeps the lights on when she's in the room. And the tree is nearly indestructible because of how it's built — Fulton even gives it a firm push to show off its integrity. 
"I think one of my favorite parts of the book each year is to see how much better it gets!" she wrote over on Instagram. "I look back at my first tree now and it pales in comparison to what I have done this year! It's so fun to push myself to make it bigger and better each year! … Not sure I can go much bigger before I run into the ceiling!"
She also wrote that her dad mistook this year's book tree for an actual Christmas tree when she showed him a photo. "So I'd say my work here is done," Fulton wrote.
So if you're as big a bibliophile as Fulton, you may want to try building a book tree of your own. Just make sure you don't put any upcoming must-reads in there or else you'll find yourself playing a lose-lose game of Jenga.