These Noise-Reducing Headphones Have Seriously Boosted My Work-from-Home Game
We independently select these products—if you buy from one of our links, we may earn a commission. All prices were accurate at the time of publishing.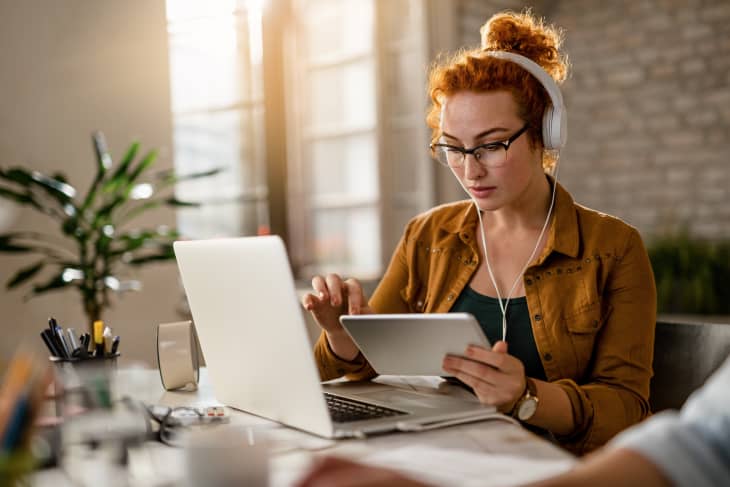 I think there are two kinds of people in the world: those who like working in an environment with ample background noise, and those who prefer the quiet.
Follow Topics for more like this
Follow for more stories like this
I love nothing more than heading to a cafe with friends, and I wish I was someone who could pack up my laptop and get work done there — but I am in the quiet camp, and the coffee shop noise would make it impossible for me to get anything done. I'm lucky to work from home in a pretty quiet environment, but even that can be disrupted by noisy neighbors, co-working with my husband on certain days, or on days where the landscapers are blowing leaves and cutting grass in our condo community. 
I had heard of the wonders of noise-canceling headphones for a while, and thought they may be great to try, but they seemed like quite the investment, and I couldn't bring myself to spend that kind of money, especially when I already had headphones. Then it was Prime Day. 
A pair of Bose noise-canceling headphones that I had recently put on my wishlist went on sale, and I had a feeling it was time to go for it. I checked in with my husband, and to my surprise, these specific headphones had also been on his own wishlist for years. He enthusiastically told me to go for it, and the headphones arrived the next day. One thing my husband and I like to do at the end of every year is decide on our best purchases — kind of as a joke, but also as a way of having gratitude for the items that we truly love, and after just a day with these headphones, I proudly announced that this was my best purchase of 2022. And it was only July. 
In short, I love these headphones. Bose QuietComfort 45 headphones are comfortable enough for all-day wear (a huge win for work life), and the sweet wave of relaxation and focus that comes over me when I put them on makes it worth the investment ten-fold. Wearing them is as if the world had a volume button, and I'm able to turn it down.
These headphones have two modes, "quiet" and "aware", so you can choose whether you want to bring the sounds from your environment in or not, and the audio is always crisp and clear. I underestimated the effect the noise cancellation would have on my productivity — it really helps me focus on the task at hand, since the quieter environment it creates allows me to think more clearly. I usually listen to nature sounds or chill music while I work, which is also very helpful. I think having the headphones on "quiet" mode with nothing to listen to would be a bit eerie, so I always have something playing. And the noise cancellation works!
If my surroundings are especially loud, wearing the headphones muffles and tones the noise down, and when paired with music any outside sound is  hardly noticeable. If I'm working with them on, I'm unable to hear neighbors talking outside my home, the sounds of the washer doing a load of laundry, and I've even missed my doorbell ring because I was deep in my own little work zone.
I let my husband know when I have them on, because there have been a few times he's startled me, simply because I couldn't hear him. I think these headphones would be great for anyone co-working with roommates or a partner at home, and even though I have the option of playing my own music without headphones in my own home, I choose to wear them because of how they help me focus. They're a total game changer. 
Though I'm obsessed with mine, I am also grateful I grabbed them on sale. If you're in the same boat, Bose offers some of their products refurbished, and you can grab a pair of refurbished headphones at a slight discount on the Bose website. Maybe put a pair on your holiday wish list! Dupes abound as well, like this pair that's under $100. I'm looking forward to wearing my noise-canceling headphones for years to come — it's one of the best investments I've made in a really long time.