I Bought the First and Only House I Toured—And It Was the Best Decision I Ever Made
We independently select these products—if you buy from one of our links, we may earn a commission. All prices were accurate at the time of publishing.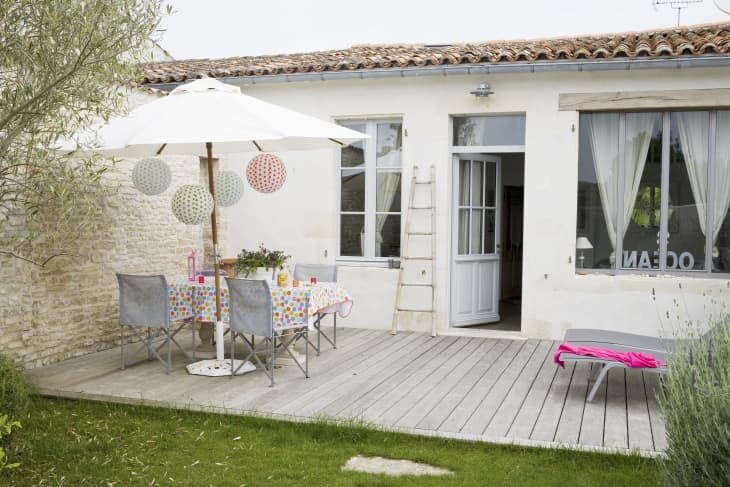 My phone buzzed with a text from my real estate agent.
Follow Topics for more like this
Follow for more stories like this
"Have you seen this house?" he asked on a warm Friday evening last April.
I was surprised to see an unfamiliar house when I clicked on the link. I had been obsessively checking new listings in my quest to find my perfect first home, but this one must have hit the market while I was taking a much-needed break from my phone and computer.
The photos showed a small white house with a bright blue door. It was quirky, cute, and charming. And, as I quickly scrolled down to the details, I noticed it was within my price range and my preferred part of town, too.
The next morning, I hopped in the car and drove over for a tour. I could picture myself living in this house almost immediately and I knew I wanted to put in an offer. But there was just one problem: It was the first and only house I had toured in person.
I fretted all weekend about what to do, absent-mindedly hanging out with friends while my brain chewed over the pros and cons of submitting an offer. Would it be short-sighted or naive to put in an offer on the first house I looked at in real life? Should I keep looking, just to make sure I didn't miss something better? What if my gut was wrong about this one? Of course, there was also the possibility that I'd be outbid or my offer wouldn't be accepted—was I worrying too much over nothing? 
Buying a house is the ultimate "hurry up and wait" scenario. You spend weeks extensively researching different lenders and mortgage terms. You crunch the numbers to figure out your budget, running different scenarios to take into account private mortgage insurance and HOA dues. You scour the real estate listings daily, pouring over square footage and other details.
But then, when it comes time to actually put in an offer, you have to make an almost split-second decision. Wait too long and someone else will snap up your dream home. Though you can prepare and research as much as possible, deciding to buy a home is, on some level, a pretty emotional and gut-feeling decision.
In the end, I put in an offer and ultimately ended up buying the place. I've been in my new house for roughly a year now and I have no regrets. In fact, I've come to love my house and my neighborhood more and more each day, particularly as I've spent so much time here during the coronavirus pandemic.
Here's how I knew the first and only house I toured was right for me. 
1. It was the right price.
Finding a house within my budget was absolutely essential. I know how much I could reasonably afford and that was that. End of discussion. Period. Anything more and I'd be uncomfortable with my overall financial footing.
To create my budget, I simply worked backward: I started by determining how much I wanted to pay each month, using my current monthly rent payment to help give context. Then I accounted for how much of a down payment I had saved up and, voila, I had the magic number.
Though I was able to negotiate the price of my house down a bit, I didn't count on that going into the process. The house was solidly within my budget to begin with, so getting some money knocked off the price was like a little bonus.
I also didn't tempt myself by looking at houses that were outside my price range, online or in person. I set up daily email alerts for new houses that matched my budget and only considered those houses. This way, I didn't get my heart set on something I couldn't afford and waste my time going to see it or agonizing over whether I could make it work.
2. It was the right neighborhood.
Aside from my budget, the other most important factor was that my new home was located within a few specific neighborhoods. I wanted to be somewhat close to downtown, either within walking distance or a short bike or Uber ride away. I didn't want to live in a new development or a neighborhood that felt too suburban or isolated, either. 
I was looking for a home in the heart of town so that I could take advantage of all the great things my city has to offer—delicious restaurants, sunny breweries, funky small businesses and boutiques, and a thriving arts scene. 
Of course, this requirement drastically limited the number of potential homes. But it kept me focused and it ultimately saved me time. I didn't scope out other houses in neighborhoods that I knew weren't a good fit for me.
3. It didn't need any obvious work or renovations.
Though I fantasized briefly about buying a turn-of-the-century home and doing a fabulous DIY renovation, I quickly realized this just didn't fit my lifestyle. I travel often (well, I used to and hope to again soon) and I like having the freedom to do what I want in my spare time. I knew a renovation could take months, if not years, and I didn't want to dedicate that much time, effort, and money to update my new home.
The home I bought had been beautifully renovated just three years earlier. The previous owners knocked down a wall between the living room and kitchen to create a more open floor plan, installed a gorgeous geometric backsplash in the kitchen, and laid hardwood throughout the home. The home was more than just "move-in ready." It was also stylish and had an overall aesthetic that I liked; I wouldn't even need to worry about replacing any of the finishes.
This fact became even more clear during and after the inspection, when the inspector found just a few minor issues that were easily remedied with a trip to Home Depot and some basic tools.
4. It was the right size.
Just me and my 55-pound dog Daisy would be moving into the new space, so I knew I didn't need a huge house. In fact, I had lived in large houses before as rentals and I knew that I preferred a smaller, cozier space. 
My new house is a little more than 1,000 square feet—not too big, not too small. The yard is also big enough for Daisy to romp and play, but not so large that I couldn't maintain it myself with a lawnmower and other basic landscaping tools.
5. The options were limited.
Given my budget and the neighborhoods I wanted to live in, the selection of available homes was already limited. But on top of that, the local real estate market was hot—at the time, homes were going under contract within 24 hours of listing, especially if they were more affordable.
I obsessively researched the local real estate market for more than a year before buying my house, checking the new listings every single morning to get a broad sense of what was out there.
I had seen a handful of promising contenders over the months of my research, but not many. When this house came on the market, I knew it was a rare find and that it might be months before something similar came on the market. I acted so quickly in part because I felt confident in my familiarity with the housing market here. And I didn't want to miss out and have to wait even longer to get into a new place. 
It sounds cliche, but my home also just felt right.
When I walked through the door during the showing, I felt at ease and peaceful. Sunlight streamed through the windows. The neighborhood was calm and quiet. The house felt cozy yet modern.
Over the years, people have told me to always trust my gut. And I'm so glad I did.