Bretman Rock's Colorful Hawaiian Villa is Filled With Filipino Designs and Crystals
We independently select these products—if you buy from one of our links, we may earn a commission. All prices were accurate at the time of publishing.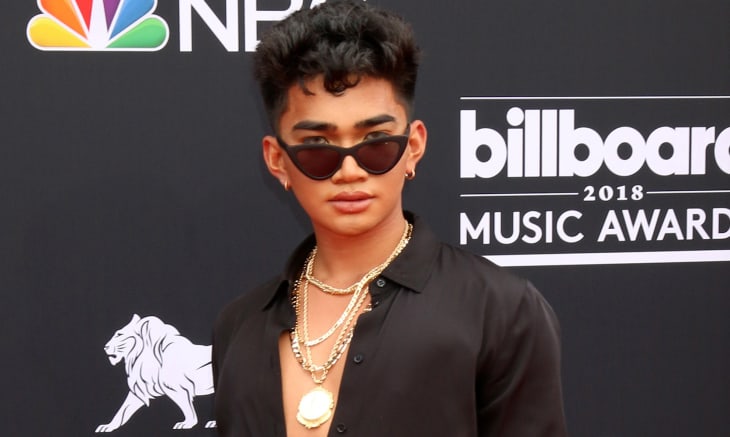 Beauty influencer and social media personality Bretman Rock's colorful Hawaiian villa is befitting for his vibrant persona. Rock welcomed Architectural Digest into his sprawling home — a three-story mansion in Honolulu, Hawaii, nestled between the lush mountains and open sea — for a fun Open Door segment last week. With help from the Hawaii-based design firm MCYIA, Rock created a colorful and eclectic space filled with local artwork, Filipino-designed pieces that pay homage to his Filipino-American roots, and crystals — so many crystals. 
"I wanted the house to feel as if a cool, gay island kid got really rich," the influencer told AD of his vision for the home. "It needed to scream 'gay Asian immigrant success.' I wanted to live that fantasy." Some of the standout features include imported furniture from the Philippines from Filipino industrial designer Kenneth Cobonpue, including a vibrant bloom chair molded after a blooming flower; a dining room butt chair sculpted into a shape of a butt; and the botanical wallpaper in the formal dining area that Rock chose because it evoked Maurice Sendak's children's book "Where the Wild Things Are."
Of course, every beauty influencer has a beauty room — and Rock is no exception. Modeled after a Sephora (hello, black-and-white curtains inspired by the famed interior of every store!), Rock has an entire room filled to the brim with makeup and wigs for the influencer's various YouTube videos. "When I was younger I literally would go to Sephora and just think to myself how cool it would be to get so much makeup and to own makeup, because at the time I could barely afford anything." Rock said. "It's just a cute reminder of why I even started social media."
Other covetable details include a room for wardrobe and a bright attic (astutely coined the influencer's "Bret-Man Cave") with a pool table, Mahjong sets, a science corner filled with beakers and other lab trinkets, and, of course, an entire wall filled with crystals. "Whenever I'm manifesting or journaling, I like to stay in this room because of all the energy," Rock explained. Later, out at the outdoor patio and the front yard, the lush palms and mountains of Hawaii reinforce the home's oasis status.
Tour the influencer's home in the fun Open Door segment above.