A "Collected Treasures" Budget-Friendly Loft
We independently select these products—if you buy from one of our links, we may earn a commission. All prices were accurate at the time of publishing.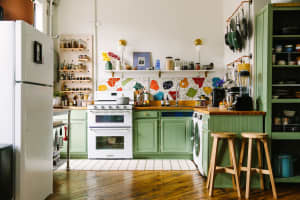 Can't-Miss House Tours Straight to Your Inbox
Keep up with our latest house tours each weekday with our House Tour of the Day newsletter
Name: Bridget and Robert Park
Location: Ballpark District, Denver, Colorado
Size: 800 square feet
Years lived in: 2 years; rented
Hailing from Seattle, these two newlyweds recently made the trek to Denver for a new adventure and grad school. After one year of living in the ballpark district of downtown Denver, a friend told them about an affordable housing program in the city that gave lower income households access to some of the city's most beautiful historic lofts. The situation seemed perfect for this young couple living on a graduate student budget, and with this opportunity they vowed to make this warehouse unit their own without breaking the bank.
These two adventurers love traveling and have a million hobbies in between them, which are reflected in most of the treasures that can be found in their home. To top it off they're both avid thrifters! "A vast majority of our belongings were hiding out in thrift shops, just waiting to be found — vintage cameras, piles of books, globes, textiles, an ever-growing collection of deer figurines, floral dessert plates." says Bridget. "One piece we especially love is our little white dining table, which we found abandoned in the alley one day. It's so quintessentially our style — feminine, and a bit loved and worn it appears — with streaks of the original wood showing through the paint. We like thinking it's gathered some good stories."
I think it's safe to say this apartment feels just like its photo shooting, thrift store collecting, jet setting residents, Bridget and Robert. For more inspiration, decorating tips, and fashion advice (for both ladies and gents) head on over to Bridget's adorable blog and get ready to stay a while.
Apartment Therapy Survey:
My Style: Vintage, shabby-chic — with bohemian, eclectic touches.
Inspiration: There are so many homages to both our interests in this space. Robbie's background in science — flora and fauna prints, globes, plants, birdcages, little objects of curiosity. Bridget's love of the arts— books, vintage cameras, old photographs, a loved ukelele, a record player and albums on vinyl. In some ways it's a perfect portrait of our home's left- and right-brained-ness, in tandem.
Favorite Element: Our nearly floor-to-ceiling windows. On warm days when we toss them open, we feel the real bohemian nature of this artist loft — inspired to spin some records and cook together. We've watched many a snowfall from them. And, pulling the blinds up, late-night thunderstorms envelop our space in surround sound. They're truly the perfect frame for a moody Colorado climate.
Biggest Challenge: Not having demarcated spaces! Small spaces are challenging no matter what, but the loft setup really forces you to confront all your belongings on a daily basis, and to try to create a natural flow. Our bedroom is also our kitchen, our dining room, an office — we're forever figuring that out.
What Friends Say: It's often compared to an Anthropologie or Urban Outfitters storefront, or an updated 90s sitcom apartment.
Biggest Embarrassment: What's become known as our "dog corner" — or where we store our dog crate, their toys, food, etc. It's not the most becoming corner of our little abode!
Proudest DIY: We love our rose velvet armchairs. They were in need of some intense TLC when we found them at the thrift shop — and they gave us our first lesson in at-home upholstery cleaning. The before & after was pretty remarkable. And our beagle loves them, too. Our gallery wall is another favorite project — the frames were all gathered secondhand over many years of thrift-treasure hunting.
Biggest Indulgence: Our indulgences are few — we've mostly found or scoured our furnishings at secondhand shops! But our beloved espresso machine is a favorite. We treasure slow mornings spent chatting over homemade lattes in the kitchen.
Best Advice: Make a space that inspires you to be your favorite self. The spaces we inhabit deeply affect the shape of our lives — our moods, our hobbies, our dreams! Create a home for you, and for those dreams you have. And don't forget to scour the thrift stores.
Dream Sources: Robbie said, "buying my furniture rather than finding it free in the alley." Haha! But really, in some fantastic universe, we'd love to go on a lengthy roadtrip with a little trailer and pick up treasures along the way from antique shops and flea markets. Or, to be honest, we could happily live out our days in a flower shop. That would be fine, too.
Drawers: IKEA
Jewelry Holder: Home Goods Store
White-legged table: Found in alley
Trunks: Goodwill, one from Robert's family
White lamp: found in alley
Baskets: ARC thrift store
Typewrite: vintage, Robbie tracked this down as a gift for Bridget's 18th birthday.
Leather couch: Craigslist, free section.
Frames: Thrifted in WA + CO over several years
Velvet chair: ARC thrift store
Gold trunk: Goodwill in Bellingham, WA
Ballerina painting: Goodwill in Lakewood, CO
Gold triangle decals: Urban Walls (uwdecals.com)
TV: Sony store
TV console: IKEA
Small wooden drawers: Found in alley
Gold mirrors: Goodwill + ARC thrift stores
Pillows: IKEA
Rug: IKEA
Faux sheepskin: IKEA
Blankets: ARC thrift store
Wooden side table: Found in alley
Record player: Urban Outfitters
Unicorn statue: ARC thrift store
Table: Found in alley
Dining chairs: ARC thrift store
Makeshift Hutch: IKEA (Expedit shelves)
Dishes: Anthropologie + Thrifted
Espresso Machine: Amazon
Filing cabinets: ARC thrift store
Stools: IKEA
Floral serving tray: ARC thrift store
Bed: IKEA
Painted bunting: Nichol Duenes (avintagecloud on Etsy)
Bedding: IKEA
Velvet chair: ARC thrift store
Teal school desk: Goodwill in Bellingham, WA
Birdcages: Goodwill in Bellingham, WA
Lamp: IKEA
Deer Figurines: ARC thrift store
Floral garland: Rifle Paper Co.
Globes: Goodwill in Bellingham, WA
Nightstands: IKEA
Wooden shelves: IKEA
Metal storage unit: Found
Anatomical prints: Goodwill
Crystal soap dispenser: ARC thrift store
Shower curtain: target
Bathmat: Home Goods Store
Over-door hooks: Home Goods Store
Paris photograph: Goodwill in Everett, WA
Thanks, Bridget and Robbie!
• HOUSE TOUR ARCHIVE: Check out past house tours here.
• Interested in sharing your home with Apartment Therapy? Contact the editors through our House Tour Submission Form.
• Are you a designer/architect/decorator interested in sharing a residential project with Apartment Therapy readers? Contact the editors through our Professional Submission Form.
Updated daily with fresh tours full of photos for you to pin & enjoy!