No More Broker's Fees for New York City Renters. Yes, Really
We independently select these products—if you buy from one of our links, we may earn a commission. All prices were accurate at the time of publishing.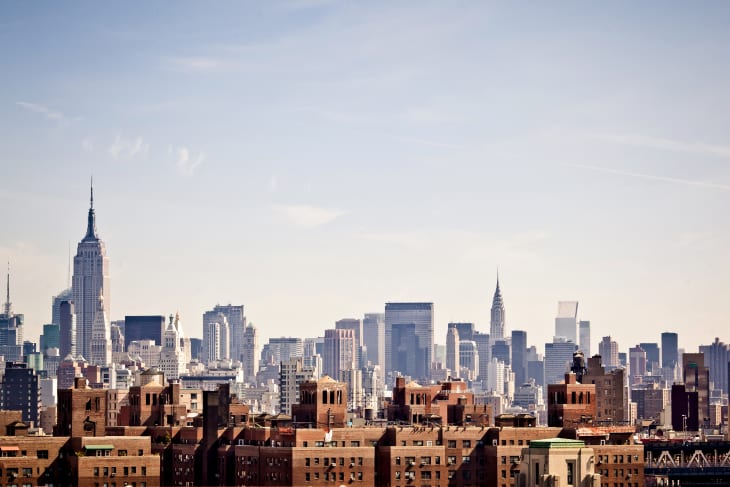 Renters of New York City: You can now kiss broker's fees goodbye.
Follow Topics for more like this
Follow for more stories like this
In a new legal guidance issued by New York state, landlords, not tenants, will now be responsible for paying the notoriously steep fees that real estate brokers charge for renting an apartment.
Previously, brokers—the real estate agents who list, show, and rent apartments for landlords—charged tenants broker's fees up front, which could amount to up to 15 percent of the annual lease, per the New York Times. New York is one of only a handful of U.S. cities where tenants were expected to fork over this lump sum before moving in. 
The Times cites the example of renting a $2,500 apartment: If a broker were to charge 15 percent of the annual rent for the broker's fee, that'd amount to a $4,500 one-time payment. And that's on top of other payments that can be due at a lease-signing, like first month's rent, last month's rent, and a security deposit. 
The guidance is considered a win for tenant's rights, as it combats the prohibitively expensive up-front fees often required for renting apartments in New York. 
"Broker's fees are one of the biggest barriers for tenants and families who need to move," State Senator Julia Salazar told Gothamist. "It should be the property owner's responsibility to pay a broker who finds tenants to rent the owners' space."
However, renters will still be required to pay a broker's fee if they choose to hire a broker to help find them an apartment to rent (versus looking online or checking out apartments on their own).
One of the rent regulation laws passed in New York last year put a $20 cap on application fees, which included the costs associated with credit and background checks. Another prohibited security deposits to be more than one month's rent, reports the Times. At the time, it had been unclear if the $20 cap also applied to broker's fees—but this week's legal guidance stated that it does, effectively banning broker's fees altogether.
Real estate brokers across the city aren't exactly thrilled with this new information. They argue landlords will increase rent prices to recoup the money, though that'll be difficult in rent-regulated units, where rent increases are governed by the state.
The new ruling could also spell disaster for brokers' job safety, especially if landlords opt out of hiring brokers altogether. 
"You might have some owners who decide to just try to do it on their own," said Andrew Barrocas, founder of the brokerage MNS, told the Journal.