Brooklinen Just Launched a New Laundry Detergent I Love Just as Much as Their Linens — Here's Why
We
independently
select these products—if you buy from one of our links, we may earn a commission. All prices were accurate at the time of publishing.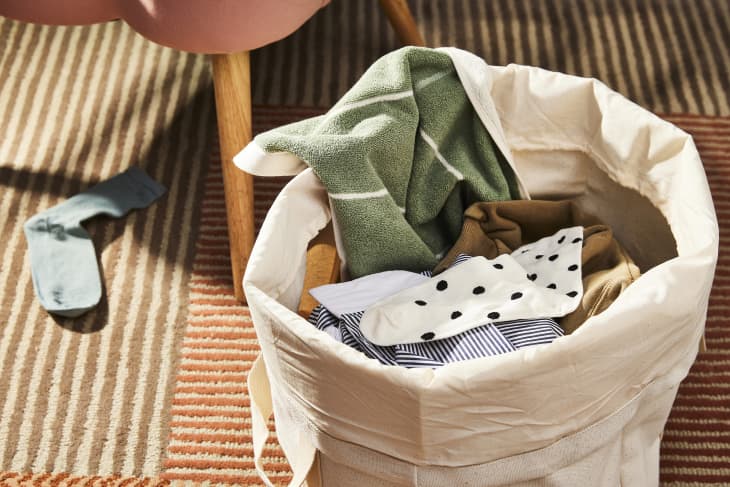 Because my apartment doesn't have a washer or dryer, I have to go to my parents' house to wash my clothes. Laundry is a pain for me, and I dread doing it. It's for this reason that I always keep an eye out for products that will make laundry more efficient and effective, so at least my clean clothes and bedding are the best they possibly can be if I have to put in the extra effort. That's not limited to finding the best laundry basket, drying rack, or small space-friendly washing machine. It also includes the soaps, stain removers, and dryer balls that make my clothes as clean and soft as they can be.
As a result, it has made me highly experimental when it comes to testing out new products on the market. I'm a huge fan of Brooklinen: They're my go-to for silk pillowcases, their checkerboard bath towels are easily some of my favorites in the closet, and their Happy Hour room spray is one of my home fragrance staples. When I heard they were launching their very own laundry care collection, I knew I had to try it. From the bundle of laundry care products they sent me, I was looking forward to the Essential Detergent most of all.
I received Brooklinen's Essential Detergent in Dream Clean, which has a citrus, vanilla, and amber scent that I found pleasant and not overpowering. It's also available in Herbal Clean (white lavender, sandalwood, shea blossom). There's even a fragrance-free detergent for those who want the clean without the smell. The detergent is a plant-based concentrated formula that lasts up to 64 washes, and it can be used in both regular and high-efficiency washing machines. The design of the 32-ounce bottle makes it so much easier to measure out how much you'll need.

Rather than a cup or spout, the Essential Detergent bottle has a lockable pump for measuring. Regular machines need ten pumps of detergent per single load of laundry, and high efficiency washers only need 5-6 pumps. I did three loads of laundry in a regular machine and loved being able to simply count the number of times I pressed the pump. It was less messy, I didn't have to worry about spills or wasting detergent by using too much, and I could tell how clean my clothes were once I moved them from the washing machine to the dryer. After washing all my clothes and towels from the week, the liquid detergent only lowered to the base of the handle so it became clear right away that it was going to last for a while.
"I've never been more excited to do laundry than the day I received Brooklinen's Essential Detergent. I was previously using detergent pods but the boxes are clunky and the pods never fully disintegrate so they'd either leave behind a plastic-y film in the compartment of my washing machine, or they'd leave behind a goop-y mess on my still-dirty clothes. Either way, detergent pods were not my thing," says Shopping Director Jada. "Enter: Brooklinen's concentrated detergent. The plant-based formula cleans as well as my previous detergent, if not better because there's no residue stuck on my clothes or in my washer, and the Herbal Clean scent I tested is long-lasting and smells wonderful and calming. My dingy white percale sheets came out looking somehow even better and brighter than they were on day one, which is saying a lot because they're also from Brooklinen."
The absolute best of Brooklinen's laundry care collection, including the Essential Detergent, can be picked up in the Complete Care Bundle. Along with the detergent in your choice of fragrance (or lack thereof), you'll receive the Oxygen Bleach Alternative, Fabric Softener, Fabric Refresher, Stain Remover, and wool dryer balls. Like the detergent, the products come in recyclable packaging, are hypoallergenic, and are free from artificial dyes, phosphates, phthalates, and parabens. You'll also save 15 percent overall with the purchase of a bundle versus buying them all separately.
As far as laundry goes, I'd recommend Brooklinen's Essential Detergent to anyone looking for detergent without harsh chemicals and heavy odors. Their new Fabric Softener also made my bath towels the softest they've ever been, and such stellar results have only made me more excited to try the rest of the products in the line. For a safer option to laundry care products, this one is pretty hard to beat!