How My Local "Buy Nothing" Group Has Helped Me More Than Just Declutter Ahead of the Holidays
We independently select these products—if you buy from one of our links, we may earn a commission. All prices were accurate at the time of publishing.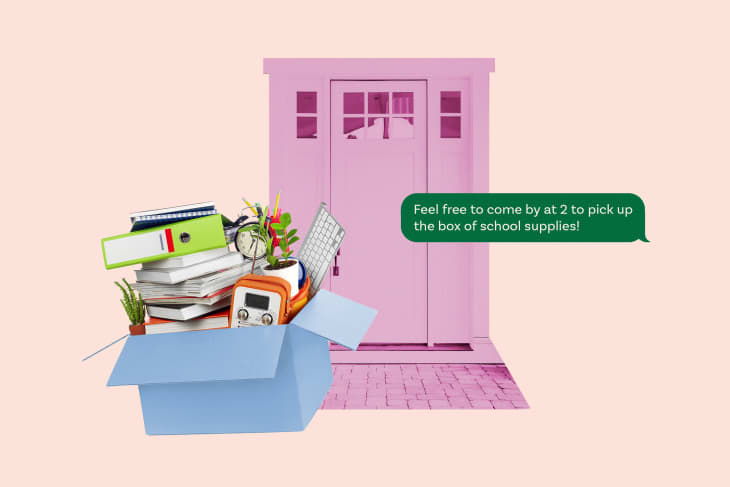 I would say that I don't have any problem decluttering. I know exactly what my four kids, husband, and myself haven't used much or what's been gathering dust around our place. My problem comes after that, when the item is sitting, for days (okay, weeks) in a "donate" bag, bucket, pile, or corner, waiting for its new home. 
Basically, I've moved my clutter to a new designated location, rather than sending it out of our home to someone who can enjoy it. This is the ultimate laziness, as my thrift store drop-off is on the way to daycare and a women's domestic violence shelter is around 20 minutes away (which I'd prefer to contribute to). But here I am, walking around my donation pile until I finally relocate it to my car.
But lately, there's a new antidote to my very first-world problem. My local Buy Nothing group has me on a kick of getting rid of around one item a day, because I can relocate my pile to my front porch bin, where other locals stop by and grab it, after commenting that they are interested in the Facebook post. 
It's really a win-win. I can move the item directly outside and out of mind, preventing an additional errand for myself and allowing me to focus more on actual decluttering. It's great for the other person, who is giving new life to my item. 
And it works in reverse, too. Recently, I picked up free pull-ups my toddler will use from a grandma whose grandchild outgrew most of a new box of them. Therefore, the group indirectly rewards members for gifting their items to each other, because it all comes back around and I end up with something I can use.
Along the way, I've learned some secrets of creating a consistent habit of posting to my Buy Nothing group. First, I used to hesitate to post something if it seemed small, strange, useless, trivial, or even weird. An almost full bottle of expensive salon shampoo? Will people think it's odd that it's opened? Nope, they pick it up that day, and someone uses it. So, I've learned not to judge my item and not spend too much time deciding whether it's "worthy" to post or not. The adage "one person's trash is another person's treasure" has never been so true.
Another lesson I've learned is to prioritize people who can do a quick pick-up. If I'm giving away a toy my kids don't use anymore, the last thing I need is it sitting on the front porch for a week where they could rediscover their undying love for it or start playing with it (because it's there) and it moves somewhere else, never to be seen again. So, especially for larger items, I note that pick-up today or tomorrow is ideal.
With these tips and some consistent donations, the number of cluttered items in my home is slowly decreasing, just in time for the holiday rush of gifts, decorations, and chaos. I'm thankful to this group to have a plan and method of keeping some semblance of control.
This piece is part of Community Month, where we're sharing the best ways to connect with, strengthen, and celebrate the communities you live in and belong to. Head on over here to see it all!