So You Want to Buy Your Parents' House? Here Are 4 Things to Consider
We
independently
select these products—if you buy from one of our links, we may earn a commission. All prices were accurate at the time of publishing.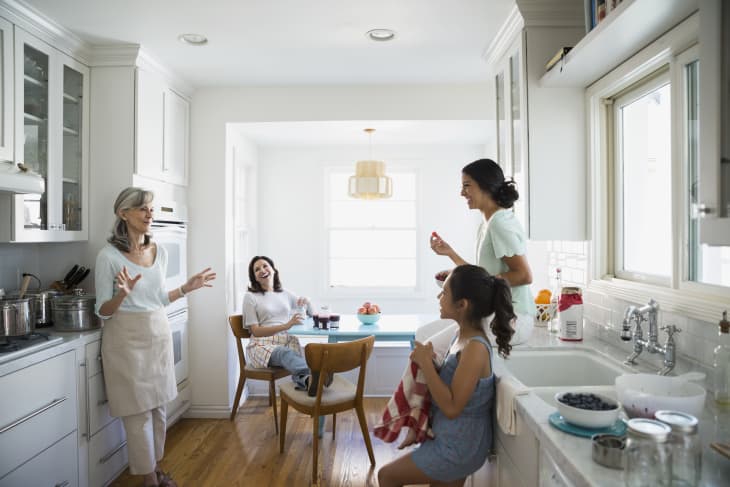 There's a memorable (and, to be honest, pretty cringeworthy) moment in an episode of "The Office" where Dunder Mifflin paper salesman Jim Halpert surprises his receptionist-fiancé Pam Beesly by buying his parents' house for them to live in. 
"Um, do we have to sleep in your parents' bedroom?" she asks. "No, no, we'll just board that up," Jim replies.
Whether you're a fan of "The Office" or not, it's an interesting scenario to ponder. Maybe you never moved around as a child, so you have a real sentimental attachment to your parents' house. Maybe you want to help your parents out financially by buying their place. Maybe it makes sense from a co-living perspective while you're raising little kids.
Whatever the reason, buying your parents' house can feel like totally unchartered waters (Jim and Pam excluded, of course). I checked in with real estate agents for some tips and advice if you're pursuing this home-buying route.
Sure, your dad is the world's best handyman. But if your parents have lived in their house for a long time, chances are there's some deferred maintenance, or issues they weren't even aware of. Get an inspection, so you know what you're getting into from the get-go, says Aletha Champine, a real estate agent in Milwaukee, Wisconsin.
"In this case, all parties may have normalized the home's quirks, and it's best that the investment and memories be protected by having an unbiased set of eyes look at the home's guts, even if the homebuyer is purchasing the home for significantly less than market value," she says. "It may not be necessary to negotiate repairs in this situation, but at least the purchase is being made with all information in the open."
Be firm on the closing date and move-out process
There's a good chance your parents have a lot of stuff that they've accumulated in their house over the years. From the outset, draw up a schedule with target dates and deadlines, including a firm closing date, so your parents aren't tempted to take their sweet time moving out. And remember that you'll likely be recruited to help them with this process, too, so factor that into your decision to buy.
"Work with your parents to get everything out of the home in a timely manner," Champine says. "There's no need to drag out the moving of possessions from their — and your — past. Work together to sort through what stays and what needs to go. You do not want your new home to become your parents' new storage unit."
You're completing a business transaction with the people who raised you and helped you become the person you are today. There's going to be some amount of emotion involved in it, but it's best if you can keep your feelings for your parents separate from your feelings about the house itself. 
Are you buying the house because your parents guilt-tripped you, or because you actually want to? Are you offering them a good deal at your own expense because you feel you owe them, or vice versa?
"Don't let emotions blur your judgment," says Suzanne Seini, a real estate agent in Southern California. "Most children might be buying the home for sentimental reasons but the investment pros and cons still need to be weighed. You want to make sure the deal is fair for all parties involved."
Be mindful of your relationships
Before you even consider buying your parents' house, ask yourself honestly if your relationship is strong enough to withstand any potential disagreements or arguments that arise during the process. 
Similarly, if you've got siblings, you'll need to carefully evaluate your relationships with them, too. If one of them feels cheated or left out because of the deal, you could be setting yourself up for a rocky road ahead.
"Keep in mind that there is a saying that 'money is the root of all evil,'" says Dino DiNenna, a real estate agent in South Carolina." It is always better to have a family than to have a house without a family."