6 Things Nobody Tells You About Buying a Home in Ski Country
We independently select these products—if you buy from one of our links, we may earn a commission. All prices were accurate at the time of publishing.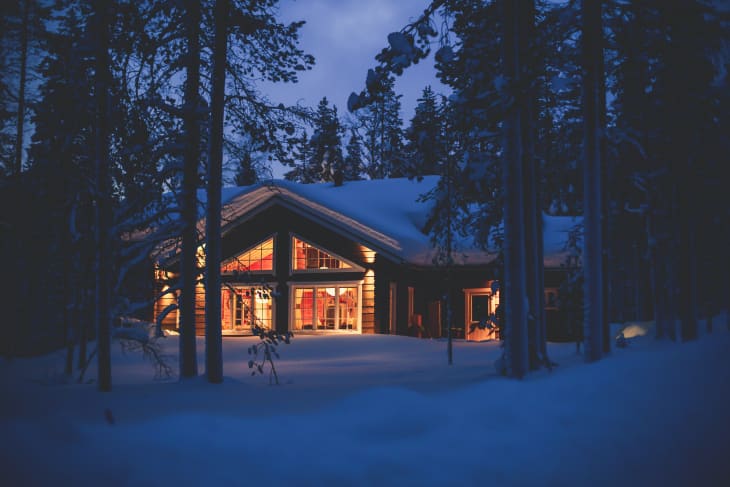 Some people dread the winter. Then there are those who start polishing their snowboards before autumn even ends. While snow is certainly an acquired taste, those who have the taste for freezing temps and towering mountains will defend it all day long. But as anyone who has purchased a home in a ski town will tell you, there are important details to take into consideration. Here's a look at the things you need to know about before buying a home in a ski town. 
Follow Topics for more like this
Follow for more stories like this
Ski towns move on their own schedule.
If you're an urban dweller looking to slow down, you're going to have to accept that things in a rural environment aren't done at the same speed as in a city. From real estate transactions to getting your heat fixed, things move at a slower pace. 
"Repairs, rental processes, general communication, HOA responsiveness — pretty much everything," says Lindsay Scola, who purchased a home with her husband in Killington, Vermont, in 2020. 
While adjusting to this pace was a bit challenging, especially since the couple didn't live there full-time to manage maintenance issues, Scola says "things always get done, and done well." Ultimately, she's learned from it. "The number one lesson we have learned when buying in a ski town is to slow down, be patient, and embrace the mountain lifestyle."
Not all roads are publicly maintained during the winter.
It turns out the road less traveled by may also be left unplowed. Kate Ziegler, a Realtor with Coldwell Banker Lifestyles in New London, New Hampshire, notes there are some roads that a municipality may elect not to include in plow service. 
"If you were counting on that when buying your house, especially if you planned to rent it out on weekends to skiers, you might be in for an unpleasant surprise," says Ziegler, who lives near Mount Sunapee. 
Worn tires, aging batteries, low ground clearances, and rear- or front-wheel-drive cars can all be challenged by typical conditions in any ski resort parking lot, let alone in the exposed driveway of your new home, says Ziegler. "And this doesn't include the havoc of road salt!" She advises having a solid plan for jumping your car, like a portable lithium ion jump kit, or access to roadside support.
You need to work with people who know the area.
From real estate agents to mortgage professionals, you need to hire pros who know the local environment best. Scola says it was "incredibly helpful" to use a local, in-state credit union for their mortgage. "They were noticeably more attentive and personable than we previously experienced when working with larger banking institutions," she says. "The credit union also had in-depth knowledge of local rules and regulations that were important for us to have an awareness of when buying in the area."
Snow removal is your responsibility.
If your ski home is a secondary property, you need to have a solid plan for snow removal since it's unlikely you'll be around all the time. "Even if it's as simple as a neighbor with a plow, know what you can expect from your town, and what you intend to do with your own driveway access," says Ziegler. 
For instance, she has an agreement with a neighbor to plow their driveway within a couple of days of any snow. "When winter temps stay below freezing for weeks and months at a time, we can't afford to skip a storm!" Ziegler says. "Once it's snowed in and frozen solid, it's a long wait for the spring thaw."
If you're toying with buying a home in a ski area, it's likely you have some dedicated snow fanatics in your family. Michael Parker, director of real estate sales at Whitetail Club in McCall, Idaho, says avid skiers should search for a home that has ample storage for all the gear that comes with being an outdoors enthusiast. 
"When buying a ski house, buy a house that fits the skier's lifestyle," Parker says. "It's going to get messy." If possible, he recommends looking for a space that features a mudroom with benches, lockers, and a floor with drainage so you can move from home to the slopes and back again easily.
Don't neglect the other three seasons.
It may be a ski house, but you're going to own it during spring, summer, and fall as well. That's why it's essential to plant your flag in a place you want to spend more than just the winter months. 
"One should consider the '365' of a home," says Ken Forbes of Spruce Peak Realty in Stowe, Vermont. "Families have varied interests, so a home in a ski town that offers something for every season should be considered."
Scola echoes that sentiment, adding that while she and her husband originally purchased in Killington for access to the mountain and winter sports activities, they've come to love the warmer months "just as much."
"There is a wide variety of outdoor activities and events during the off-season that we feel very fortunate to have easy access to," Scola says. "We realized that choosing an area we can enjoy year-round is something we are grateful for, and would highly recommend seasonal considerations when researching areas to buy."