Move Over, Cottagecore: Fall's New Trend is "Cabincore"
We independently select these products—if you buy from one of our links, we may earn a commission. All prices were accurate at the time of publishing.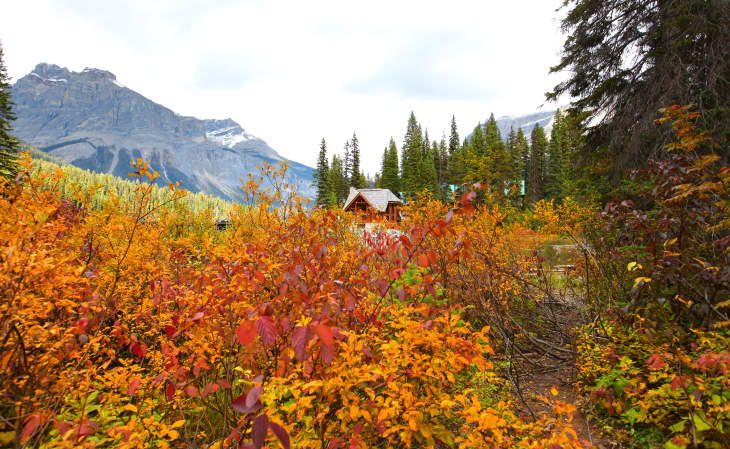 The cottagecore aesthetic took over social media just at the right time during the months of stay-at-home orders and quarantine. With its nature-heavy vibe, emphasis on slow living, and ditsy floral prints, earth tones, and natural fibers, the cottagecore trend was like a collective breath of fresh air. But with fall rounding the corner, does the sunny warmth of cottagecore still stand?
Short answer: no. Long answer: kind of, but it's shifting into something else. Cottagecore may be drifting out the cotton-curtained window, but cabincore is standing on the sidelines waiting to take its place.
The lightweight loveliness of cotton and linen textiles is shifting over to flannel, fleece, and denim. Dainty florals are turning into warm-toned plaids. Pastel yellows, purples, and pinks have deepened into turmerics, maroons, and browns.
Anything that comes to mind when you think "cabin in the woods during autumn"—that's cabincore. And luckily, if you hopped on the cottagecore trend earlier this year in your design scheme, you're mere steps away from nailing the cabincore look.
Cottagecore and cabincore are kindred spirits, and your cottagecore decor can easily shift over into fall mode. For example, both cottagecore and cabincore rely heavily on natural wood tones and vintage styling pieces.
Similarly, both aesthetics draw inspiration from nature so your botanical prints and bouquets are still very much so relevant—you may just want to add some fall foliage to your collection. And the focus on twee activities like baking, crafting your own tea blends, knitting, and needlepoint carries over from cottagecore to cabincore.
The move from cottagecore to cabincore is a simple one and can really enhance the mood shift from summer to fall. Think of cabincore like dimming the lights on the airy, breezy feel of summer. Fire up a couple of candles, stoke the fireplace, and put the kettle on. Autumn is officially here.