Chad's Guest House & Reinvented Garage
We
independently
select these products—if you buy from one of our links, we may earn a commission. All prices were accurate at the time of publishing.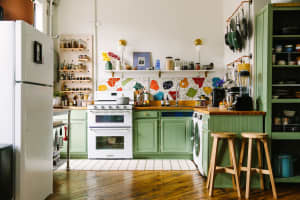 Can't-Miss House Tours Straight to Your Inbox
Keep up with our latest house tours each weekday with our House Tour of the Day newsletter
Name: Chad Peacock & Dutch The Dog
Location: Larchmont — Los Angeles, CA
Size: Approx. 1,000 square feet
Years lived in: 6 months — rent
Chad and his adorable dog Dutch, moved into their new guest house merely half a year ago. When deciding to rent the space, it was conditional based on his access to the empty garage. Knowing that he wanted to repurpose the entire space is what sold him on the lease. Instead of using the empty garage for storage, he converted it into an entire additional living space.
Many thanks to Bianca Benitez + Rob Sinclair who introduced me to Chad. As I search for thoughtful, sustainable and different homes, I am always impressed with homeowners who take on the task of construction and renovating themselves. The true DIY charm of this conversion lies in Chad's love of repurposing. A product + graphic designer, he also truly enjoys talking about design as much as he believes that you can convert anything into something new and functional. "The place is just so eclectic. When you live in a culturally homogenous place (like some northern European countries I've lived in) you know what to expect when you walk into people's homes or offices. In LA, you never have any idea what you're going to get. And rather than bemoan the lack of rationality or a higher defining principle in LA's overall aesthetic, I think it's more interesting (and rewarding) to celebrate the fact that this place never ceases to surprise. So I guess I've absorbed that a bit: don't try to restrict yourself to a set of principles or design rules or themes. Just throw shit together that looks good together, regardless of its provenance or pedigree."
Dutch the dog is notably the most significant thing in Chad's home, however he also loves to collect antiques and random vintage pieces from his hometown and his travels. He loves "the old RUSHLAND sign from the itty bitty train station in the town where I grew up." Another idea he had was to merge indoor and outdoor living, which was accomplished with building a deck and french doors out back…as well as completely removing the car garage door and making sliding french doors instead. In the main house there is a living room, small kitchen nook, bedroom and bathroom. Building a full deck out back, he was able to create a nice walk through to the converted garage space, where he build a bed loft. The garage now houses this loft, an office nook, a full dining space, a living space and a screen projector for movies and tv.
There is certainly a lot to look at in Chad's home: artwork, books, flowers, plants, tons of furniture and collectables. In terms of designing a space: he believes that everything has it's right place "Even when I was a little kid I used to rearrange my room constantly – I like to think that there's always an absolutely optimal spot for everything, from your couch to your coffee machine, from your dog's water bowl to your coat rack. And I keep working until I find that spot– for everything (even tiny things, like lighters and push pins). Placement is crucial, and it has two aspects to it: functionality and aesthetics. Functionally, I want things to be right where I need them when I need them. And I want them to be where I'd expect them to be if I was new to the place. Visually, I don't put anything in my home that I don't love to look at– so everything should be placed in a way that allows it to look its best."
Apartment Therapy Survey:
My Style: Collecting objects / pieces from my travels, using things that have a story or some meaning behind them.
Inspiration: Converted barns in suburban Philadelphia, where I grew up.
Favorite Element: The back deck. With the French doors swung open, it's like having a private garden in the middle of my house.
Biggest Challenge: Engineering 4 standard swinging glass doors into 2 sliding barn doors. Either that or filling all the cracks in the old wooden siding to keep the elements out.
What Friends Say: Your landlord must be really psyched. (One thing they're not allowed to say is that it's a "man cave.")
Biggest Embarrassment: After building the loft, realizing (too late) that the center support beam I salvaged from an Ikea bed was not quite as sturdy as you'd expect it to be. Luckily when the bed came crashing down, it folded up into a V and completely missed my desk and computer.
Proudest DIY: The sliding doors. I had originally planned to install new barn door roller tracks, and hang wooden barn doors on them, but then I discovered (to my great surprise and delight) that the original 1920s iron sliding tracks were still there & still working! It took some thinking & some careful tweaking, but I managed to build 2 very solid sliding glass doors out of 4 salvaged hinged doors. I bolted them together & mounted them in the antique hangers and it worked perfectly! I then installed one hinged door on each side to fill out the space. When I open the two side doors and swing the glass doors to one side, I can instantly open up my living room to the outside world.
Biggest Indulgence: The projector. The screen cost virtually nothing (I just bought a roll of light blocking curtain fabric downtown, stretched & framed it with reclaimed old boards), but the projector was the best $800 I've ever spent. With some relatively cheap surround speakers, I have my own private movie theater.
Best Advice: Have patience when you're looking for a new place to live. Apartment hunting is inevitably really depressing, but you'll know it when you find the right spot.
Dream Sources: If you know where to look, LA is already a dream source. There's so much amazing old stuff around that can be rebuilt / manipulated / repurposed into something new and wonderful.
• Didn't paint much at all — tried to find things that were either bare wood or were painted a very very long time ago.

• Bought 6 old glass doors & a reclaimed window at Silverlake Architectural Salvage for $500. Bolts & mounting hardware all came from a half dozen trips up Wilton to the Home Depot.

• There is almost nothing in the house that was purchased new (by me at least). In fact, most of the larger furniture pieces were gathered from right around my neighborhood.
• Even some of my plants are grown from clippings I took of trees in the neighborhood.

• Dining Room table I spotted from my kitchen window at a garage sale next door one Sunday morning.
• Chandeliers came from Amsterdam (they're probably the one thing people comment on the most frequently). Urban outfitters carried similar ones for awhile, and you can also find similar ones in the flower district downtown.

• I did the checkerboard pattern with little 2×2 squares of black vinyl.
• The big cutting countertop is actually just made from half of an old wooden coffee table I used to have & just took the top off of it.
• The kitchen is small, but having lived in Europe and watched friends make some unbelievable meals in even tinier kitchens, I know it doesn't really matter. Although I do miss having a dishwasher

• I haven't done much with the bedroom yet, although I like the starkness of it in contrast to the rest of the place.
• The long horizontal windows are also really wonderful in the morning when the sun shines through.
• An unexpected bonus of living in a guest house is you're really removed from the street, and from any other neighbors (who are all at least a back yard away). So the bedroom is really private, and extremely quiet.

• Again, it's kinda small, but at least I've got a bathtub I can stretch out in! ( Plus there's a pool out front, so who needs to take showers?)

• I took an old Ikea loft, put it together and then framed the outside of it with old wood to make it look vintage. There were tons of old windows and glass doors laying around the place, and I used them to decorate the loft and my desk area.
• To add some ventilation & natural light, I just put one of the pieces of exterior siding on hinges. You can lift it up and lock it into place, creating an 8 foot long narrow window right above to my desk.
• Building the staircase was hilarious– it was basically me staring at 3 boards for about an hour, scratching my head. Then suddenly it just popped in my brain how to do it, and once I started sawing it was finished in a half hour. Again– life is a whole lot easier when you don't have to make things look shiny and polished! Or adhere to building codes 😉

• The back deck is just incredible in the morning. It really has the feeling that you're in some bungalow hotel in Palm Springs or something. So damn dreamy and sunny and leafy and wonderful.
• When I put the hammock up, I did it almost just because it felt like there HAD to be a hammock there– I never really had one before or spent a lot of time in them. But as soon as I got in that thing the first time, I realized that I was going to spend every morning in it. Which I do.
• Many thanks to my dad, who flew out from Philly to help me build the deck.

• Even though I don't own the place, I had a great time putting all that work in it. I just enjoyed the process, and I enjoy the results every day– I don't care that I'll leave one day. I also like to look at it as training for when I do own my own place!
• Also I can't stress enough how nice it is building inside an old wooden barn. It's like legos for adults: you just cut a piece of wood and screw it or jam it into place. No need for polishing or finishing or repainting. The rougher it looks the better.

• HOUSE TOUR ARCHIVE Check out past house tours here
• Interested in sharing your home with Apartment Therapy? Contact the editors through our House Tour Submission Form.
• Are you a designer/architect/decorator interested in sharing a residential project with Apartment Therapy readers? Contact the editors through our Professional Submission Form.