This "Anti-Aging" Sofa Will Make Living Room Magic for Years to Come, According to Interior Designers
We
independently
select these products—if you buy from one of our links, we may earn a commission. All prices were accurate at the time of publishing.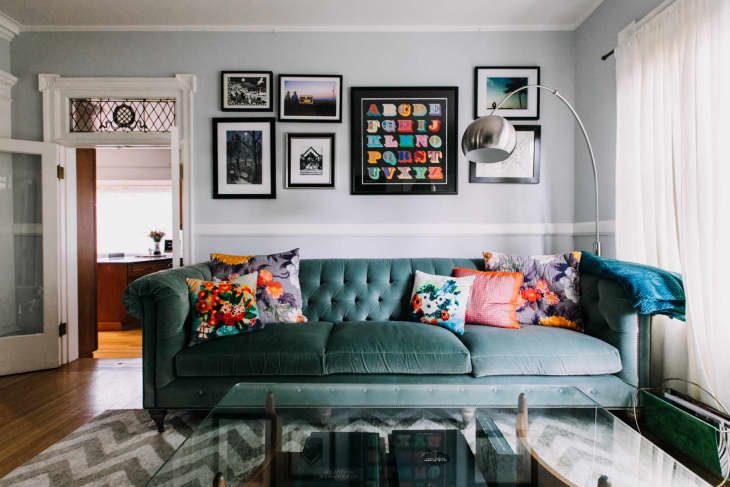 I've never thought about living room sofas in the same way as I have skin care products, and yet, oddly enough, there are some parallels. Both can be major investments, and for that reason, you want to make sure you're spending your money on something that's going to perform over the long haul.
I'm starting to think about buying a new sofa in 2020, so I decided to ask a few Decorist designers whether they thought there truly was a style or type of sofa that was "anti-aging"—you know, built to last and something that would age gracefully—or dare I say—get better with time. Surprisingly (or maybe unsurprisingly if you're a sofa savant), they all essentially had the same answer: A chesterfield sofa! For someone who was thinking about graduating from a small space loveseat to a clean-lined sectional, this recommendation is potentially a game-changer. Here's why three designers think chesterfields are the way to go in your living room now—and forever!
For Caitlin McBride, a Decorist classic designer, it's all about texture, and leather is her default pick for lengthening the lifetime of a sofa. "A good leather sofa—chesterfields are my favorite!—is anti-aging because worn leather gets better over time," says McBride. "It becomes soft like butter and when the leather starts to wear, it adds character to the sofa, which is something that can't be purchased, as it's achieved over time."
Technically, she's right—you won't get that perfect worn-in patina when buying off the shelf at a big box or home furnishings store. But if you can find a preloved leather Chesterfield sofa on Craigslist, Facebook Marketplace, a thrift store, or otherwise, you'll be a leg up on the breaking in process. And you'll probably save a lot of money buying secondhand, too.
Then there's the whole matter of the chesterfield's silhouette. Slouchy and super shapely sofas with lots of cushions may be trending right now—best believe I've been crushing on a couple of curvy beauties at Anthropologie lately. But the tight, high back of a Chesterfield always appears neat and clean. "The chesterfield sofa has the traditional rolled arms and tufting, which will look chic for years to come—maybe even decades," says Briana Nix, a Decorist elite designer. Moreover, you don't have to worry as much about misshapen or deflated cushions down the road because there are fewer of them on chesterfields by design. And even though there's not much extra fluff to chesterfields, they're still wildly comfortable to sit and lay on, especially if you find one with a deep seat.
Audrey Margarite, a Decorist Elite Designer, is also a chesterfield sofa fan. But she thinks you can solve the issue of sagging down the road by thinking about what's actually under the upholstery when shopping. "Look for a sofa with a hard-wood frame and an 8-way hand-tied spring system," says Margarite. "This is a quality sofa that won't sag over time. With use, you may want to recover the sofa in a new fabric, but you can be confident that the sofa's construction is solid."