Chrissy Teigen Just Shared Her Picture-Perfect Kitchen Pantry, And We've Never Been More Excited to Organize
We independently select these products—if you buy from one of our links, we may earn a commission. All prices were accurate at the time of publishing.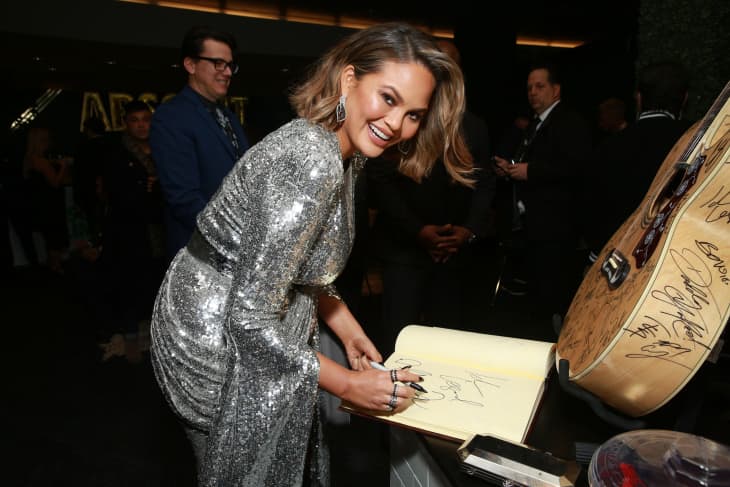 Conjuring up the motivation to tackle a project can feel impossible, but seeing someone else succeed can do the trick—especially when they provide the photographic evidence to prove it. So get ready to feel inspired to organize this evening, folks: Chrissy Teigen just posted a striking carousel of her pantry that will have you drooling over its perfection. 
Follow Topics for more like this
Follow for more stories like this
Teigen posted a seven-photo collage on Instagram last night, showcasing the current state of her kitchen pantry (spoiler: it's perfect). From the lazy susans stocked with oils to the tiers of jarred goods and the pull-out drawer of every nut, grain, and seed imaginable, it doesn't look like there's one ingredient out of place. All hail the Queen of Pantries. 
In the caption, Teigen draws the attention of the "neat freaks" of the world by saying "look how purdy my pantry is!!!!" The first shot alone gives you a taste of what you're about to get into: three shelves lined with grains and seeds in labeled containers, an assortment of spreads, and tasty snacks in wooden cubbies. 
Keep scrolling to see each of these sections in full, eventually leading to the next section of the pantry: the assortment of teas and vitamins as well as the pull-out drawer of nuts. Then you get a glimpse of the three-tiered corner, which has a collection of fried fruit, canned coconut milk, dressings, and an impressive amount of hot sauces (Teigen doesn't mess!). 
Last but not least, the seventh photo showcases an array of soup cans, cereals displayed in plastic containers, and another angle of her teas and vitamins. What *clap* a *clap* journey *clap*. 
Teigen was sure to give credit where credit was due, too, and thanked organization company RIOrganize for helping her achieve serious #pantrygoals. We might just hit them up next!