Christina Hendricks Added These Colors to Make Her Space More "Playful"
We
independently
select these products—if you buy from one of our links, we may earn a commission. All prices were accurate at the time of publishing.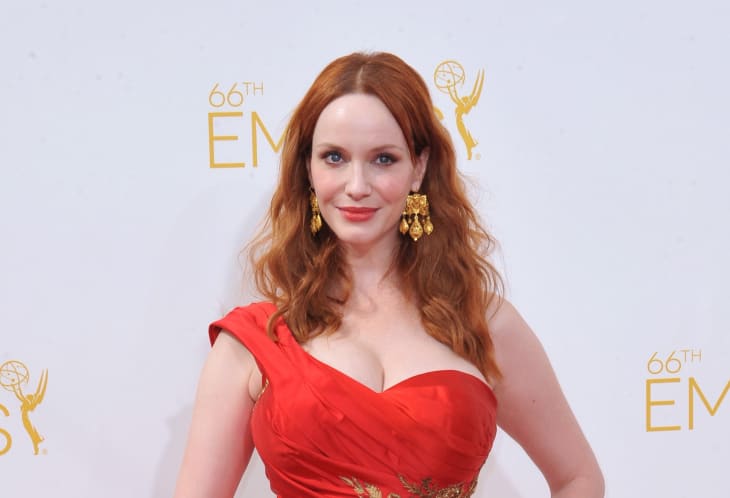 Christina Hendricks, who starred in "Mad Men" and "Good Girls," shared her colorful home in a recent issue of the Property Brothers' Drew + Jonathan Reveal Magazine. And while all of Hendricks' spaces represent her style, it's the vibrant and eclectic dressing room in the attic that reveals the colors she really leans on to bring fun into her interiors.
In the magazine feature, which is also online, Hendricks explains that she went from "romantic and serious" to "romantic and playful" with her palette by adding some yellows and pinks to her mostly neutral-colored home. "I wanted it to be happier and cheerier inside," she explained in the story.
Yellows and pinks, among other pops of color, shine throughout her attic interior and deliver that "playful" element Hendricks' was aiming for. The purple velvet couch, the yellow rug that's layered on top of another, the pale pink flowers that tie into her overhead pink rock light — they all contribute to an overarching joyous sensation.
Nothing really "matches" in Hendricks' home, but she proves it doesn't need to. While she tries to buy new pieces that complement her current decor, if she truly loves something, she'll "find a way to make it work." And that easily results in adding more color into her spaces, which has occurred over the course of time — reflecting the transformation Hendricks herself has undergone when it comes to her design style.
"When I first bought the home, I painted everything white because I just wanted a neutral palette," Hendricks recalled in the interview. "I'd never owned a home before. And as the years go by, another room gets wallpapered, another room gets painted."
While yellows and pinks have become Hendricks' go-to when it comes to infusing playfulness, it's different for each person. So moral of the story: explore your relationship with color. It could result in something beautiful for your home.