This Sweet Christmas Morning Tradition Brings Us So Much Joy, We Can't Stop Sharing It With Other Couples
We independently select these products—if you buy from one of our links, we may earn a commission. All prices were accurate at the time of publishing.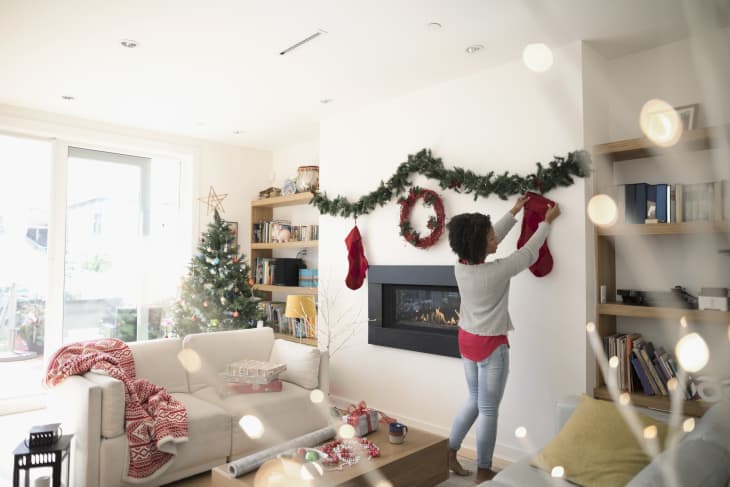 In our household we're big on Christmas. My husband and I like to partake in all sorts of personal holiday traditions together. We like to put up our decorations the day after Thanksgiving, and on Christmas Eve, we have dinner with our closest friends and then head home to dress up in holiday pajamas and wrap all the presents. Giant mugs of hot cocoa and funny holiday cards are included.
Follow Topics for more like this
Follow for more stories like this
But our favorite tradition is a bit more sentimental: On Christmas morning, we swap wish lists for each other's lives to help manifest good things for the new year to come. It's a simple act we share that brings us such joy as a couple, and if I'm being honest, it's become what we look forward to most during the holidays.
It all started the year we were saving up for our wedding and decided to exchange an experience instead of gifts to keep our holiday spending low. Why not give Christmas wishes, we thought? We both wrote out lists for each other's happiness and growth, and on Christmas morning, we read them aloud to each other. Our wishes weren't for material things — instead, they touched on personal growth, family, and our careers. It was a moving and sweet experience that we wound up recalling fondly many times in the new year. And so, our little Christmas morning tradition was born.
We write the lists by hand, wrap them in gift boxes, and exchange them on Christmas morning. I love when we read them aloud to each other. Some of our wishes for each other come true, while others, well, let's just say they're still loading. But what matters most to us is that we continue to hold space in our marriage to share love and good tidings for each other in a way that gives us something special to cherish and look forward to every holiday season.
This simple act has has brought us closer during the holidays and done wonders to strengthen our partnership, especially during more challenging times. The years we lost loved ones, we wished for healthy healing and time to grieve. When we faced obstacles in our marriage, we wished for stronger communication skills and more time to just enjoy each other's company. We've come to learn that there's a quiet power in wishing the best for your partner in a way that feels both tangible and aspirational and, for us, that really evokes the spirit of the season.
Sometimes we talk about our wishlists with friends and family and the idea has become quite popular with other couples in our lives — some have enjoyed trying it so much they adopted it as their tradition too. The more the merrier, we say.
Do you have any personal holiday traditions you share with your partner? I'd love to hear about them in the comments below!