These 3 U.S. Cities Will Pay You $10,000 to Move There
We independently select these products—if you buy from one of our links, we may earn a commission. All prices were accurate at the time of publishing.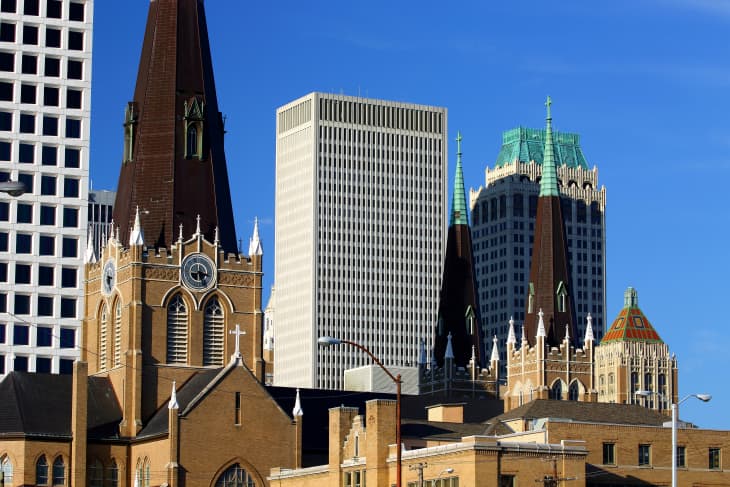 Fancy a fresh start? If you're lucky enough to be able to work remotely — especially during the COVID-19 pandemic — now may be a good time to pick up and live somewhere else. You're in good company as you dream of new digs, too, as about half of Americans right now are eyeing a move. Plus, this next step in your life might just come with some cash perks. Check out these three places in America that offer cash for remote workers to come and be a part of the community.   
Follow Topics for more like this
Follow for more stories like this
If, like a lot of other people right now, you're considering moving to a location with a more affordable cost of living, you can't go wrong with trying out Tulsa. The city's new Tulsa Remote program invites eligible remote workers to move to the Oklahoma city in exchange for $10,000 in cash, a free co-working space, and perks including community events, deals on apartments, and more.
To qualify, applicants must have a full-time remote job outside of Oklahoma — including self-employed gigs like freelancing — are over 18, eligible to work in the U.S., and can move in 2021. In the wake of the pandemic, Tulsa Remote's community-building events have gone virtual, and in the meantime there's lots of space to spread out and get some fresh air including rolling hills, river parks, and botanic gardens. Plus, that sweet $10,000 will certainly come in handy for moving expenses and a frugal, DIY overhaul of your new place.    
Start anew in Newton, Iowa.
Looking to find your forever home in America's heartland? The city of Newton, Iowa, is banking on the fact — literally — that folks are seeking out the serenity of the farmland-surrounded city by paying out over $10,000 to homebuyers. Thanks to the Newton Housing Initiative, if you buy a new home in the city, you're eligible to receive up to $10,000 at the time of closing.
While that chunk of change is paid out only for homes worth $180,000 or more (excluding land), a $5,000 incentive is offered for homes valued between $100,000 and $179,999.99. Heads up that this offer only applies to new homes which began construction in either 2020 or 2021, though you can also apply for grants to improve residential units in the downtown historic district. With a typical value of about $108,000, the homes here are affordable abodes, especially when moving from coastal cities. Newton is the kind of place to start a family, too, with activities ranging from the arts to go-karts (including racing to the nearby Iowa Speedway) plus plenty of parks to explore. All this is only about 30 miles from Des Moines.    
Try shoal searching in Alabama.
The Shoals in Northwestern Alabama are an area ripe for exploring. From the stunning Coldwater Falls in Spring Park, to tons of trails for hiking and horseback riding, the region is a nature lover's paradise. And for those seeking city life, the Shoals encompasses the cities of Cherokee, Tuscumbia (the birthplace of Helen Keller), and Waterloo — plus it's a two-hour drive from Birmingham, Memphis, and the country music capital of Nashville.
More music to your ears? Through the Remote Shoals program, qualified people who move to the area for remote work can score $10,000, 25 percent of which is paid upfront to help with moving expenses, with another 25 percent in six months, and the remaining cash after staying a year.