Pottery Barn Is Selling a Bone-Shaped Holiday Stocking for Dogs — It's Paw-sitively Adorable!
We
independently
select these products—if you buy from one of our links, we may earn a commission. All prices were accurate at the time of publishing.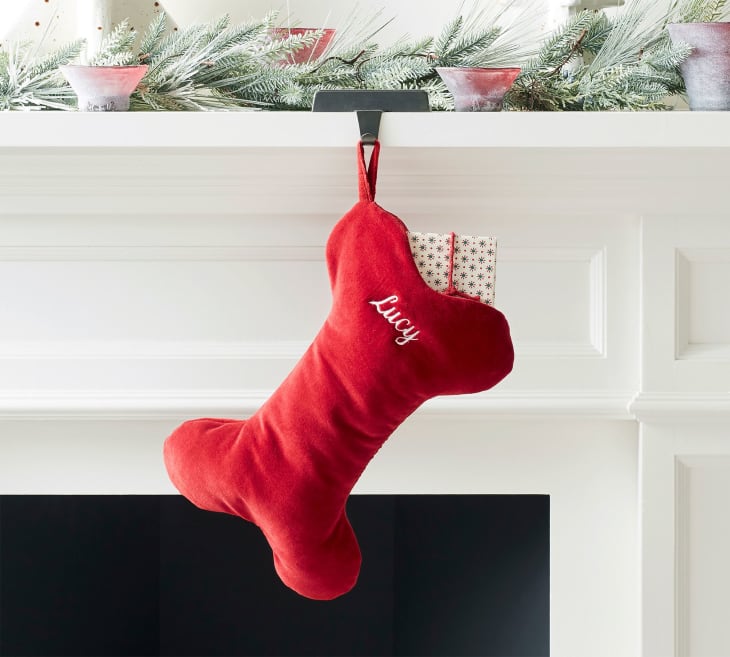 The holiday season is all about spreading cheer, decorating our homes with twinkling lights and festive ornaments, and, of course, hanging stockings by the chimney. But as we prepare to shower our loved ones with gifts, let's not forget our four-legged pals who bring so much joy to our lives. Our pets are always there with their unconditional love, so why not make the holidays a little extra special for them, too? Introducing the Classic Velvet Bone Pet Stocking — it's shaped like a dog bone and is super soft to the touch. Fill it up with your furry friend's favorite treats and hang it by the fireplace with the same care and excitement as the rest of your stockings. This holiday season, it's only fair to let your dog join in on the festive fun!
What Is the Classic Velvet Bone Pet Stocking?
The velvet stocking is your pet's holiday goody bag! It's made from soft, velvety material shaped like a cute dog bone. The stocking is the perfect way to give back some love to your loyal furry friend during the holidays. Fill it with their favorite treats, toys, and surprises, and hang it by the fireplace or wherever your stockings go. It's a fun and memorable way to include your dog in the holiday excitement. Not to mention, it's made from 100 percent cotton with a polyester fill, making it easy to clean.
This Classic Velvet Bone Pet Stocking is more than just a holiday decoration; it's a heartfelt gesture to show your furry companion how much they mean to you. At just $24.50, it's an affordable way to make your dog feel cherished during the holiday season. With its adorable bone-shaped design and soft velvet texture, this stocking adds a special touch to your holiday decor.