How I Finally Got My 100-Year-Old Bathroom Tile Floor (and Grout) Clean
We independently select these products—if you buy from one of our links, we may earn a commission. All prices were accurate at the time of publishing.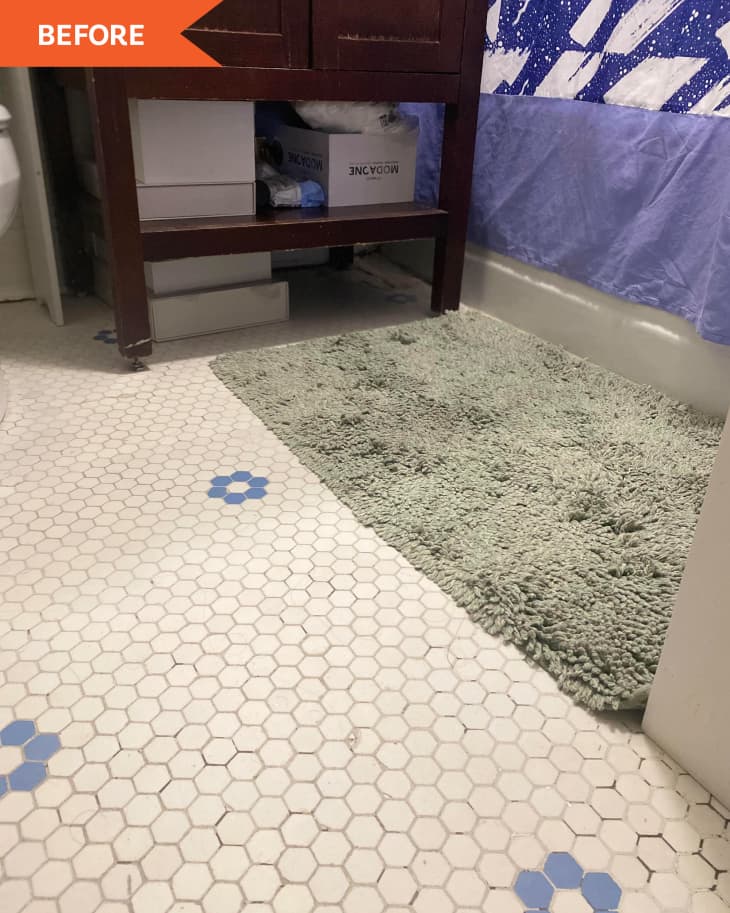 Old bathrooms are lovely if you have the budget to restore them. But if you're unable to, whether you cannot afford it or are living in a rental, they can be a little less lovely when stuck in a dilapidated state. 
I live in a 100-year-old apartment building in Chicago, which means my bathroom came complete with blue and white hexagonal tiles. I love vintage porcelain tiles as much as the next antique buff, but when you move into a space that has seen decades of cleaning neglect, that floor looks more dingy than charming. My particular tiles have yellowed and grayed in spots, been chipped and broken, and the grout has deteriorated, crumbled, and yellowed. The result is a floor that never truly looks or feels clean, no matter how much you scrub it.
Follow Topics for more like this
Follow for more stories like this
And I've tried everything. I did every single thing that internet aficionados have told me, from scrubbing the grout with baking soda and peroxide to dousing it with toilet bowl cleaner to getting a grout pen to try to make the lines white. All of these failed, and the tile looked exactly as it always did. That is until I found Bar Keepers Friend.
What You Need to Clean Your Bathroom
If you have old bathroom tiles that look dingy, I suggest getting the powdered form of Bar Keepers Friend and using that as your one and only cleaner. All you need is the powder and two scrub brushes: one large brush for the tile and one denture brush for the grout. You will clean the tile in sections, so sprinkle the powder on a 1-foot area, add some warm water to create a paste on the floor, and use the large brush to scrub in circles. 
Once that's done, take the denture brush and roughly go over the grout with medium pressure. Then let the paste sit on the tile for about three minutes, moving on to the next section while that sits. Afterward, take a damp rag and wipe the paste away, leaving behind clean and refreshed tile. 
I won't say that the end result is restored white tiles. Instead, the grout is less stained, the tiles look two shades lighter, and most importantly, the floor feels clean. It feels well-buffed and polished and doesn't leave me with a vaguely grossed-out feeling that I'm standing on top of decades of grime. 
This process might feel a tad labor-intensive if you have a large room to clean, but if you have a small bathroom, it shouldn't take longer than 10 or 15 minutes. I also like to do this every other week, with a quick mop sufficing during the in-between weeks.