The Mess Matrix: Where Does Your Cleaning Style Fall?
We independently select these products—if you buy from one of our links, we may earn a commission. All prices were accurate at the time of publishing.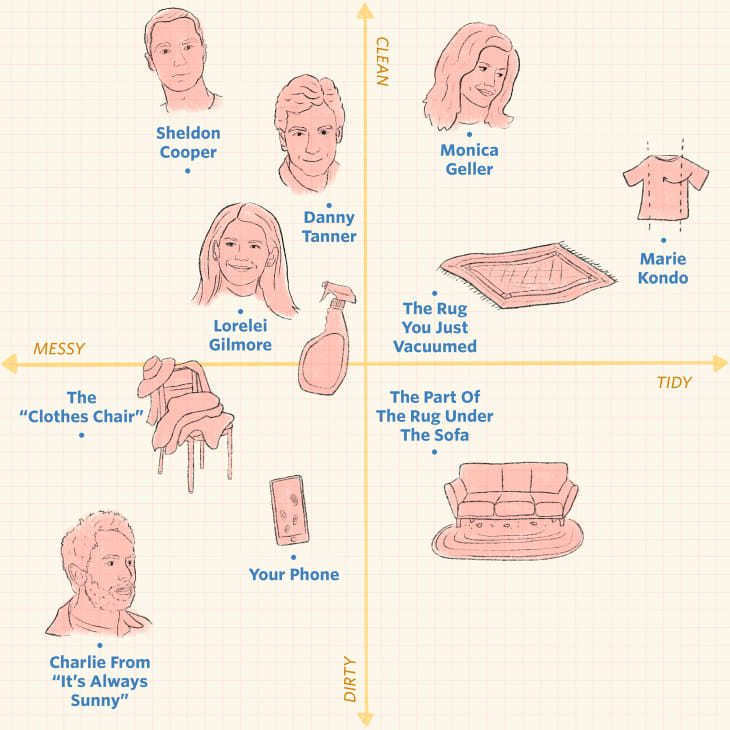 Sure, you might fancy yourself an everyday Danny Tanner when it comes to housework, but how much of a neat freak are you really? To help you better understand your own unique cleaning style, we put together a foolproof matrix to compare and contrast different kinds of housekeeping habits. From Monica Geller-worthy organizational skills to Charlie Kelly-level messiness, read ahead to see where your distinct cleaning style falls. 
Follow Topics for more like this
Follow for more stories like this
In general, super tidy people—like KonMari queen Marie Kondo—keep their spaces super organized: their beds are always made, their laundry is always put away, and their home is kept neat and clutter-free. While messier people, such as Charlie Kelly from "It's Always Sunny in Philadelphia", are just fine with a having a "clothes chair"—aka a piece of furniture to throw your clothes on versus a closet or laundry basket—instead of an organized closet.
No matter how glaring the differences between the two might seem, the distinctions between tidy and messy people aren't always so black and white. To determine whether or not you're actually a truly tidy person, take inventory of your home organization habits. Do you regularly purge your place of household items that no longer "spark joy" in order to keep your home organized? Or do you have a secret closet, filled with junk from floor-to-ceiling like Monica Geller from "Friends", that makes you much less tidy than you'd like to admit? There's a chance you possess a few more Charlie-style housekeeping traits than you might think. 
Believe it or not, you can be a tidy person but not a clean one—and you can be dirty person that isn't messy. Housekeepers that fall on the clean axis of our matrix are ones that work hard to keep their home spotless—i.e. they use disinfectant wipes on door knobs, scrub their grout with a detail brush, and even vacuum the part of the rug under the sofa (kind of like Sheldon Cooper on "Big Bang Theory"), but aren't necessarily well-organized.
Conversely, dirty people are less inclined to regularly wipe down their countertops, sweep their floors, or dust their apartment—but still might have a perfectly organized closet. To figure out where you fall on the clean versus dirty scale, consider how often you actually deep clean your place—think: sanitize your garbage can, degrease your stovetop—not just "tidy it up." If you don't own a good grout brush or Swiffer, you may be teetering more towards the "dirty" side than you realize.
So, where do you fall on the mess matrix? Sound off in the comments!
Correction: An earlier version of this post mistakenly spelled Monica's last name as Gellar. It's actually Geller. We've updated it to be more accurate—hopefully, she won't tattle on us.