This $10 2-in-1 Wayfair Find Is the Key to a Clean Kitchen Sink (and Clean Dishes)
We independently select these products—if you buy from one of our links, we may earn a commission. All prices were accurate at the time of publishing.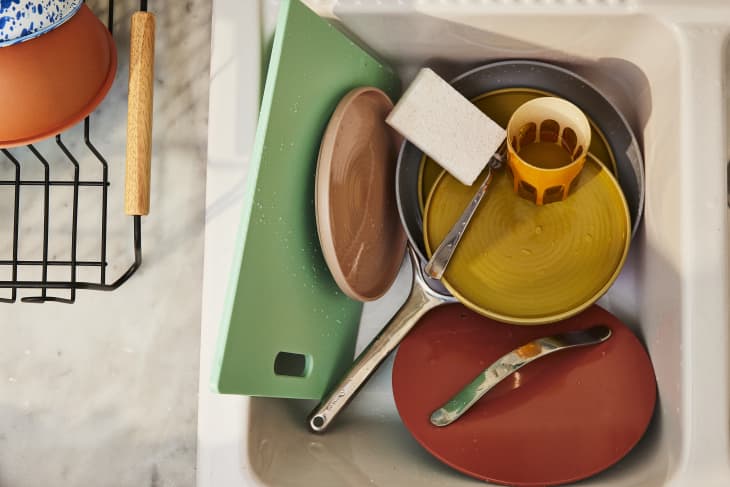 There is a special genre of kitchen tools I call Unnecessary Necessities. These are things you could easily go years without owning and still be a happy person, but once they make their way into your kitchen, you can't imagine life without them. Before I bought a citrus juicer, I gladly squeezed lemons and limes by hand. But now I can't go back to my old ways. Likewise, I never minded pouring olive oil right out of the bottle, but now that I keep mine in a convenient pourer with a spout, I'll be drizzling this way forever.
One tool that, at least for me, is an Unnecessary Necessity is the sink protector. This simple clear plastic mat lives on the bottom of your kitchen sink and prevents it from becoming scratched, dinged, and stained by your cookware, dishes, and loose bits of food. Even better, a sink protector lowers your chances of accidentally breaking dishes if you drop them in the sink, since it acts as a sort of cushioned landing pad. Sink protectors are such a quick and easy upgrade, and if you don't have one yet, you seriously need to try it.
This model on Wayfair has the classic pebble design, which serves two important functions. The gaps between the pebbles let water flow through to the drain, and if the mat ends up being too big for your sink, you can easily cut off excess pebbles with a pair of kitchen shears to make the mat fit (and look like it was made exactly for your sink's size). Although the mat doesn't have any suction cup feet, it's grippy enough to stay in place and won't float up when it's submerged in water.
I first encountered this sink accessory at my parents' house. I thought it was kind of silly at first, but after a soapy glass slipped out of my hands, landed in the sink, and didn't shatter, I knew my parents were onto something. Whether your sink is metal or stone, this mat will make sure it doesn't develop any unsightly scrapes or blemishes on the bottom (which can be nearly impossible to repair once they happen). The mat also reduces how often you need to scrub your sink to remove buildup or discoloration, and it doubles as a countertop drying rack. It really comes in handy after you wash big pots and pans and need to give them a place to dry.
Wayfair shoppers have given this an average 4.5-star rating and love how easy it is to use. "Seems simple and it is," one reviewer wrote. "I love them to protect my sink and to keep wet dishes from slipping. And, surprisingly, they may be clear but they're also really pretty!" Others complimented it on how well it does its job. "These are great in preventing dents and scratches in a stainless steel sink," one shopper wrote. "It's a fantastic product and great price."
For $10 you can ensure your sink will stay looking its best for years to come. And, you can cut down on the number of wine glasses you need to replace each year. After thinking about it, maybe this belongs in the Necessary Necessities category.

Buy: Clear Sallie Plastic Sink Protector Mat, $9.25