The One-Step Hack for Keeping Finicky Houseplants Happy
We
independently
select these products—if you buy from one of our links, we may earn a commission. All prices were accurate at the time of publishing.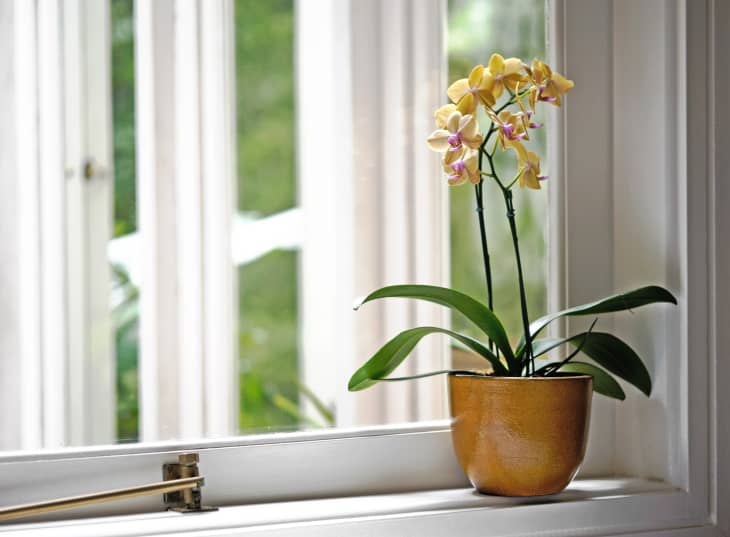 Have you been desperately trying to keep the humidity high around your prized houseplants? Certain tropical houseplants are humidity-lovers and you just can't give them enough no matter how many humidifiers you have going. If you're struggling with end-of-winter dryness, consider this easy, affordable one-step hack to keeping your finicky tropical houseplant happy: Put a cloche on it.
Cloches, also known as bell jars, have been around for centuries. These glass vessels came out of France in the 1700s, but became mainstream in the 1800s when the Victorian houseplant craze came roaring onto the scene. Are they gorgeous additions to houseplant decor? Yes! Are they practical, too? Absolutely!
By placing a glass cloche over your plant, you're creating a mini-climate. The moisture that the plant releases will stay within the cloche, creating condensation that is then reabsorbed by the plant. This keeps the humidity high around that finicky plant and cuts down on your watering schedule. 
Ferns, alocasias, anthuriums, orchids, calatheas, and tillandsias all do wonderfully under cloches. 
As for where to purchase a cloche, these days you can find them anywhere from craft stores to resale sites like Facebook Marketplace. They're affordable, too, with plenty of options coming in under $30 apiece.
When you're considering the size of cloche to use with your plant, remember to size up. You want your plant to have room to grow, so think about the height and width of your plant. Don't choose a cloche that will smush your plant's leaves.
Also, a word of warning: Don't place plants with cloches in direct sunlight. As with terrariums, the glass of a cloche acts as a magnifying glass when it's hit by the sun. The temperature will rise within the cloche at a very fast pace and scorch the plant. Stick to indirect light, and your tropical plants will thrive under their steamy new conditions.
Once summer rolls around and the ambient humidity is higher, you can remove the cloche for storage — or use it around the house to display other decorative items until it's needed again.