There Are 2 Very Good Reasons for Doing Closing Paperwork in Person
We independently select these products—if you buy from one of our links, we may earn a commission. All prices were accurate at the time of publishing.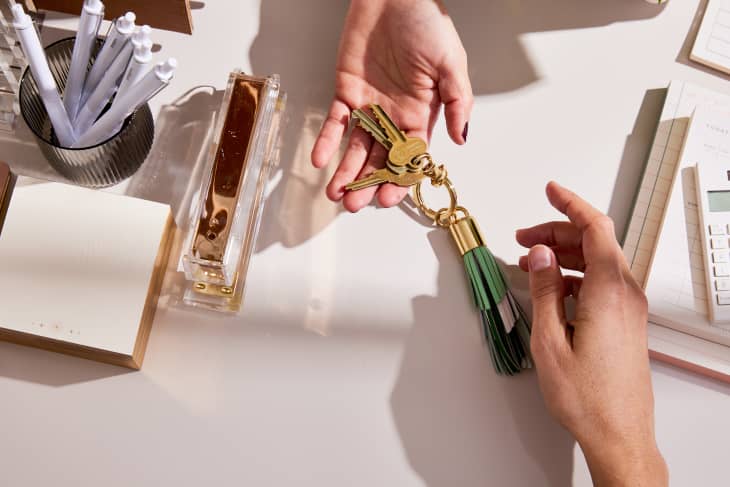 Closing on a property used to be a homebuyer rite of passage. Sitting in a mortgage broker's office, branded pen in hand, and signing seemingly hundreds of documents while wondering if you can steal yet another piece of candy from a bowl was the ritual everyone had to go through to own a little slice of the American Dream.
Follow Topics for more like this
Follow for more stories like this
But closing remotely became standard as the pandemic progressed three years ago, and even though in-person activities have since returned, there are still buyers and sellers — and agents, too — who prefer virtual closings. 
Is this a good thing, as many remote shifts have been? Perhaps not. I spoke to three real estate professionals who shared why they still think it's a good idea to do closing paperwork in person. Read on to find out why you might still want to do this milestone face-to-face. 
It's a Person-to-Person Transaction
Closing on a house is something to be celebrated and commemorated, and there are conversations that could happen in the small talk between signing approximately 500 documents that add even more emotion to the process. 
"When our team is fortunate enough to represent a first-time homebuyer, we highly encourage an in-person closing," Haley Cutter, with Boston-based Cutter Luxe Living, says. "This is an amazing milestone that our team loves to be a part of."
"I had a recent closing where the seller was retiring and liquidating his investment properties. My buyers were new investors, and this was their first property. The seller took an hour after closing to talk to us about his successful investment strategy over the last 40 years," Tarasa Hurley, a Realtor in Pittsburgh, says. She explains that this in-person interaction gave her clients a personal connection with someone they may not have met otherwise — and introduced them to someone who can offer years of wisdom and expertise. 
On another recent closing, adult children were selling their late mother's home. Hurley describes the closing, "The mother lived a long life, but the children were still grieving. At the closing table, we found out that my clients had moved here to be part of the church that the mother helped found." This personal moment created a connection that helped the children confirm that their mother would have been okay with the decision to sell the home — and the new residents.
She goes on to say, "My clients decided to keep the mother's religious statue in the garden as a tribute. We had hugs and tears all around the table. Sometimes closings are not just financial; they create closure for families."
"Simply put, signing closing paperwork in person allows margin for error. When the parties of the transaction sign in person with an escrow or closing agent, errors within the documents or a signature in the wrong place can be corrected instantly," says Phil Greely, a licensed real estate agent in Seattle, pointing out the more practical reason to show up on closing day.
He explains that had a seller client scheduled to sign in-person, and, when the buyer's agent opted to credit a small amount of money to the buyer, they had to adjust the documents and get the seller's initials to approve the new terms.
"Because they were signing in person, the unsigned form was signed immediately during the scheduled signing. Had the seller been out of town or mailing documents back and forth, the closing date may have needed to be changed for this last-minute alteration," says Greely.
Plus, both parties had a professional guiding them as they navigated the mountain of documents. Unless you buy and sell on a regular basis and these technical and legal terms never become second nature, having your agent by your site is a huge bonus.