The Colors You Should Never Paint Your Front Porch, According to Real Estate Agents
We independently select these products—if you buy from one of our links, we may earn a commission. All prices were accurate at the time of publishing.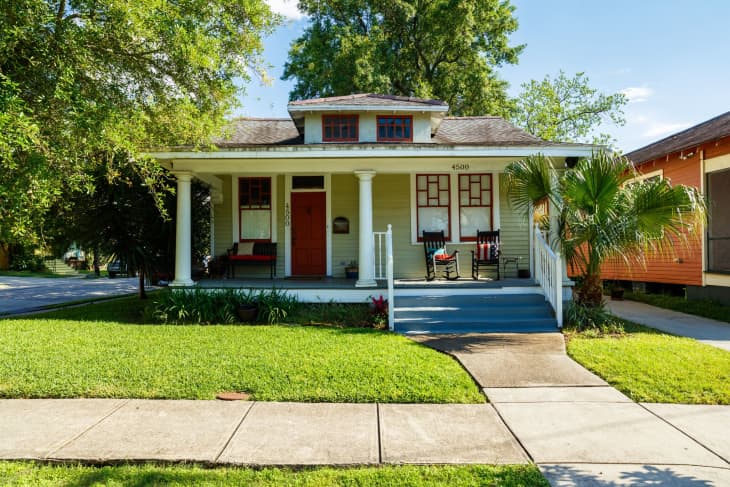 For those looking to shake things up in the curb appeal department, a can of paint is usually a good place to start. But if repainting your home's entire exterior seems like too big of an undertaking, giving the front porch a makeover is a solid weekend project. After all, the porch is the first thing people see — from a random jogger to a prospective buyer — so it can really set the tone for the rest of your house.
While there are endless paint colors to choose from, it's important to ensure that the color you pick doesn't send the wrong message. Here's what real estate professionals believe are the colors you should avoid for your porch front porch. 
Though white might seem like a natural color choice for porches, there are instances (and climates) where you'll want to avoid it.
"White might seem like a good choice, but it's not great because it gets dirty looking," says Dill Ward, the principal broker at Living Room Realty in Portland, Oregon. 
When it comes to your outdoor space, it's always essential to factor in your environment when deciding the ways you want to decorate, according to Ward.
"Every time I see white, especially in our area in Oregon, it just rains, and then it looks dirty," she says.
Meanwhile, in the Bay Area, white porches aren't a bad choice at all.
"White always goes well as a general rule for porches," says Matt Gomez, a realtor with Vanguard Properties in San Francisco. "The floor of the porch you usually want to go white."
These days, many homeowners are painting their porches in darker hues like gray and navy, while soft earth tones have fallen out of favor.
"Right now people are not doing too many earth tones — not a lot of browns or yellows," Gomez says. 
Over-the-Top Statement Colors
Julia Monaghan, a realtor with Soldera Properties, Inc in Lake Oswego, Oregon, says fire-engine red and yellow come to mind as no-nos for front porches. But bold isn't always bad, she adds.
"We see a lot of people using bright bold colors for doors, and when it's done in connection with the rest of the house and landscaping, it looks great," Monaghan says.
While certain colors, such as a bright magenta or a cherry red, may be hard to work with, there isn't actually a bad choice, as long as it's cohesive with the rest of your exterior, according to the experts. 
"It all depends on the style and architecture of the house; anything can be pulled off if it's done right," Monaghan says. "If you're going to sell it I would lean towards neutral colors, but if it's your own porch, paint it whatever color you want."