I Trust This Container Store Pick When Buying Multiple Woven Baskets
We independently select these products—if you buy from one of our links, we may earn a commission. All prices were accurate at the time of publishing.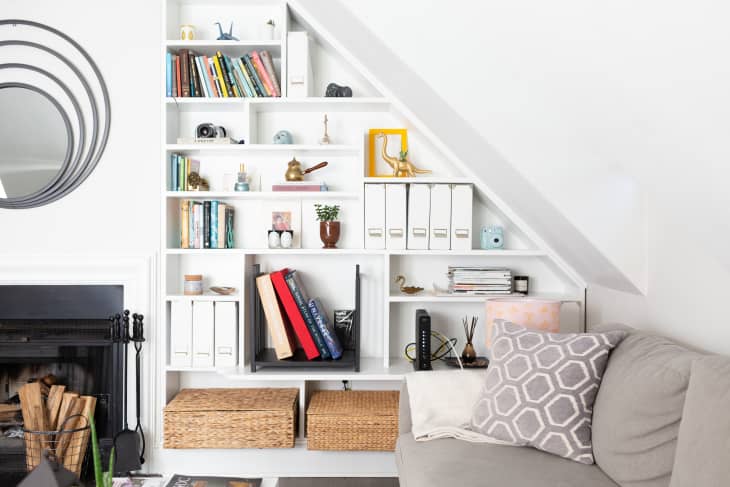 When it comes to organization, baskets are a bedrock. Even the most minimalist person still has stuff — which tends to move here and there throughout a room, seemingly on its own accord — and a basket makes it possible to collect and conceal it all. Maybe you're not doing as well as you could be on the "donate, sell, trash" front, but if you have a basket, then you're likely doing just fine.
My home is short on storage and surprisingly heavy on nostalgia. I still display books I fell in love with as a teenager, and souvenirs from trips I took in my 20s. There are toys and blankets, magazines and board games, and they all have no other place to go besides my living room. There's only one closet in my entire home, and so baskets became an obvious solution for keeping some sense of order over everything. And after installing open shelving in my living room, I knew these baskets would have to be stylish and functional, given that they were on display. I wanted them to be rectangular and woven, with sturdy handles on either side.
Follow Topics for more like this
Follow for more stories like this
I searched every store I could think of for baskets that could meet my self-imposed criteria, and found them at the one outpost with a solution in its name: The Container Store. I went there at the beginning of my shopping spree, but hunted elsewhere hoping to find more of a bargain. When that didn't happen, I returned. 
"It's funny, we tend to see the same faces again and again as people organize different rooms in their homes, and then we don't see them anymore for years," said the employee helping me. 
I had visited a couple of times before for my kitchen and bedroom, and was back because the store's "natural" woven baskets stuck out in my memory. I picked up three of the large ones (which are about 17 inches wide and eight inches high — the perfect height for my bookshelves) and ensured that every woven braid was far from frayed. Every basket has handles, and could be filled with numerous items. As soon as I pushed them into their chosen spots, I knew I had made the right choice. 
Woven baskets are about as ubiquitous as potted plants and macrame, so let me tell you why I went with these over the other options out there: Because I needed three to line up together, and they would all be visible from most vantage points in my home, I wanted the baskets to all have the same shape, size, and coloring. Try as I might at other stores, but I could never find a trio that was uniform. I also knew that if anything were to happen to these baskets, The Container Store always has them in stock, so the search for a replacement would be more of a quick errand run. And finally, these baskets just look good; they meet the overall California-meets-Scandinavian look I was hoping to achieve.
Now that my baskets are in place and my many things are usually put away, my living room is neat on a regular basis. "It looks like a model home," my dad said the last time he was over. "Throw a blanket on the couch so it looks like someone lives here!" I cleaned before he arrived, of course, but that was a great compliment. 

Buy: The Container Store Large Water Hyacinth Bin, $22.99