6 Places to Find Budget-Friendly Storage Bins and Baskets
We
independently
select these products—if you buy from one of our links, we may earn a commission. All prices were accurate at the time of publishing.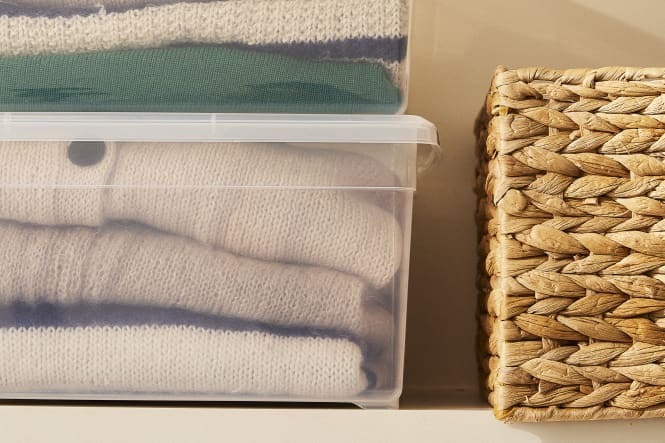 Let's face the hard truth here: Bins and baskets can get pretty expensive (and sometimes ridiculously so). For instance, I recently saw an extra-large washed wicker floor bin going for almost $200. All to hold roughly three or maybe four throw pillows? It's a little outrageous, in my opinion.
But they don't have to be. If you look in the right spots, you can find those same $200 containers for little to no cost. Here's where you should be looking for more budget-friendly storage bins and baskets. 
Someone else's trash is definitely your treasure when you're "shopping" in a Buy-Nothing group. The sole purpose of these groups is to connect neighbors and build community over the sharing of unused items. Search on the website or the app for a group local to you. If it exists, join up! You'll almost certainly find bins and baskets in no time.
Are you one of those people who can't shop at Target without leaving with 20 things you didn't mean to buy when you went in? Well, make sure to check out the Brightroom collection, which offers cheap bins and baskets for you to store all that extra stuff in. This mesh metal turntable desk storage bin is one of my favorites, and it's only $14.
Goodwill, Salvation Army, Value Village — be sure you're carefully checking the aisles here, looking for bins and baskets. Thrift stores often sell used ones much cheaper than you'd find at the store. But keep a keen eye out, as they could be part of a display or be used to hold other items on a shelf. Look for a price tag; if it doesn't have one, ask.
I recently purchased the SAMLA box at IKEA. It's huge, has wheels, comes with a lid, and is clear so I can easily see whatever I put in it. And for all that, it was only $37. That can still be a kind of steep price, but don't worry — IKEA has you covered. My bin was one of the more expensive ones, and you can get a lot for a lower price, like this FLÅDIS basket that has a pretty cool flair for only $15.
Perhaps you have a little nibling who's grown beyond the point of needing a bin or basket to store the oodles of plushies they had when they were younger. Ask your sibling if you can have it. Or maybe your friend pared down their holiday housewares collection and it left a big bin empty. Ask away! Don't be afraid to check with your friends and family about these things. If you're concerned about getting it for free, offer to pay a small amount.
Behold the beauty of a dollar store. For just a few bucks, you can get way more storage than a super-expensive basket elsewhere would have gotten you. Dollar stores are a treasure trove of cheap bins and baskets. Only five dollars for a large wicker basket? Yes, please! You can also check Big Lots and Five Below, both of which advertise equally large bins and baskets for about the same price.
March is Smart Spending Month on Apartment Therapy! We're here to help you put your hard-earned dollars and cents to use — the right way. Head over here to learn how to do no-spend challenges, buy a home for below its listing price, and so much more.