An Appetite for Cookbooks: Too Many Is Never Enough. Now, Where to Put Them?
We
independently
select these products—if you buy from one of our links, we may earn a commission. All prices were accurate at the time of publishing.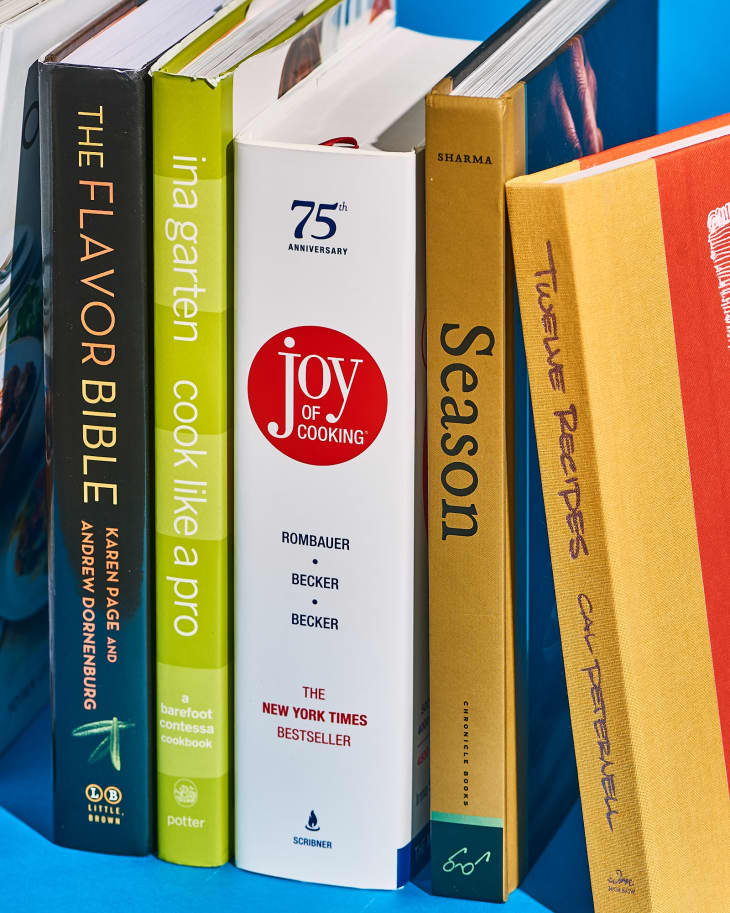 My husband and I recently redid our home office, emptying it so we could refinish the floor. All kinds of finds surfaced — treasured family photos, postcards from old friends, restaurant receipts from a trip to Italy, back when we actually went places. But the 10 running feet of cookbooks, almost all acquired by moi, each with maybe two or three speckled, dog-eared pages indicating actual use? How, given my limited cooking repertoire, did I manage to accumulate such a variety — many mere flashes in the pan — and how come I can't bear to give any of them away? 
I'm not alone in craving the company of recipes I rarely have the time and energy to pull off. During all that panic buying last year, sales of cookbooks reportedly jumped 17 percent. This despite the fact that they hark to a time when recipes, like synonyms and great quotations, had to be painstakingly retrieved the old-fashioned way: by standing around a bookstore and secretly taking notes.
These days when I am paralyzed in front of the stove and need some specific how-to ("No-Fail Turkey Gravy for Dummies," say), I go right to the web. Yet here in our new home office, standing between me and sunny open shelves primed for more artful displays, loom such outdated artifacts as a 1984 edition of "Joy of Cooking," complete with a recipe for raccoon. 
Oh, and look, right next to a volume devoted entirely to tarte Tatin: "From Julia Child's Kitchen," the great classic, signed by the author no less and her husband, Paul. The binding shows flattering signs of wear, but no thanks to me. It joined our household when I snatched it from the curb after a neater neighbor cleaned house. One of these days I may even open it. 
Compulsive cookbook collecting suggests a triumph of fantasy ("One day I must master puff pastry") over common sense ("If you must, then Google it!"). With each acquisition comes a related question: If one is to insist on the latest food porn from Smitten Kitchen, does it belong in the kitchen, or on the bedside table? 
Pure lust for Maida Heatter's Chocolate Buttermilk Layer Cake aside, picture cookbooks are a voyeur's trusted friend. No need to blacken shitakes with a blowtorch, I say, if you can curl up under a blanket and see how J. Kenji López-Alt does it instead. 
The tireless pace of a typical recipe can also help quiet a brain churning from the latest news about global warming and Donald Trump's ex-mistress. To paraphrase Jane Kramer, the well-known writer and self-described cookbook addict, if you can't sleep, reach for Chef Joël Robuchon's recipe for potato purée. Just contemplating the proportions in this elusive emulsion — 1/2 lb. butter per 2 lbs. potatoes— can put you right under. (Planning to serve his version of mashed potatoes on Thanksgiving? Let me recommend the chef's 832-page oeuvre, "The Complete Robuchon." Or heck, just go to AT's sister site, The Kitchn).
It's partly the tactile factor that makes paper recipes so seductive. While hot grease can do terrible things to a screen, it can give yellowed cookbook pages a flattering sheen, translucent markers more eloquent than emojis. Then there's the thrilling eye candy of cookbooks stacked or lined up in perfect order. BTW, would that be alphabetically, or best done by color, theme, author, or level of difficulty? Assuming you have shelf space or a very large coffee table. 
One longtime friend, sizing up our cluttered apartment with some despair, gave me a gentle nudge in the direction of Marie Kondo by suggesting I download an app she uses to organize all her recipes online. Seeing me wince in disbelief, she slyly asked if maybe I'd rather endow a cookbook wing in The Museum of Debby. 
I thought she was serious. 
Now I'm thinking I could organize all those cookbooks in the order in which I acquired them, yielding a display of my personal past, starting with the stir-fries of the 1970s ("Eat It!," lasciviously illustrated by R. Crumb) and culminating in the comforts food of the 2020s ("The Nom Wah Cookbook," dotted with lusty snapshots of the restaurant's dim sum). 
A word of advice about that last acquisition, made during nostalgia for the pre-pandemic days. Nom Wah's recipe for turnip cakes is a killer. Suggest you give it a close read some evening and enjoy the descriptions of peeling, grating, wringing, steaming, cooling, frying, plating, and garnishing. Then prop the book against a wall where you can see it, and book a table.