8 Ways to Make a Cookie-Cutter Rental Feel Less Sterile, According to Home Professionals
We independently select these products—if you buy from one of our links, we may earn a commission. All prices were accurate at the time of publishing.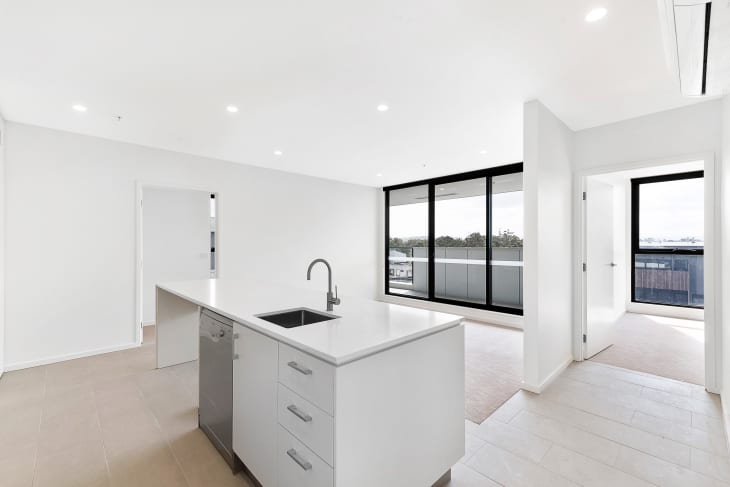 A new apartment almost never feels like "home sweet home" right away. That's especially true in new construction buildings, where cookie-cutter layouts, stark white paint, and bare walls can make your space feel cold and uninviting.
But after you unpack, what can you do to warm up the place—stat? Real estate agents and interior designers have a few ideas. Ahead, their tricks for upping the coziness factor in your new place, whether you've just moved in or you want to make your current place feel even homier.
Follow Topics for more like this
Follow for more stories like this
A plush throw on your sofa, a luxe down comforter on your bed, and lots of throw pillows in warm muted colors will all combine to add an instant pop of warmth to your space, says Daniele Kurzweil, an agent with the Friedman Team at Compass in New York City. "By loading up on cozy layers, you are inviting people to not only see with their eyes, but use their sense of touch as well," she says. Go a step further and add a faux fur throw on your sofa to lend a soft look to a bare piece of furniture.
"Four white walls scream stark and institutional," Kurzweil says. Remedy this by adding color, even if it's just an accent wall. A quick project that's great for rentals is using adhesive peel and stick wallpaper to create an accent wall either behind your bed or on a wall in your living room. "I find that a grasscloth textured wall is very visually appealing and has a lovely texture to it," she says. If you haven't the time nor patience to paint or wallpaper, you can simply hang some artwork on the walls, immediately giving them some personality, Kurzweil says.
Sure, faux flowers and plants have a tacky reputation, concedes broker June Gottlieb of Warburg Realty in New York City. "But they've gotten much nicer and more realistic looking over the years," she says. Mix some in with your live greenery. They can instantly add some color and vibrancy to an otherwise drab space, she says. 
A space feels warm when it appears personal and lived-in, right? You can accomplish this by having small collections of treasures around your apartment to showcase your experiences, and, ultimately, your personality, says Hilah Stahl of Spoak, a digital design and consulting service. "This could be things like your favorite books on a bookshelf, a small ceramic collection from your travels, or a small bowl of postcards from places you've been," Stahl says. 
The colors you add in don't need to be immensely bright, Stahl says. In fact, warm woods—like a cutting board in the kitchen—can warm up a space. Stahl also suggests beiges, yellows, and pinks as not-so-obvious colors to warm up a space. Beyond decor, flowers or pampas grass in a vase will do the trick. 
If you're using LED bulbs in your home, interior designer Diana Weinstein suggests using ones that have Kelvin levels 3000 and below for a warm, soft light effect. "Also, paper or linen lamp shades diffuse light better, making it easier on the eyes," she says. Light is important after all, especially in the winter when the days feel short and dark, she says.
Don't just rely on visuals to warm up a space. Try using room diffusers that emit essential oils into a room, she says. "It's like an instant spa experience," she says. "Try one with soothing lavender, spicy cinnamon, or sweet vanilla to keep the space feeling cozy and warm."
Install curtains or drapes
One of the fastest ways to add warmth to a cookie-cutter apartment is by putting up drapes, says Michael Helwig, an interior designer in Buffalo, New York, who also offers online interior e-design services. Not only will they add more privacy, they're also a good way to bring in color, texture, and patterns. Similarly, an area rug can have the same effect and can help define a spot such as a seating area or under the bed, Helwig says.