How to Arrange One Cheap Costco Bouquet, 3 Different Ways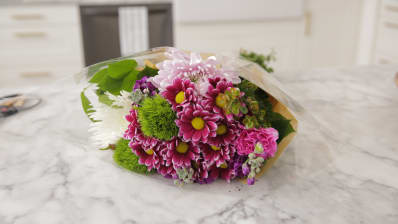 (Image credit: Hippo Wong | Apartment Therapy)
Supermarket bouquets are notorious for being a hodgepodge of flowers that don't necessarily look great together. But, even if you're not a pro, it's actually super easy to turn one inexpensive bunch into a series of beautiful arrangements. So skip the extra trip to the florist shop, and instead grab some cheap blooms while you do the rest of your grocery shopping.
We bought these flowers from Costco, and there was a good variety of color, shapes, and texture in the bunch—and therefore lots of possibilities. First step is to open up the packaging and sort everything out, then figure out what you want for arrangements. Here are three pretty fail-proof strategies for great-looking flowers that you can spread around the house.
(Image credit: Hippo Wong | Apartment Therapy)
Don't Overlook the Filler
Although flowers often get all the glory, the overlooked filler can actually make a really lovely arrangement. All that green feels just as alive and often just as sculptural and dramatic. Pull out all the greenery and arrange just as you would the flowers, and you get a very low-cost, high impact way to dress up any surface.
(Image credit: Hippo Wong | Apartment Therapy)
Go Monochromatic
One of the easiest ways to make flowers look cohesive and intentional is to pull out all the same colors and arrange them in one vase. You might not have the option, but try for a variety of flowers in the same general color family but with different size and shape petals. Instead of looking dull, the subtle variation adds a lot of interest.
(Image credit: Hippo Wong | Apartment Therapy)
Think Small
Have just a few larger flowers, like spider mums or peonies, that take up more real estate and can stand on their own? Grab a smaller vase and fill it with just a few blooms. Use the tape trick if you need to give them a little structure in a wide-mouthed squat vase. When placed in the right spot, these smaller, sweet arrangements can have an equally large impact.
Love flowers? We've got more tips and ideas for you: