Arranging Flowers Is the Colorful, Meditative Hobby You've Been Looking For
We independently select these products—if you buy from one of our links, we may earn a commission. All prices were accurate at the time of publishing.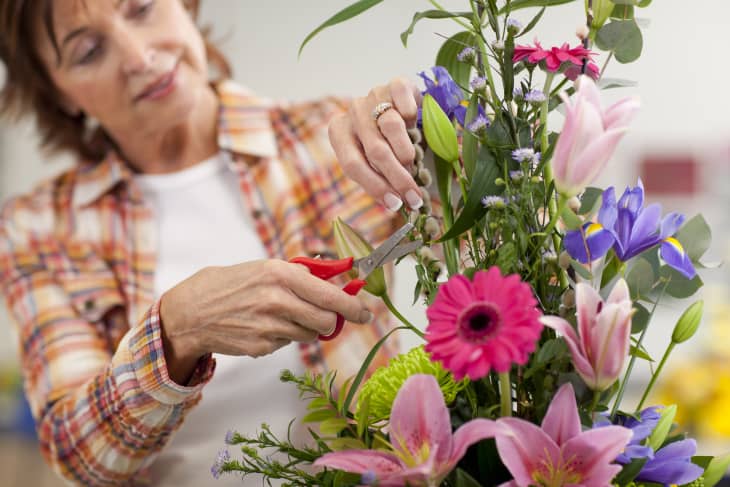 During the depths of lockdown, I became very invested in a British Netflix series called "The Big Flower Fight." In it, duos of florists and garden designers compete to create massive, majestic sculptures entirely out of plants. The seed was planted in my head: Flower arranging is an art that I would very much like to try. 
One treat I'll consistently buy for myself (along with creamy oat milk lattes) are fresh flowers. Nothing elaborate or from a florist — just a pretty bouquet on my way out of the grocery store, usually. When I bring them home, I fill a vase up with cool water, empty the plant food powder into it, cut my stems at an angle, and plop them into the vessel. Then I'll place them in the center of my kitchen table and smile as I see them each time I come home. It never really occurred to me to do more. Even after my fervent binge of "The Big Flower Fight," their larger-than-life creations seemed unrelated to my grocery store stems. 
But then I saw the pilot for "Homeboy," a Discovery Plus show (though the series has not aired beyond the first episode last year) starring Rajiv Surendra. Many know him as Kevin G from "Mean Girls," but he's also an author, chalk artist, ceramist, candle maker… the list goes on. And in "Homeboy" he proves that he's also a flower arranger, showing how he selects blooms for a beautiful bouquet by just going to the local supermarket.
His method revolves around color. First, he surveys the flower offerings and waits to land on the one that catches his eye. Then, he looks closely at the various hues in the petals — the pale green, deep fuchsia, and rosy pink details — and finds those shades in other flowers, so he can be sure they'll all complement each other and come together like a painting. Lastly, he picks up some greenery and "something that's an oddball, like something that's kind of weird, like this," he says, picking up a cluster of yellow craspedia.
Seeing how creative the process of even picking out the flowers could be, I decided to make a trip to Trader Joe's. I gravitated toward some purple lilies with a faint white streak, and from there filled my basket with small papery purple blooms, some pure white chrysanthemum, and some taller, feather-like flowers for height. I forgot the greenery, but trimmed some off my lilac bush and got to work. 
Using clear tape to section off the top of my vase into a grid, I stripped the lower leaves that would be below the top of the vase, and then started positioning the greenery at the outside of the circle. From there, I played around with flower placement, trying to balance out the colors and heights. I ended up making several flower arrangements and though they didn't look like anything I'd seen on "The Big Flower Fight" or even like anything professionally done, they did look so much more intentional than my usual plastic wrap-to-vase arrangement. And the entire process of putting them together, though simple and stress-free, felt so creative, hands-on, and fun. I gave one to my sister, who had just moved, as a new apartment present, and it was the perfect colorful, handmade housewarming gift.