Courteney Cox's Unconventional Kitchen Floor Has Celebrity Fans, and It's Not Hard to See Why
We
independently
select these products—if you buy from one of our links, we may earn a commission. All prices were accurate at the time of publishing.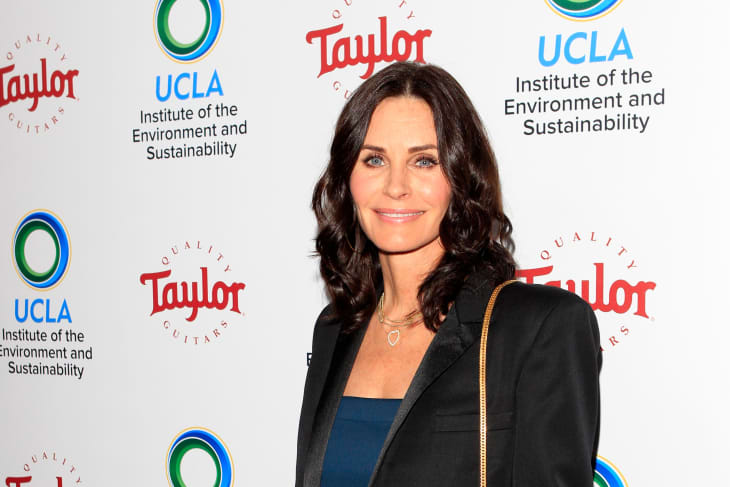 For Thanksgiving this year, Courteney Cox gave "Friends" fans what they've all been waiting for. She recreated that iconic scene from the hit sitcom during which Monica wears a raw turkey on her head (Chandler ends up saying "I love you," and it's a very big deal). But to pull off such a feat, Cox had to go to extreme measures that included plastic wrap, a dish towel, and a huge raw turkey, and as her former costar Lisa Kudrow said, "What did you DO?! You are TOUGH AND GENEROUS."
But fellow actress Julianne Moore was a bit distracted during the hilarious behind-the-scenes video, which Cox posted to Instagram on Dec. 7. "Ok u r super funny but I just saw your floor and I love it," Moore commented. 
And perhaps it was slimy plastic wrap, the cursing, and/or the sunglasses attached to the bird that distracted others away from the kitchen floor, but once you see it, you'll pull a Moore and probably end up drooling over the giant flagstone tiles.
In another video from 2019, you can see that the flagstone actually extends into Cox's living room, as well. Again, try your best not to be distracted by the incredible dogs-eating-carrots ASMR going on later in the clip.
In multiple photos on her feed, you can see that Cox has actually carried the same flagstone flooring into her patio space, which creates a seamless indoor-outdoor effect. Not only is flagstone an unexpected and stylish choice to bring indoors, but it's also super easy to keep clean and hides dirt for those who like to forgo a daily sweep—it is meant for the outdoors, after all. So, if you're looking for a durable and unique flooring style that goes a step beyond tile, flagstone could be your best friend.