These Splurgy Sheets are the Best Thing I've Ever Slept on (and They're on Sale!)
We independently select these products—if you buy from one of our links, we may earn a commission. All prices were accurate at the time of publishing.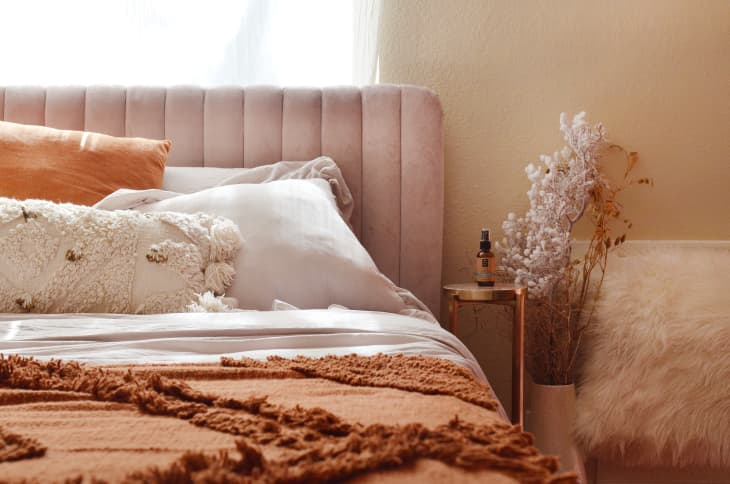 If you did catch our recent celebration of The Best Linen Sheets we've tried, you know that linen sheets often take months, if not years, of washing to fully soften. This is not the case with Cultiver's. Out of the package, they feel fluffy, not scratchy, which was as confusing to me at the time as I'm sure it is to read now. Compared to other linen sheets, Cultiver's sheets are truly, effectively pre-washed, resulting in that coveted vintage look and feel. Even the feel of my longest-standing linen sheet set, which has been put through years of washing, doesn't hold a candle to the immediate softness of Cultiver linen sheets. The better news? The feel (and gorgeous color payoff) is reliably intact wash after wash. No stiffening, no pilling — they stay true to linen's better-with-age M.O., just without the waiting game.
To truly understand why they're the best, though, you have to know that I am a complicated sleeper. Mine is not so much a sleeping pattern as it is a puzzle I'm trying to solve. Mostly, I never know if I'll wake up sweating (or when…and sometimes even why). Linen sheets have been my best bet for temperature regulation and getting the aesthetic I want, but the Cultiver sheets have changed the way I look at all those that came before. They have a GSM of 165 (the same quality indicator used for towels and you can read more about here), which gives them just enough weight to keep you feeling tucked in but maintains enough lightness to prevent me from sweating or feeling weighed down on warm nights.
If I want to dramatically improve my week in a single move, I'll dress my bed in Cultiver linen. If I want to impress guests? Cutiver linen. If I ever choose to pair down to a single set of sheets — a thought I often have now — it's Cultiver all the way. These sheets have taken me from winter naps to summer nights, leaving many of my former favorites in our dust. Because timing is everything, we saved my review to share it with you during Cultiver's Memorial Day sale — that's how much we care (and need you to experience these sheets). From today until May 30, you can take 20 percent off your entire order when you checkout using the code WEEKEND20. It's a quick sale, and a rare one at that, so don't miss the opportunity to score our "best luxury linen sheets" at a steep discount. We also recommend checking out our complete list of all the best Memorial Day sales while you're at it.