Dean's Stylish & Social Greystone
We
independently
select these products—if you buy from one of our links, we may earn a commission. All prices were accurate at the time of publishing.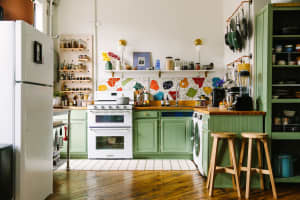 Can't-Miss House Tours Straight to Your Inbox
Keep up with our latest house tours each weekday with our House Tour of the Day newsletter
Name: Dean Fisher (and Bunny, a corgi-beagle mix)
Location: Logan Square — Chicago, Illinois
Size: 2 bedrooms, 1 bathroom
Years lived in: 1.5 — rented
One of the first things Dean said to me was, "I love old things." A glance around her apartment will confirm this statement, as the eye readily falls on vintage furniture, taxidermy, and old copies of National Geographic. The place is full of antique treasures, but make no mistake: this is no fusty lair.
The space is fresh, clean, and uncluttered, and the curiosities are well-curated. Dean's treasures add to the space rather than overwhelming it, and there's a sense of play in the decor that meshes well with Dean's warmth and sense of humor, well known to readers of her blog My Little Apartment. A kangaroo paw bottle opener next to a tastefully arranged bar gives one a sense of how Dean manages to pair lightheartedness with a killer eye for style.
As I snapped photos of her numerous treasures, I realized that Dean doesn't just love old things; she loves the stories behind them: "I got those elk antlers for free from a guy on Craigslist." "A client gave me that turtle." "That farm table has been in our family for years." Everything in the apartment is steeped in history, either in the form of Dean's personal stories or in the well-wornness of someone else's. Her home is a place filled with life, experiences, and tales.
It makes sense, knowing Dean's penchant for sociability (she was having a party the day I was there, and she often rents out her spare bedroom on Air BnB), that her apartment's style has the same ease as her conversation. South Social and Home, her company, seems to have a name perfectly suited for someone who can, just by telling stories, make you feel right at home.
Apartment Therapy Survey:
My Style: I pull from a lot of different eras and areas of inspiration, but I'm consistently drawn to the 50s – 70s, and lately it's heavy on the 70s. I like to marry clean lines with traveled texture. But honestly…I just make it up as I go.
Inspiration: I'm constantly poring over blogs and magazines, but I think my biggest source of inspiration comes from friends, family, and traveling.
Favorite Element: I'd be crazy not to say that the amazing built-in mirror is my favorite element of the apartment. It adds so much light and makes the living room feel huge. When I went to look at the apartment, the mirror was covered in lipstick notes and there was a huge denim sofa pushed up against it. And I'm so thankful to have found an apartment that already had white-painted woodwork. So many Chicago apartments have that heavy, dark wood moulding and I find it really oppressive.
Biggest Challenge: The bedrooms are tiny and awkward, but that's not really something I can change, so I just embrace it! The space also gets super minimal natural light, so I have a hard time keeping plants alive. I dream about owning a fiddle-leaf fig tree someday…
What Friends Say: "Where'd you get that?" My addiction to thrifting and Craigslist is widely known and I find a lot of rad stuff in the free section. I also hear "Hey, can you help me find…." a lot. I love keeping an eye out for friends when I'm thrifting, and some friends have ended up becoming my favorite clients!
Biggest Embarrassment: I reeeeallly want to reupholster the yellow chairs in perfect brown leather. Readers are always like "No! The yellow is awesome!" but when you see them in person, they're in pretty crappy condition. They're gonna look sooooo good someday.
The other embarrassment that I cannot escape: Bunny sheds like ten thousand dogs in a heat wave and the hair is so hard to remove! Friends know that when they come over…they're gonna get Bunnied.
Proudest DIY: It doesn't feel like that big of a deal, but I get a lot of thumbs-up on the dining table. It was intended to be temporary — I'd only been in the apartment for about a month and I was scheduled to host one of my bi-annual Frock Swaps. It was like 8:00pm the night before the party and I needed a dining table! So I hit up Home Depot to pick up some of my often-used favorites: canary-yellow sawhorses and a hollow-core door (which I painted high-gloss white). Poof: instant table!
Biggest Indulgence: The most expensive thing I've ever purchased was the living room rug. I learned early on that rugs are pricey, but The Dude is right: they really do tie the room together. I'd had my eye out for that specific rug and when it came up on eBay with the option to "make an offer," I did, even though I technically wasn't prepared to purchase a rug. Aaaaand they accepted the offer…oops.
When I can, I also indulge in Diptyque candles, because a home that smells really amazing is just worth it.
Best Advice: Hold out for things that you really love! Most people want to have their space done all at once, but that's not gonna happen, unless you're loaded and can afford a good designer. It's so easy to go to IKEA and buy a piece of furniture made of laminated MDF to put your TV on just because you need something; but then you get used to it and end up living with that crappy piece of furniture for the next 4 years. My TV sat on a Tupperware storage tub for 6 months until I found a gorgeous mid-century credenza that I really loved (and eventually sold when I moved to Chicago).
Dream Sources: Jayson Home & Garden, ABC Carpet & Home, Marché aux Puces St-Ouen de Clignancourt, thrift stores in weird towns
• Rug: antique shop in New Mexico
• Bentwood Chairs: thrift store (waiting to be recovered!)
• Light Shade: IKEA
• Sofa: thrift store
• Pillows: IKEA (black & white), friend gave it to me (brown), thrift store (kilim)
• Chairs: Craigslist
• Sheepskins: IKEA
• Rug: Pottery Barn Tangiers Rug via eBay
• Arco Lamp: thrift store
• Coffee Table: Rose Bowl base, Craigslist glass top
• Cabinets: inherited from my grandfather and painted
• Green lamp: mom found at an estate sale
• Deer: thrift store
• Shooting Target: target from Pasadena City College flea market, RIBBA frame from IKEA
• Bentwood ottoman: thrift store
• Piano stool: inherited
• White table: IKEA, inherited from neighbor
• Cowhide: mom found at an estate sale
• Dining Table: DIY via Home Depot
• Dining Chairs: Cesca knockoffs via Craigslist
• Terrariums: DIY
• Radiator Cover: flea market in Versailles, KY
• Shell Lamps: $1 on eBay, shades from Destination Lighting
• Marbleized Art: Paper Mojo paper, RIBBA frame
• Derby Print: mom found at a yard sale
• Bar: IKEA
• Bentwood Chair: thrift store, DIY recovered seat
• Photograph: Caitlin Phillips
• Pendant Light: Craigslist (free)
• Farm Table: inherited
• Elk Antlers: Craigslist (free)
• Shelves: IKEA
• Butcher Block: IKEA
• Rattan Chair: Rose Bowl Flea Market
• Shades: Pearl River
• Marble Side Tables: Craigslist
• Glass Ball Lamps: auction in Lexington, Kentucky
• Bedframe: IKEA Redalen
• Dresser: auction in Frankfort, Kentucky
• Zebra art: Pasadena City College flea market
• Pendant Light: Craigslist (free)
• Bathmat: IKEA
• Albino Pheasant: eBay
• Succulents – Home Depot
• Curtains: IKEA Ritva
• Bedframe: IKEA via Craiglist
• Rug: inherited
• Side table: IKEA
• Hats: mom found at an estate sale
• Mirror: Craigslist (free)
• Weaving on wall: Craigslist
• Brass lamp: thrift store
• HOUSE TOUR ARCHIVE Check out past house tours here
• Interested in sharing your home with Apartment Therapy? Contact the editors through our House Tour Submission Form.
• Are you a designer/architect/decorator interested in sharing a residential project with Apartment Therapy readers? Contact the editors through our Professional Submission Form.