The Death of the 12-Month Apartment Lease Is Upon Us
We independently select these products—if you buy from one of our links, we may earn a commission. All prices were accurate at the time of publishing.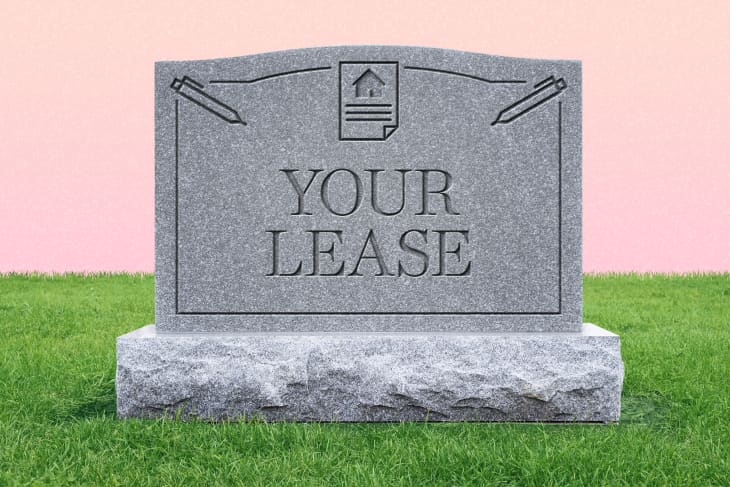 You probably bounced around the idea of moving this year, didn't you? Or perhaps you did pick up and settle somewhere new. Maybe you're still entertaining the thought of relocating, but you're dreading the costs of breaking your lease—and entering into yet another year-long contract.
Follow Topics for more like this
Follow for more stories like this
It feels almost impossible to plan for the future right now. The coronavirus has ushered in a whole lot of economic uncertainty, leaving hundreds of thousands of people worried about their finances. Then there's the advent of the work-from-anywhere culture, which has practically eliminated the need to live close to the office. And throughout it all, interest rates on mortgages have been playing a game of limbo—it's like we're watching to see just how low they can go. 
So if you're a renter tethered to your apartment for a year at a time, it's a huge blow to have to fork over all the fees that come with breaking your lease early, which can add up to a few months' worth of rent. The 12-month lease waits for no one—not if you've lost your job, not if you need to move across the country to care for a loved one, and definitely not if you've decided to take the plunge into homeownership. 
In this era of uncertainty, flexibility is king. And the kind of flexibility that the 43 million renters in the United States need right now is the end of the traditional year-long lease. 
The Death of the 12-Month Lease
Its demise has already begun. COVID-19 has reshaped apartment leasing terms, says Ericka Rios, co-founder and director of leasing at Downtown Apartment Company, a full-service brokerage in Chicago. In the early months of the pandemic, many property managers were granting short-term lease extensions to residents who were sheltering in place. By adding two to three months onto their existing lease, tenants had a little more time to decide if—and when—they wanted to move.
"Now that the market is returning to a new normal and many of those short-term leases are expiring, property managers are offering a variety of flexible lease options to secure renewals and attract new renters," Rios says.  
Some apartment buildings are now offering nine-month leases that will expire during the peak spring and summer months of the rental market in 2021, she explains. On the other end of the spectrum, there are many apartment communities, especially those that are new to the market and looking to land new renters, that are offering two to three months of free rent and extending lease terms up to 18 months to spread out the cost of those incentives over a longer time period. 
But a few months of rent on the house doesn't compare with the freedom from a long-term contract. "Strict, long leases no longer serve renters' needs," says Bill Smith, CEO of Landing, a membership-based apartment leasing platform that doesn't require long-term leases or deposits.
The company, founded in June 2019, charges a $199 annual membership fee, allowing members to rent furnished apartments across the United States, with the freedom to transfer properties with 30 days' notice. The company is currently in 31 cities—from major metros like New York and San Francisco to smaller cities like Tulsa, Oklahoma, and St. Petersburg, Florida—and has plans to expand further.
Even before the pandemic, more than 26 million Americans were working remotely at least part-time, Smith points out. "As a result, more flexible living options began popping up in the market—co-living, corporate housing, all kinds of short-term housing solutions," he says. "People were just beginning to value having more flexibility."
Now, companies have adopted more flexible work policies and permanent remote work arrangements. Some have done away with their physical office space altogether. "Rather than being tethered to the cities their offices are in, people now have the opportunity to choose where they want to live—many for the first time," Smith says.
How to Negotiate Your Way Out of a 12-Month Lease
While it typically has been beneficial for landlords to lock in tenants for a year at a time, the country's eviction crisis has proven nothing—not even a stable tenant—is guaranteed. Thus shorter leases are mutually beneficial: they can help landlords ensure their units are rented and offer tenants far more flexibility in their living situations.
If you're locked into a lease or are about to sign one, there's one important thing you can do to negotiate better terms. "I would suggest seeing how many vacant units the building specifically has and how many days on market the apartment has been advertised for," says Benjamin Frederique, a New York City real estate agent with Triplemint. If vacancies are high, you might have some wiggle room to negotiate a month-to-month lease, since it's better to have someone paying rent in a unit versus leaving it vacant. 
"It seems to resonate more with smaller landlords who need the income than bigger management companies who can write off the losses for capital gains tax," Frederique says.
If you have the time (and money) to shop around for your next apartment, it's worth trying to refuse signing a year-long lease in the first place. A collective decision by renters to avoid them spells flexibility for all and an end to 12-month leases—for good.