What to Do with Everything You Just Decluttered (So It Never Piles Up Again)
We
independently
select these products—if you buy from one of our links, we may earn a commission. All prices were accurate at the time of publishing.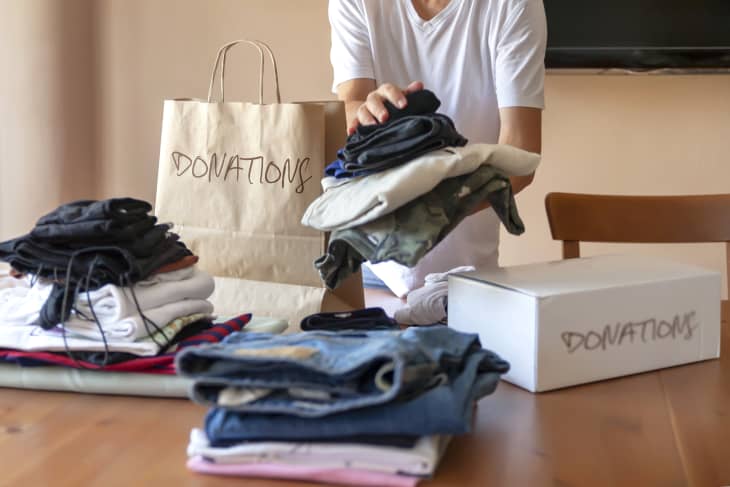 Apartment Therapy's Decluttering Cure is a free two-week decluttering program that'll help you achieve a tidier home. Sign up here and get all 14 assignments delivered to your inbox.
Now is the time to part ways with items that have filled your "donate" and "sell" outboxes. These items are still in good condition, but they no longer fit or work for you. As hard as it is to let go of something that's still good, think about it this way: This item will have a chance to improve someone else's life. 
It's true what they say about someone's trash being another person's treasure. Can you imagine the joy you could bring to another person? To them, it could be the new shirt they love, the perfect interview outfit, or the final piece of their home decor puzzle. Whatever the case, donating or selling your decluttered items allows them to potentially become positives for someone else instead of remaining negative for you. 
Day 13: Sell or donate the things you decluttered
Well, today's the day that we're going to kick off a key part of your decluttering journey — getting things out of your home. Grab your "sell" and "donate" outboxes. It's time to get to work!
For the things you want to donate/giveaway:
Your donation pile is most likely a mix of clothing, home goods, and random trinkets. Some places may take it all while others will take only certain pieces. Here are different ways you can donate your items: 
For the things you want to sell:
For the items that you want to sell, there are a few things you can do. But, for whatever cannot be sold — for whatever reason — consider donating instead. 
Post individual items on Craigslist, Facebook Marketplace, OfferUp, or your local community buy-and-sell group. Be sure to take the listing down after it's sold.
Head to a local consignment or thrift store. (Plato's Closet and Buffalo Exchange are a couple of options.)
Sell your clothes online. ThredUp's Clean Out Kit, lets you mail them a bag of clothing and accessories to sell. (Anything that doesn't sell can be returned for a small fee back to you or recycled by them.) Poshmark is a great platform as well, in which you take photos and list items yourself. 
Have a great tip on where to donate or sell unwanted items? Tell us about it in the comments!
More ways to participate in the Decluttering Cure:
The Cure Program is a tradition here at Apartment Therapy — it happens every January, April, and September. Click here to learn more about the year-round program and when to sign up.