How to Declutter Your Kitchen One Spot at a Time
We
independently
select these products—if you buy from one of our links, we may earn a commission. All prices were accurate at the time of publishing.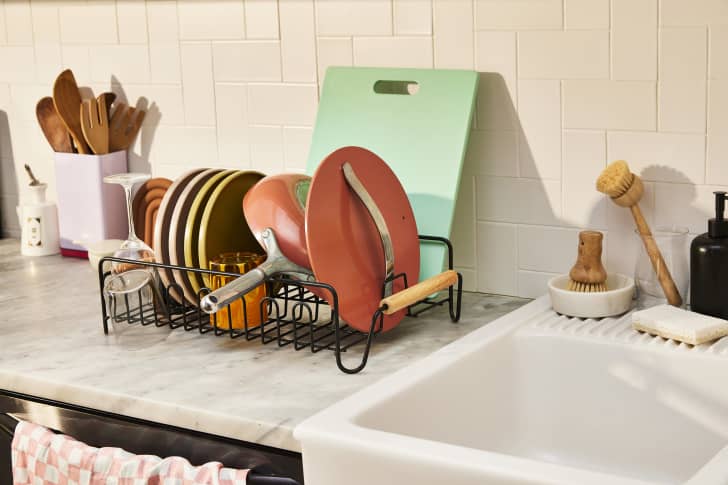 Apartment Therapy's Decluttering Cure is a free two-week decluttering program that'll help you achieve a tidier home. Sign up here and get all 14 assignments delivered to your inbox.
As one of the busiest areas of the home, the kitchen can be one of the most difficult places to keep clutter-free. From the mess of meal prep and items thrown on the counter to belongings tossed behind closed cabinets and drawers, there are a lot of things here. 

Because your kitchen can become a magnet for clutter (intentional or not), let's take some time to "demagnetize" it by decluttering.
Day 4: Tackle one spot in the kitchen.
Today we're going to focus on decluttering just one part of the kitchen, whether that's the cabinets (one or all of them), the drawers, the entire fridge, or a part of the pantry. Pick something that can be done in one session. (Or you can go above and beyond and tackle as many projects as you like.) 
You'll need a timer and a temporary bin or basket to collect things as you go. Set aside some time you'd like to dedicate to decluttering, whether that's 15 minutes, 30 minutes, or an hour. Once the basket is full, you'll sort through it and see if it needs to go in one of your outboxes or if it needs to be tossed or recycled. If you're having any trouble figuring out what to do with an item, put it to the test with this five-question assessment, and set aside any sentimental items you are reconsidering for an assignment we'll get to another day. 
Cabinets
Drawers
Counters
Fridge
Freestanding furniture, like a hutch or island
Bar area/cart
Pantry or cooking/serving supply storage area
Anything that belongs in another room
Broken items
Multiples that you don't need
Anything you haven't used or use so infrequently, such as kitchen tools or small appliances
Baking sheets, pans, pots, and cutting boards that sit untouched
Holiday-themed serving pieces that didn't get used the last time you hosted
Novelty accessories
Mystery items you don't remember what it's used for
More than two bottle/wine openers
Excess water bottles you own (and don't use)
Old, gross cleaning supplies
Old, stained, or extra plastic containers
Takeout condiments, plasticware, and stray menus
Out-of-date invitations or event announcements
Expired coupons and medication
Excessive collections of paper or plastic bags
Bottles of liquor that don't ever seem to get drunk
Cookbooks that haven't been cracked open in more than a year
In the fridge and freezer: anything that's gone bad, mystery leftovers, things you tried but didn't like and won't use, anything freezer-burned
In the pantry: anything that's gone bad, really expired items, unneeded canned goods, anything you tried but didn't like and won't use
For everything that's taken out, use your best judgment to determine if you need to toss, relocate, recycle, or donate. Many food items can be donated, so consider doing so. For the mystery, non-food items, stick them in the maybe outbox and set a specific amount of time to think about what it's used for before throwing them away. 

PRO TIP: Consider investing in organizational tools for the kitchen and pantry so that decluttering the next time is easier. See the best kitchen and pantry organizers from our Organization Awards.

What project — or two — did you complete in your kitchen? Tell us about it in the comments.
More ways to participate in the Decluttering Cure:
The Cure Program is a tradition here at Apartment Therapy — it happens every January, April, and September. Click here to learn more about the year-round program and when to sign up.