7 Decor Tips for Making (Another, Sigh) Pandemic Winter As Cozy As Possible
We independently select these products—if you buy from one of our links, we may earn a commission. All prices were accurate at the time of publishing.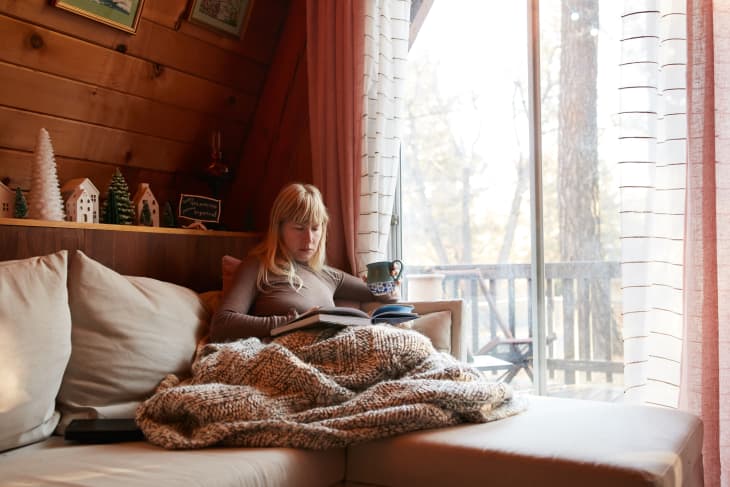 Like it or not, another pandemic winter is on the horizon. If you live in a colder climate and don't feel comfortable gathering with others indoors in a restaurant or event setting, you may be worried about yet another year spent in your space — not to mention bored with your surroundings. 
However, if you've chosen to hunker down in your home for the winter, there are things you can do to make it feel much cozier and more comforting as you settle in for the cold months. From adding warm touches via color to updating your decor to actually painting your rooms, you can change your environment and make it feel more welcoming this winter.
Sometimes all it takes is a touch of green to remind you that the winter chill isn't forever. "Furnish your house with big-leaf house plants if you have enough light," says David Angelov, founder of Plant Parenthood. "Put these plants directly in front of the window to keep them healthy and happy. You can also bring any semi-hardy annuals planted outside of your home during the year inside. This keeps them thriving and allows you to enjoy them in the house, where they can stay warm throughout the cold season." If you want to add more plants to your home but don't get great light, Angelov recommends investing in white or violet grow lights to keep your plants blooming.
Textural touches give a room an extra dose of cozy luxury. "Adding texture to bedding and linens around the home via wool, leather, silk and velvet is a great way to add warmth and dimension to your wintry hideout," says Sara Ianniciello, senior associate and director of design for Whitehall Interiors. And you don't have to blow your budget updating your place for the winter. A few strategic decor purchases can help make your home feel like a whole new environment without costing you a ton of cash.
"When it comes to updating your home's look and feel for a more cozy setting, there are several different opportunities — starting with lots of textures and layers like leather, velvets, and lots of warm florals to keep things feeling fresh and warm," shares Michael Clarke, a designer and the founder of home management platform Pulled. Clarke recommends infusing warm, comforting colors like terracotta with pillows, sheets, and throws.
Light things up — or tone it down.
The days are shorter in the winter and evening hits earlier. Reduce the winter blues by adding more light to your space to create a warm glow. "An easy fix is to add a few table lamps or a new floor lamp in your living space," says Merhi. "This addition goes a long way in setting the mood while also cozying up the room, especially during the evening hours."
If you want to make a major change to your lighting and have the ability to do so, Joel Worthington, president of Mr. Electric, recommends installing dimmers in your most-used spaces to create a comforting glow and to help you relax. "Whether you're sitting down to watch a movie on the big screen or projector, snuggling up with a cup of tea, burning a candle, reading your favorite book or simply hanging out with a few of your favorite people on a winter day, it's all about creating the perfect vibe," he says. "With light dimmers, you can have enough lighting to minimize the screen's strain on your eyes without the lights being distracting." Worthington also likes installing dimmers in a dining room to set the mood for a romantic dinner or to grab a midnight snack without waking up the rest of the house.
Creating a warm and welcoming atmosphere can be as easy as swapping out your light floral or citrus candles for something deeper, spicier, or creamier — all fragrance families that evoke feelings of coziness. Jane Dorian, real estate agent with Avenue 8, likes changing out scents with the seasons. "Candles that smell like warm campfires or notes of cinnamon and spice always warm up a room," she shares. "Diffusers with amber or tobacco evoke a homey feeling." Need some aromatic inspiration? We rounded up our favorite fall candles of 2021 to get you started.
If you enjoy taking long baths or restorative showers, especially when it's chilly outside, make your bathroom even more transportive. Dorian likes to upgrade her space with bath salts, candles, warm slippers, and monogrammed hand towels for a spa experience. Consider decanting bubble bath into a prettier jar, swapping out your soap dispenser, or treating yourself to some comfy and cute loungewear to make the post-bath or shower experience even more comforting and luxurious. "Pour your bath salts in a beautiful glass jar. Buy a decorative planter for an orchid," she shares. "Warm your thick towels on a towel warmer and step onto a thick bath mat. Find a way to create a winter sanctuary in your bathroom."
When you're spending this much time at home, every little touch counts. If you have space in your budget to invest in a few new items for your kitchen, like a fancy coffee maker or a chef-worthy soup pot, do so. If you find pleasure in beautiful things and they make you want to spend more time in your space, then they're worth the cost. Dorian has a stylish tea kettle for cold winter nights and a "retro-style" coffee pot that reminds her of gatherings with friends and family.
If your landlord is cool with you painting or you own your home, there's no reason why you can't give your space a winter makeover with a fresh coat of paint or two. After all, color  is one of the best ways to transform both your space and your mood. 
​​Matt Kunz, president of Five Star Painting, advises doing a bit of pre-work before picking up a brush. "Choose colors that work with your home's different lighting conditions and consider your geographical location," he shares. "The further north you go, the bluer the light becomes, with longer wavelengths. Light appears redder in the south with shorter wavelengths." As for paint colors, Kunz likes a rich cream for the living room, as well as sea green, glowing cheery yellow, and even bright tangerine to enliven a space for the winter months and beyond.